The Modern Wine Cellars of Instagram | March Edition
With spring in full swing, our fans/customers/clients seem to be having more fun than usual with their wine cellar designs. Pop open a Provincial rosé and enjoy this fun collection of the best #winewall, #winecellar, and #winerack action on Instagram this month.
7. #heyhey Wine Display
We've always loved the design of the wine wall at Denver's Osteria Marco. Then Peach & Pepper used it as the backdrop for a fashion-focused photo shoot at the Larimer Square hotspot. We dig the design even more, now. Nice use of #heyheywinedisplay.
Wine wall features Wall Series metal wine racks in single-bottle depth configuration, attached on both sides of Floor to Ceiling Frames (FCFs) mounts, all in satin black finish.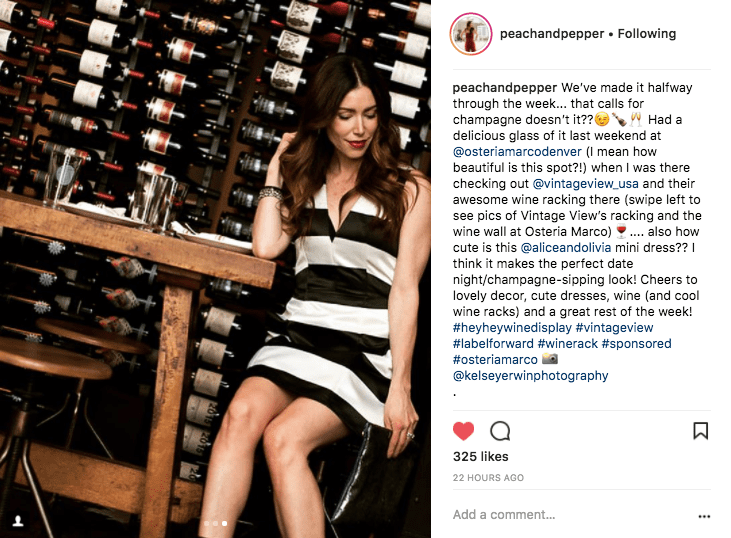 6. Modern yet Rustic
Canadian interior design agency Shonna Fox Design brings this British Columbia show home to life with modern design and a rustic aesthetic. We love the minimalist wine wall. And room in general.
Kitchen wall features Wall Series metal wine racks in single-bottle depth configuration in Satin Black finish.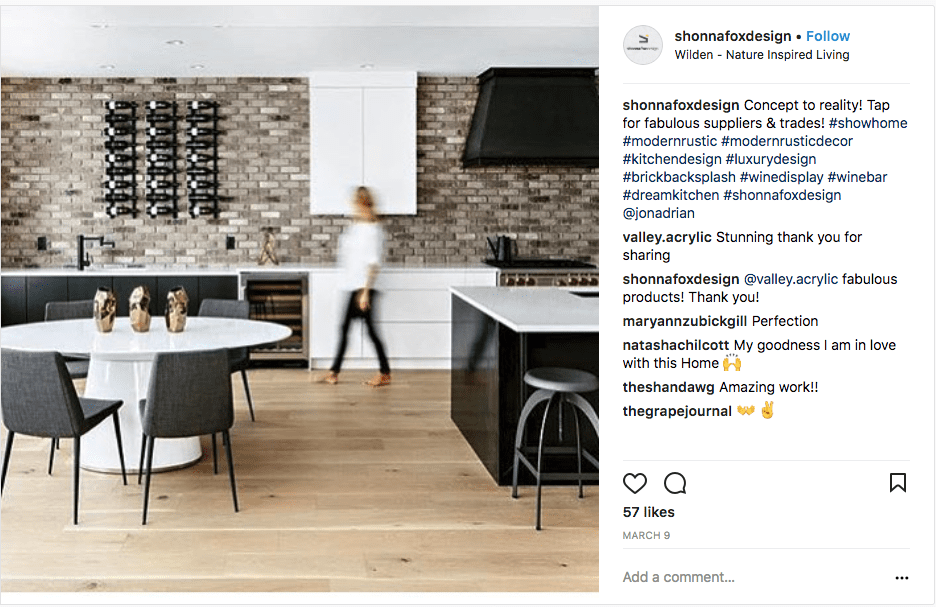 5. A Wine Closet is Always the Answer
The combination of metal, quartz, and accent lighting makes this wine closet absolutely stunning. Simply, Colorado's Design 5 Seventy-One found the best way to repurpose retired space.
Wine Closet features Vino Pins in double-bottle depth configuration and Vino Rails. All in milled aluminum finish.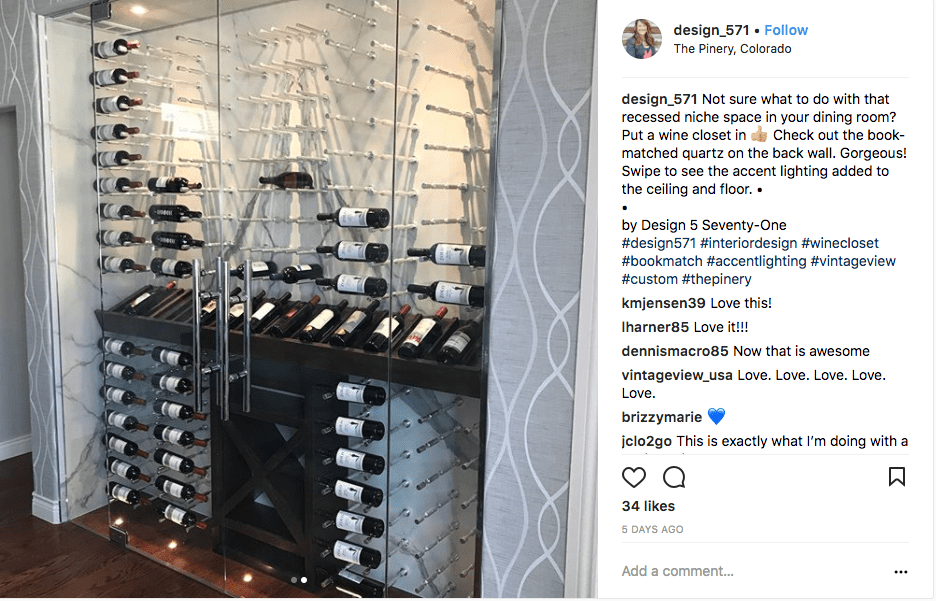 4. All Snug in Their Beds
Another gorgeous wine cellar providing a home to more than 500 of the finest wines (and probably some tasty $10 Tuesday-night bottles, too). Showcase Interiors definitely provides this Vancouver home with an amazing Chrome-plated, shiny upgrade maximizing the square footage of the space while keeping the design on point.
Wine cellar features Wall Series metal wine racks in double and triple-bottle depth configuration mounted on single-sided Floor to Ceiling Frames (FCFs). All in Chrome finish.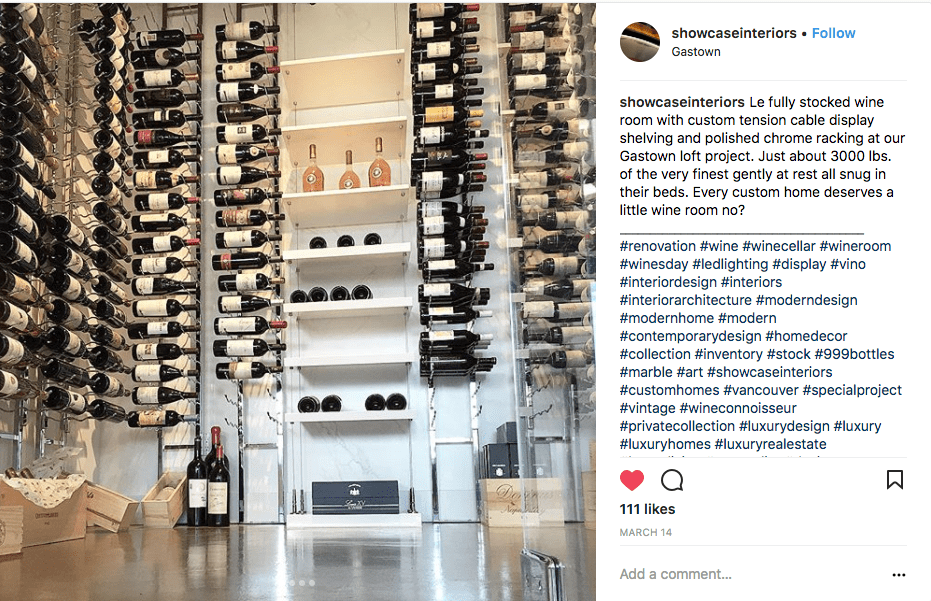 3.  Back on the List
After a brief hiatus, insane design firm Madison Taylor returns to the list of best wine cellar design on Instagram. This time with a smartly concocted wet bar and entertainment area that spares nothing in the way of form or function.
Wine closets feature Wall Series metal wine racks in double-depth configuration and in satin black finish.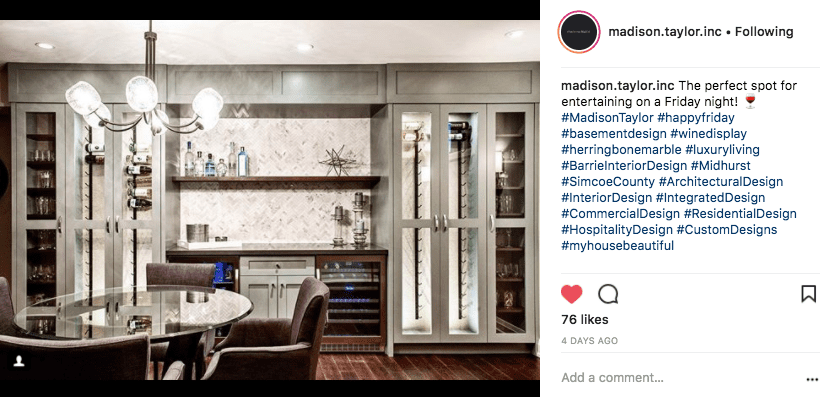 2.  Night Out in South Beach
We're taking a trip back to Cibo in South Beach, a stunning restaurant that features a 20+ foot wine wall, accessed by soaring wine angels. Owner Nick Di Donato stylized this photo by composing it with wine, food, and Nadia, his wife and company creative director.
Wine wall features Wall Series metal wine racks in all bottle-depth configurations mounted to custom Floor to Ceiling Frames (FCFs). All in Brushed Nickel finish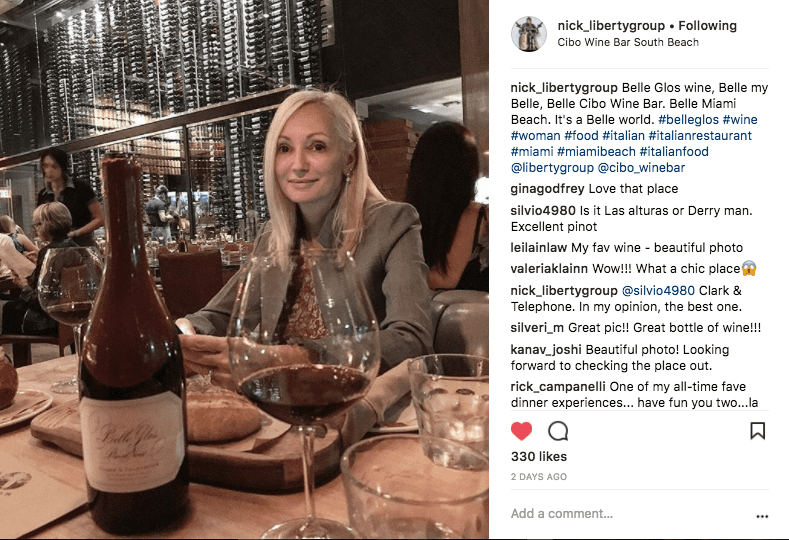 1. Bringing Back Mickey Mouse
When we saw Marc-Michaels' first "Mickey Mouse" cellar, we commented on how well this interior design firm did in taking a campy concept and turning it into art. Well, they've gone and one-upped the idea in this sexy cellar in the tony Golden Oak development at Disney. See if you can find the subtle Mickey head in this room.
Wine cellar features Vino Series Rails in anodized black finish.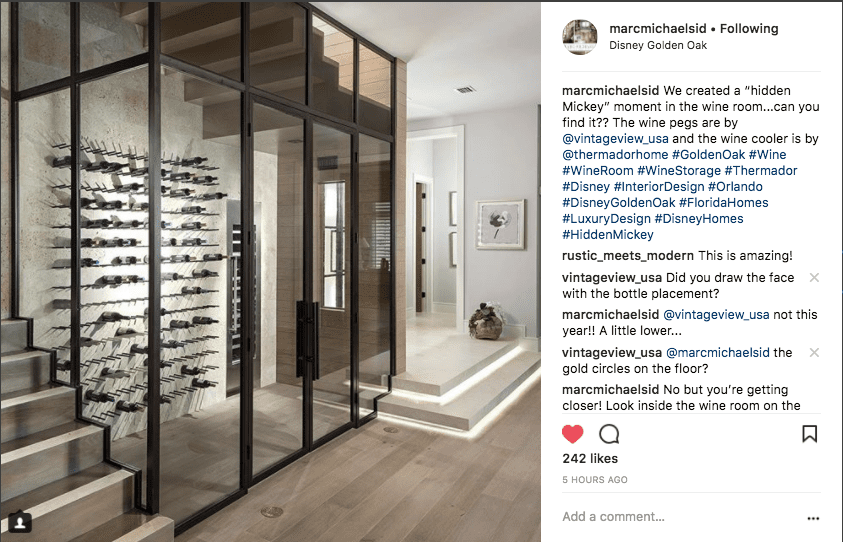 Recent Posts
When we created the first label-forward wine ra...

There's been a movement towards boutique ...

When photos of Liquor Lodge hit our Instagram f...
About VintageView