Oct 31, 2023
The Ultimate Wine Cellar Budgeting Guide
From DIY to Designer Spaces
Creating a wine cellar is a dream for many, but what's the cost of turning that dream into reality? In this guide, we'll break down the expenses so you can start building the ideal wine cellar budget. Whether you're a DIY enthusiast, a wine connoisseur, or a design professional, we have the answers you need to navigate the world of wine cellar design.
Designing a wine cellar is never a one-size-fits-all task, especially when exploring the diverse costs between passive and active designs. Building the ideal wine cellar involves choosing between active and passive systems, each offering distinct benefits. Active cellars maintain precise environmental conditions, perfect for substantial collections. In contrast, passive cellars offer budget-friendly alternatives, ideal for smaller displays and DIY projects. Now let's dive into the intricacies of these cellar types and how they influence your budget.
SKIP TO:
Exploring Passive Wine Cellar Solutions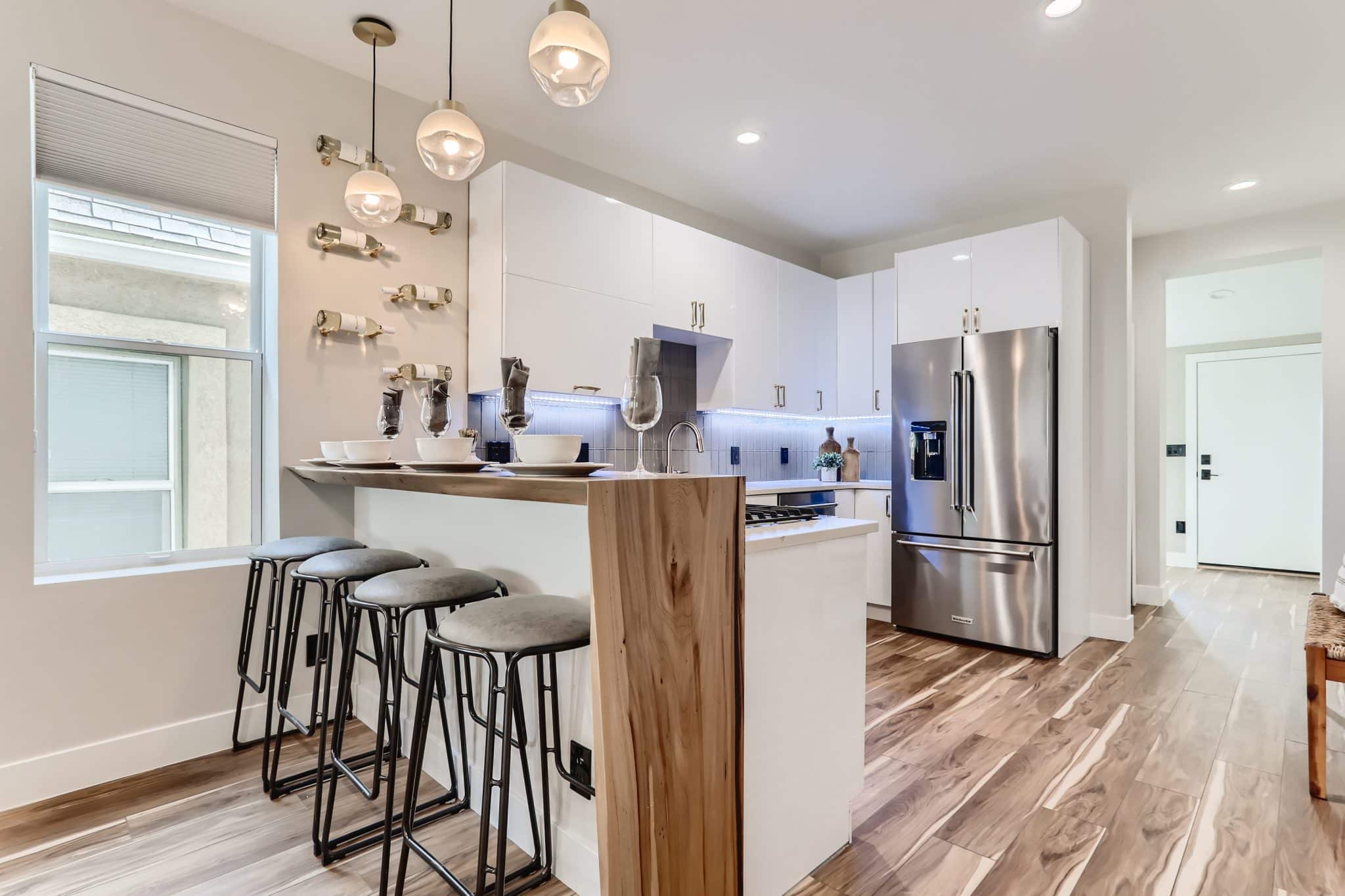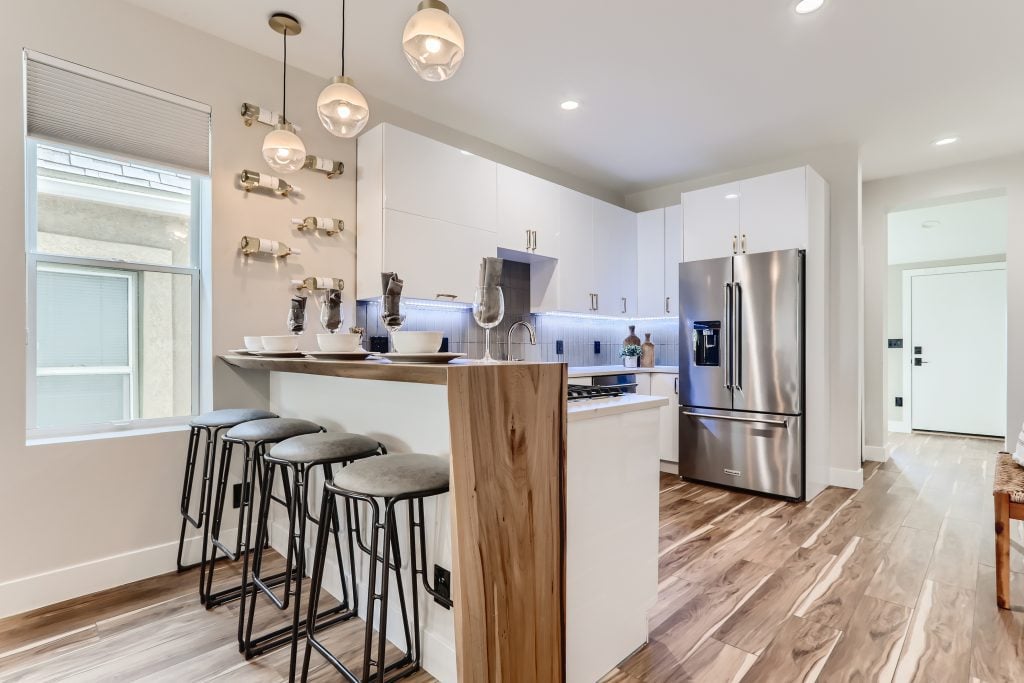 Simple Wine Displays
When it comes to budgeting for a wine cellar you need to ask yourself, "what am I looking for?" For those seeking a small yet impactful display, a passive wine wall is the way to go.
Typically adding a few racking units above a wet bar, kitchen, or dining area is the perfect solution for casual wine drinkers and DIYers with a knack for design. And as you can see above, even a compact display can make a bold design statement.
With just a couple of professional-grade wine rack systems, you can create a compelling display for under $200, roughly translating to around $4 per bottle. It's like building your own 'mini wine gallery.' The simplicity of this approach makes it perfect for compact spaces, enthusiastic beginners, and anyone aiming to make a memorable design statement.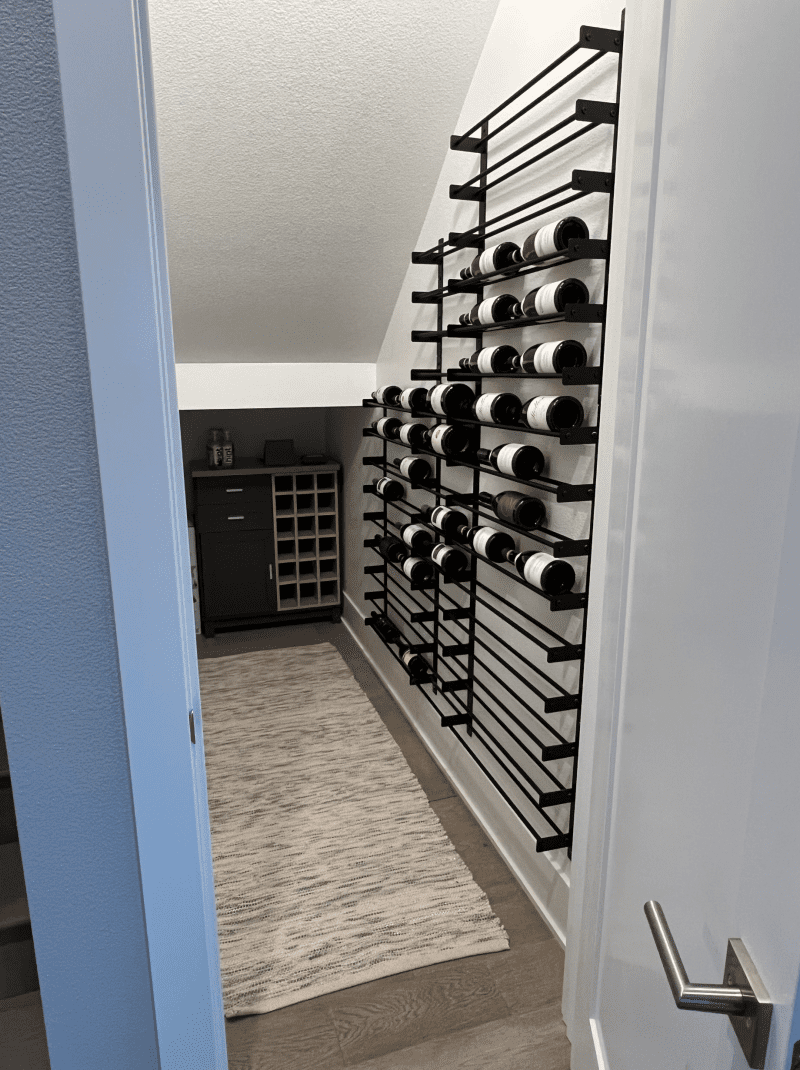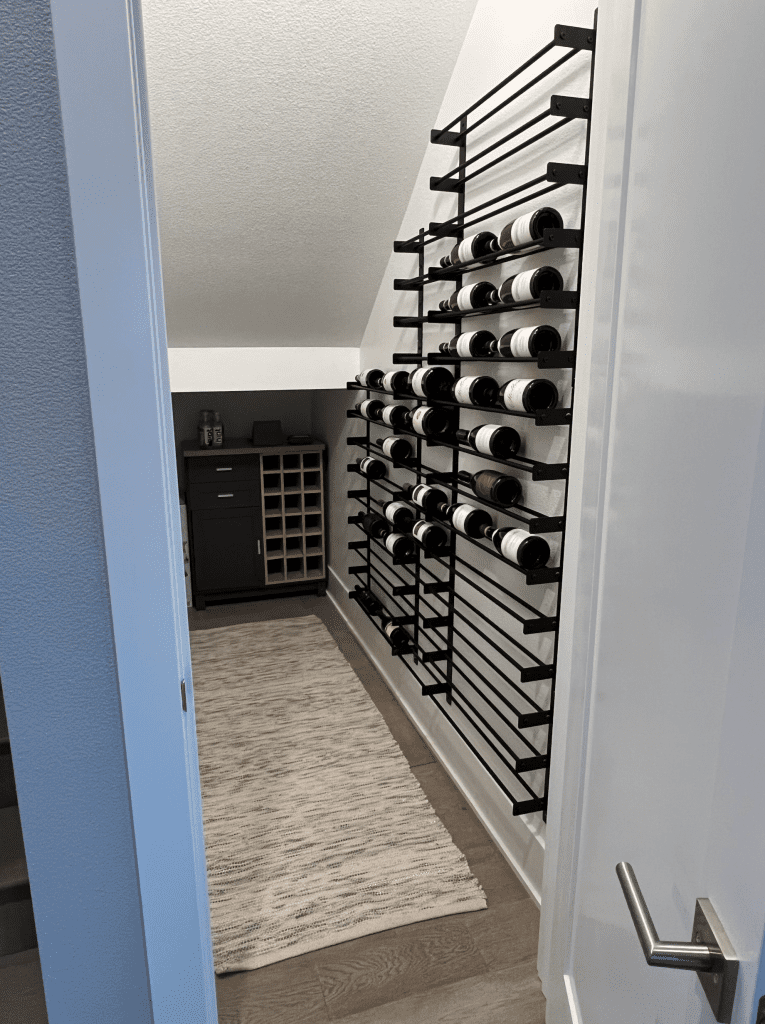 Larger Passive Wine Cellars
Passive cellars offer a versatile solution that extends beyond small wall displays; they can accommodate larger collections while significantly reducing costs by eliminating the need for an extensive build-out or a dedicated cooling system. For instance, a basement, closet, or any dimly-lit area can serve as a viable alternative, ensuring bottles are shielded from direct sunlight and excessive heat. This approach caters to both wine collectors seeking substantial storage and cost-conscious individuals looking to create a wine sanctuary on a budget.
Costs:
Simple, installed passive wine walls: $120-$250 (varies with scale and materials).
Large, passive wine displays: $1,000-$5,000 (varies with scale and materials)
W Series Wine Racks: pro-grade starting around $4 per bottle and premium finish options starting at $12.
Vino Pins: pro-grade starting around $18 per bottle and premium finish options starting at $23 a bottle.
Vino Rails: pro-grade starting around $16 per bottle and premium finish options starting at $21 a bottle.
Evolution Wine Wall: pro-grade starting around $7 per bottle and premium finish options starting at $13 a bottle.
Helix: pro-grade starting around $26 per bottle and premium finish options starting at $30 a bottle.
Conditioned Wine Cellars: costs and considerations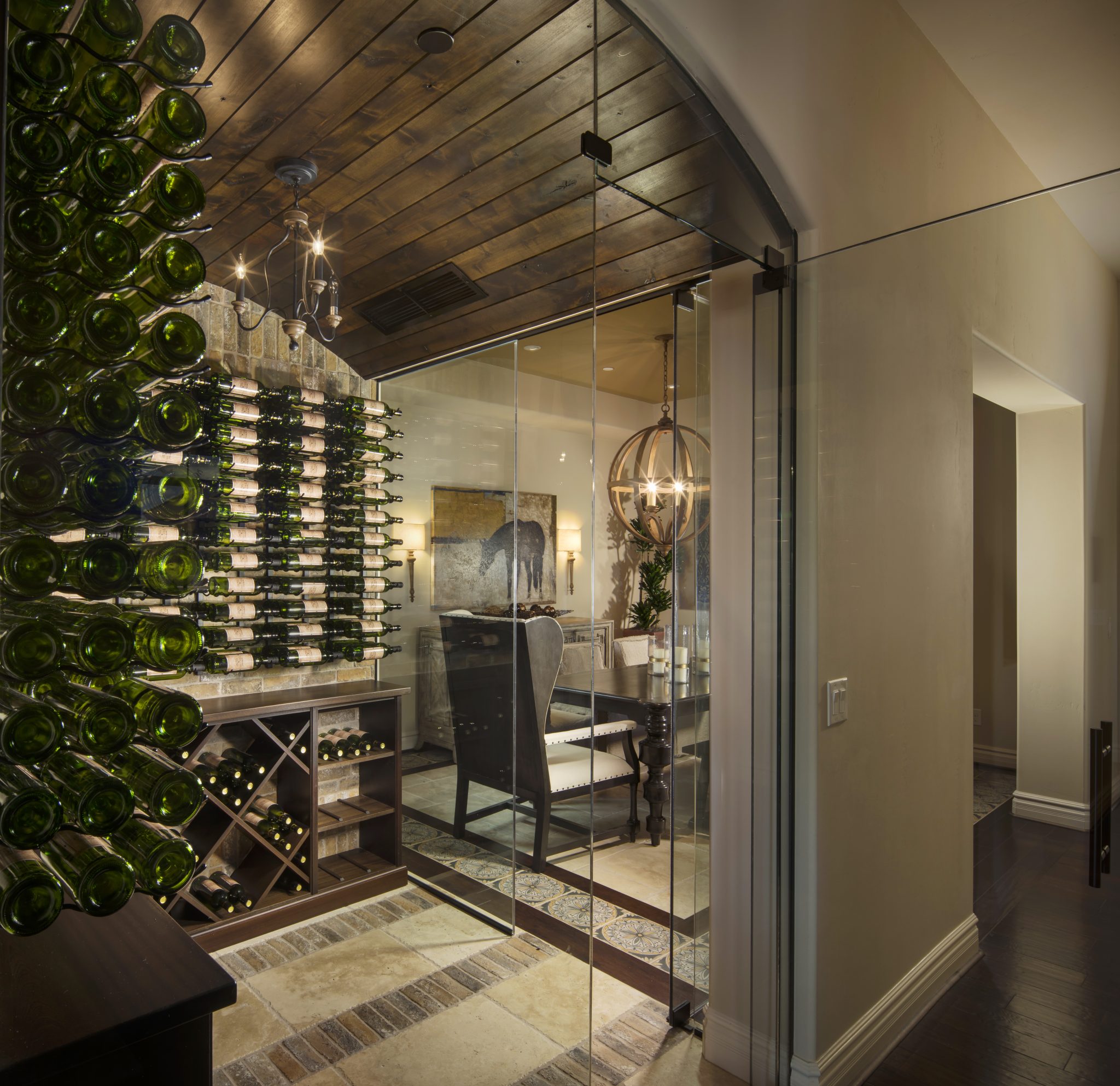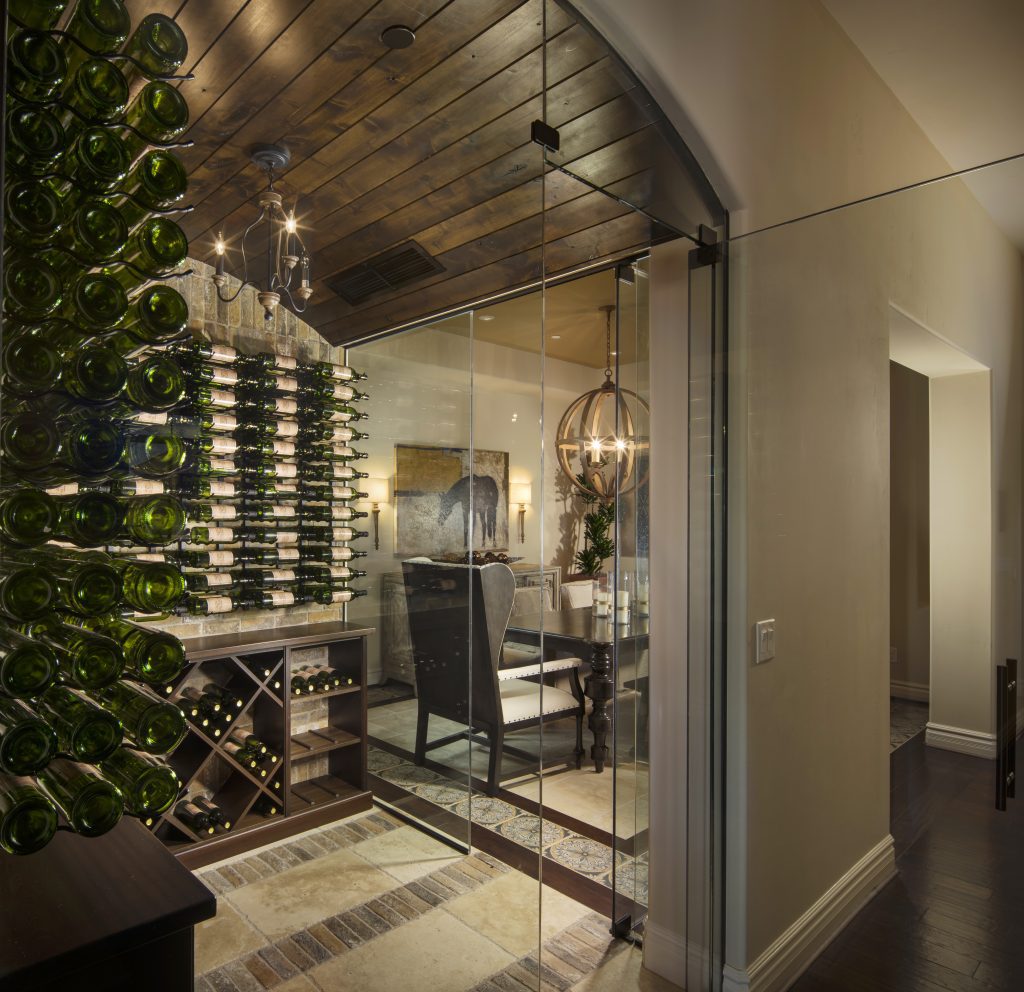 For those looking to allocate a more substantial wine cellar budget, you may want to consider a professionally installed active cellar. These installations provide precise temperature and humidity control for a more extensive collection.
Active cellars start around $15,000, with many ranging between $35,000 to $60,000 for mid-sized installations, setting a firm footing for budget discussions. (*Following will be a detailed cost breakdown for a typical mid-sized, climate-controlled wine cellar that accommodates roughly 500 bottles and incorporates a single glass wall, similar to the images above.)
Costs:
Wine Racks (Vino Pins Wine Rack): 27%-34% of the budget, around $12,000.
Cooling (split or ducted): 30%-37% of the budget, roughly $13,000.
Glass (frameless): 14% of the budget, approximately $5,000.
Glass (steel frame): 37% of the budget, around $16,000.
Installation: 11%-14% of the budget, roughly $5,000.
Factors Impacting Wine Cellar Costs
A wine cellar budget varies greatly based on factors like project size, custom design elements, furnishings, finishes, custom glass requirements, lighting, electrical work, and more.
Professional Expertise: Consider engaging wine cellar builders or general contractors, especially for projects requiring cooling and glass walls.
Specialized Trades: Collaborate with HVAC professionals and licensed electricians for optimal climate control and setup
Understanding the cost of building a wine cellar is crucial in managing expectations. These insights will empower you to make informed decisions while creating the ideal wine storage solution, whether for a small DIY project or an expertly designed wine haven.
Disclaimer: Costs mentioned are approximate and can vary. Please consult with us directly for a precise estimate for your project.