Aug 11, 2023
Building the Modern Wine Cellar: Budgeting and Value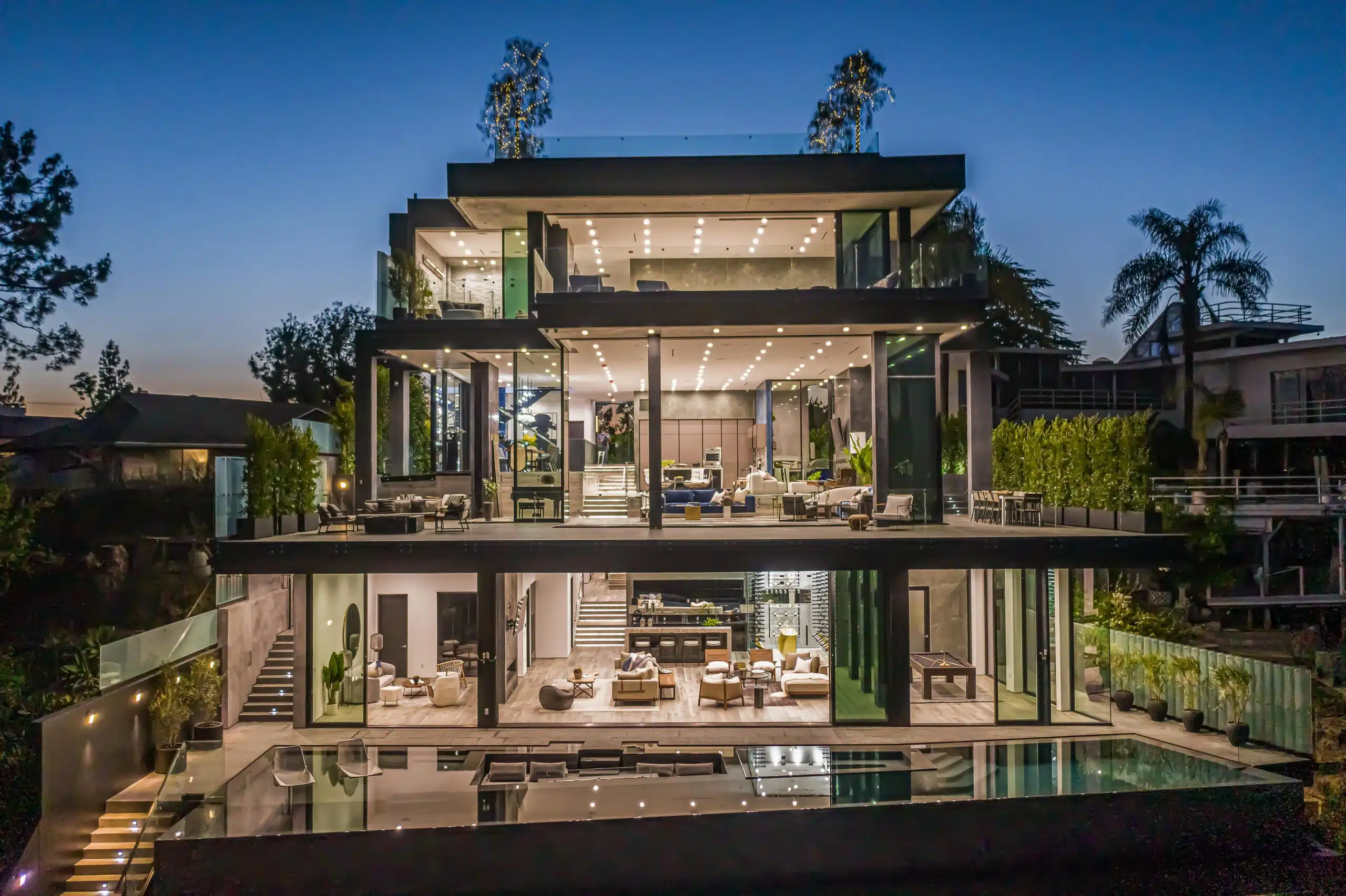 Remarkable wine cellar design is certainly fun to look at and think about (especially on instagram or your social of choice), but they come with (sometimes) hefty price tags and expectations of value. This guide will walk you through budgeting ranges and reasonable value that can be assigned (you know, ROI) to a residential or commercial wine cellar upgrade.
Scroll down below for the complete guide or skip direct to a topic:
Wine Cellar Budget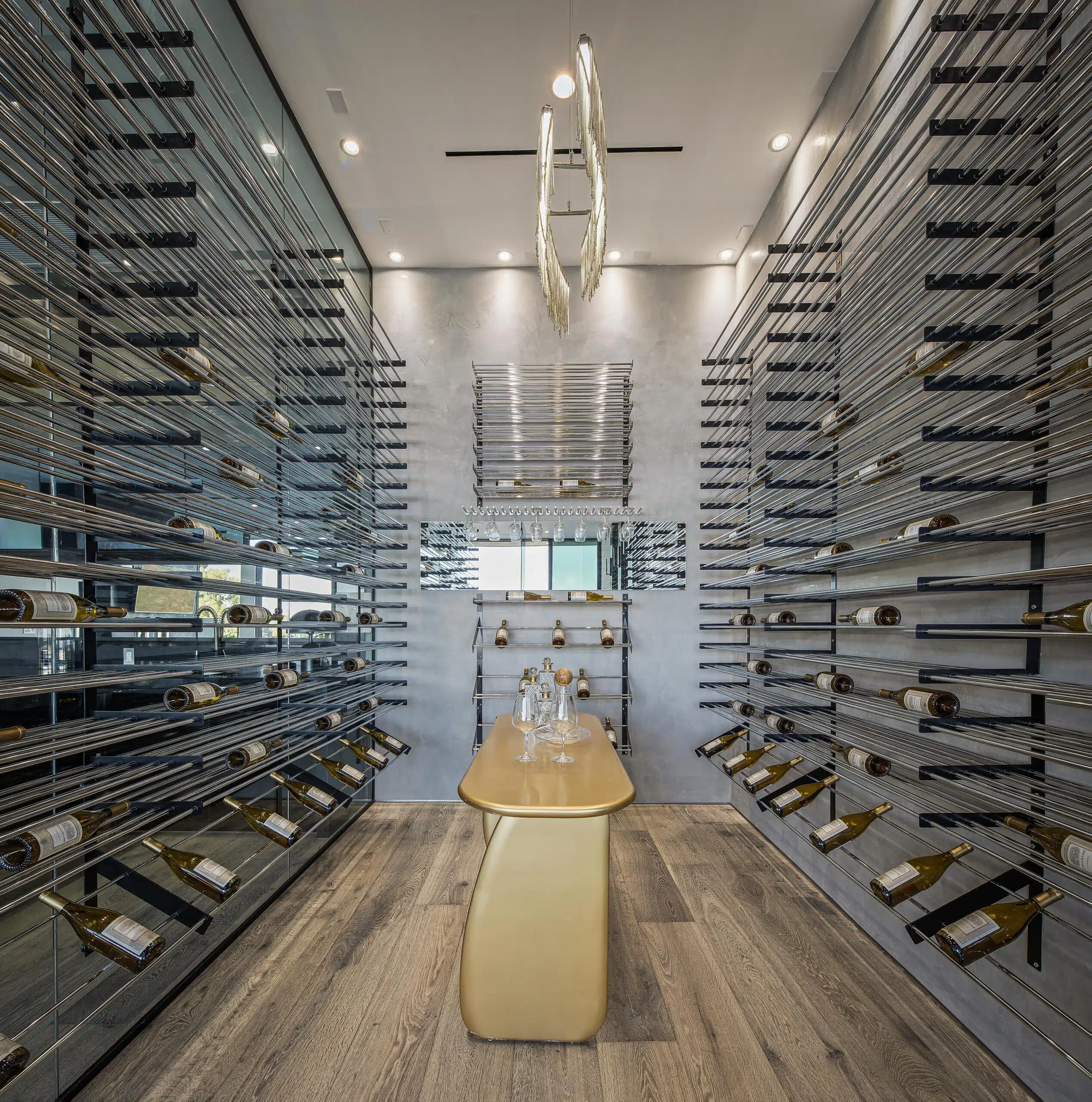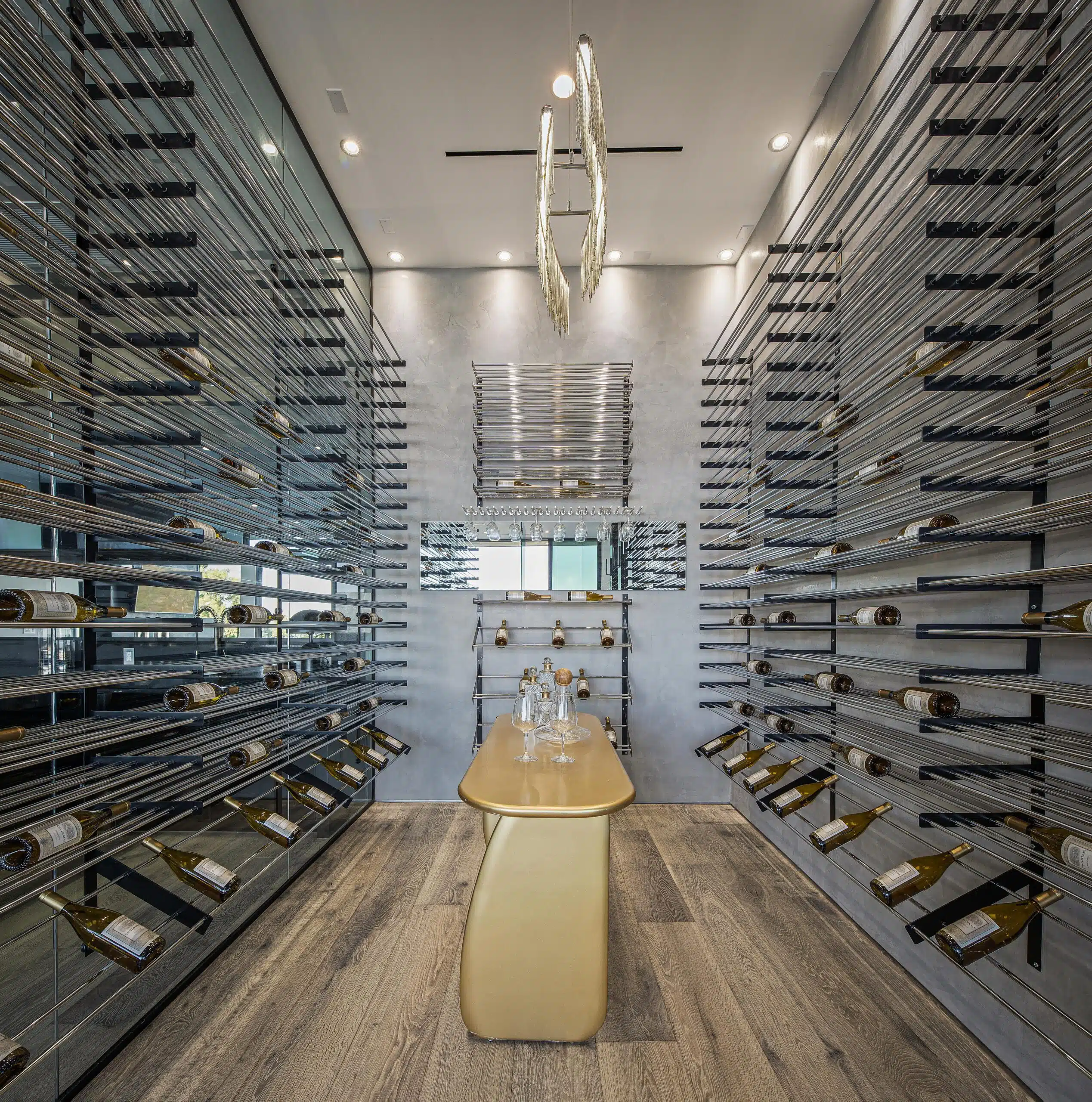 It's important to set proper expectations with clients about the cost of a wine display so they can understand the investment required.
A simple, self-installed passive wine wall may cost between $1,000 and $2,000, depending on the scale of the project and the materials selected. However, a professionally-installed, active wine cellar usually starts at $15,000. Many of these rooms fall into the $35,000 to $60,000 range, which is a good budget point to start the discussion. Elaborate projects with custom work and larger bottle capacities cost more, even reaching the six-figure range.
"Typical" 500-bottle Wine Cellar Budget Breakdown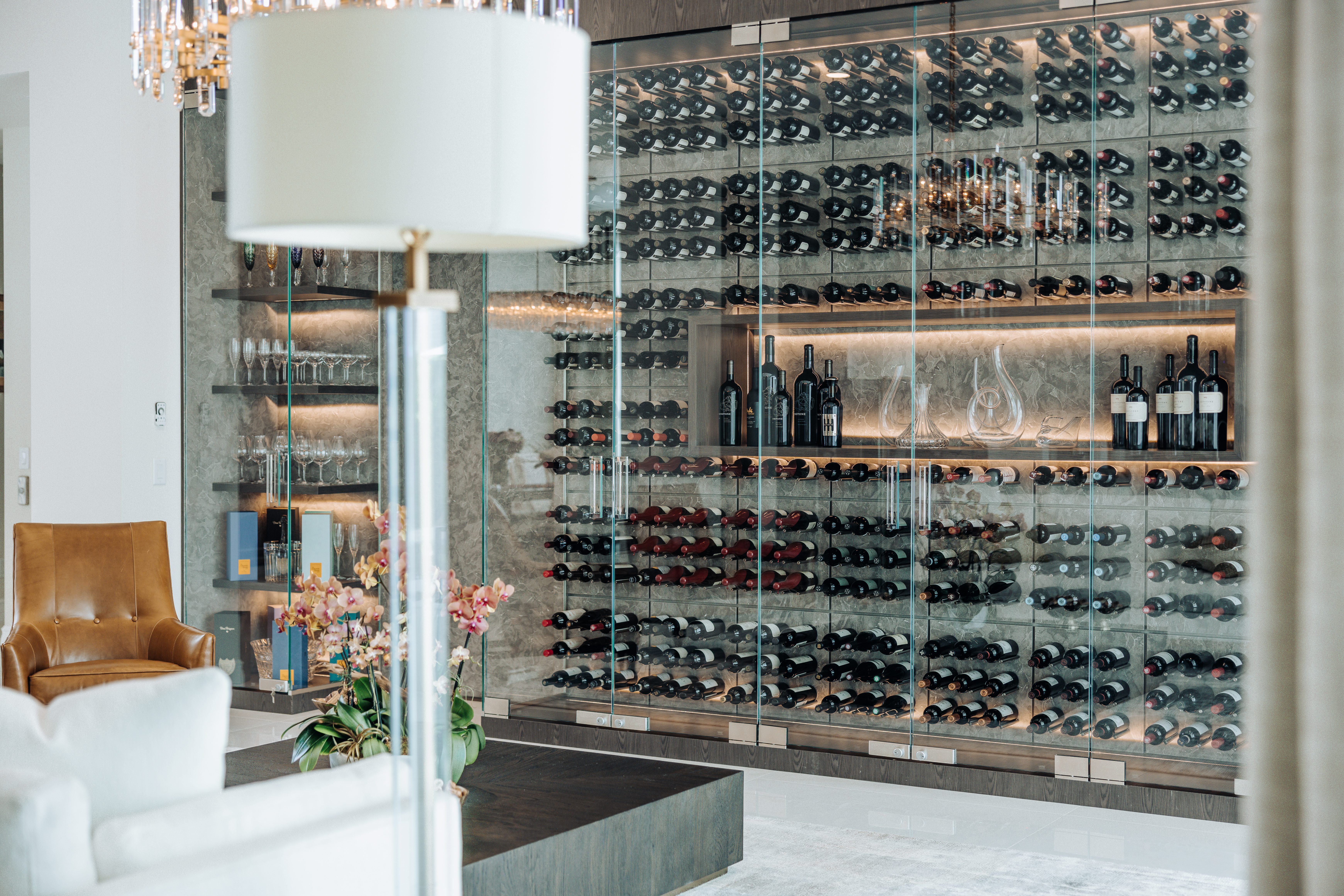 Here's a breakdown of a starting point for a typical* midsized, climate-controlled wine cellar that holds about 500 bottles and features one wall of glass. Use this only as a guide to pricing out a wine room for your clients; figures can vary dramatically based on unique cooling, glass, and wine racking requirements.
[27%–34%] Wine Racks (Vino Series pegs): $12,000
[30%–37%] Cooling (split or ducted): $13,000
Wine Cellar Glass

[14%] Glass (if frameless): $5,000
[37%] Glass (steel frame): $16,000

[11%–14%] Installation: $5,000
Total cost:
$35,000 (frameless glass) to $46,000 (framed)
Associated Costs of a Wine Room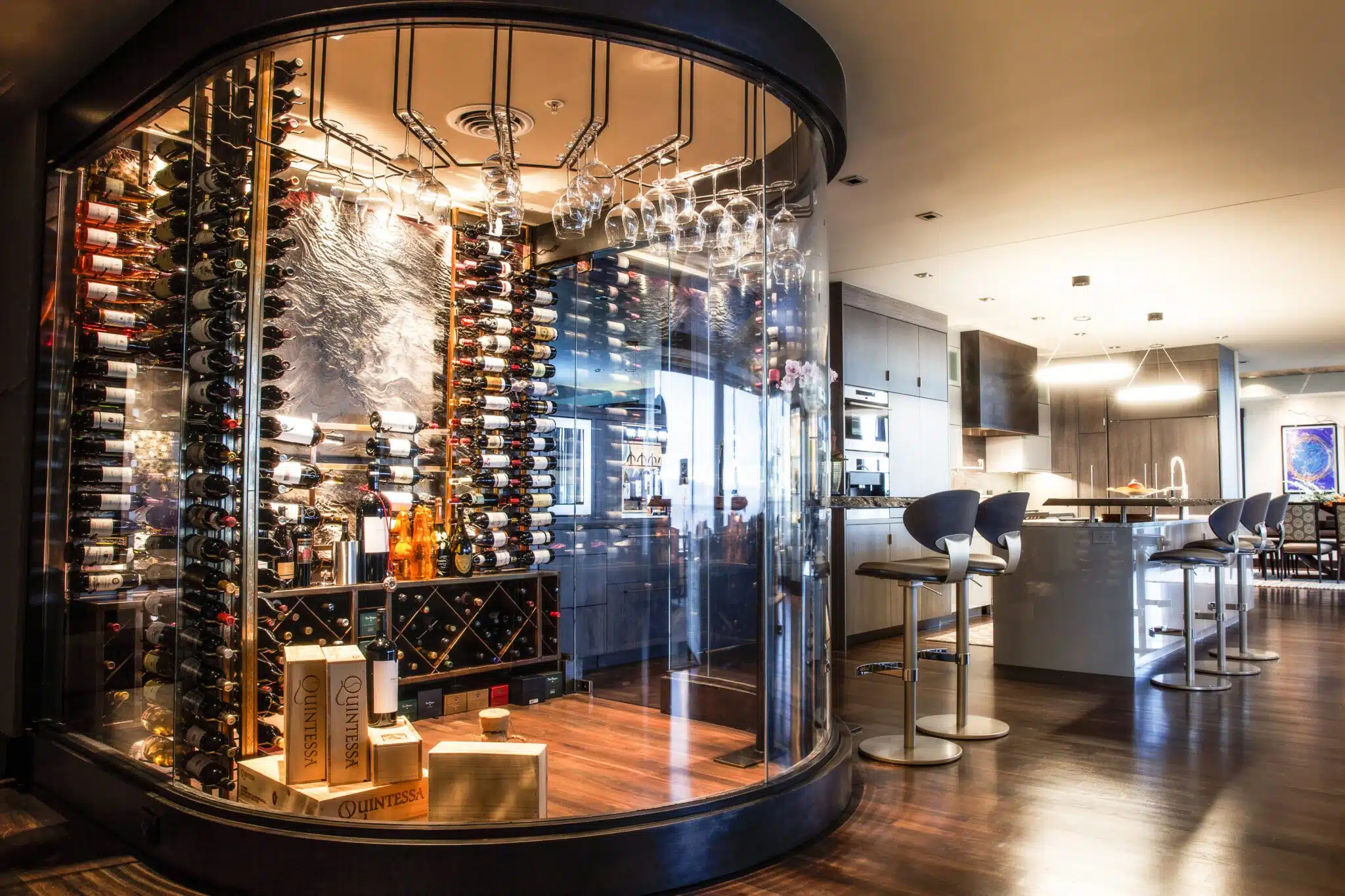 The reason it is difficult to give a precise range based on just bottle count alone are the countless design choices that drive the project cost up, or down.
These factors that can increase the budget include:
Size of the project (amount of racking)
Style of racking (and finish choices)
Custom design elements such as cabinetry
Furnishings and finishes for wine-tasting areas
Custom glass requirements (more than one wall, above 8′ in height)
Lighting
Electrical work
Upgrades to the walls, floors, and ceilings, such as concrete to tile
Temperature and humidity controls
Overcoming challenging design elements (angled ceilings, ductwork, etc.) and environmental conditions such as exposure to excessive heat
Who to Hire to Build the Wine Room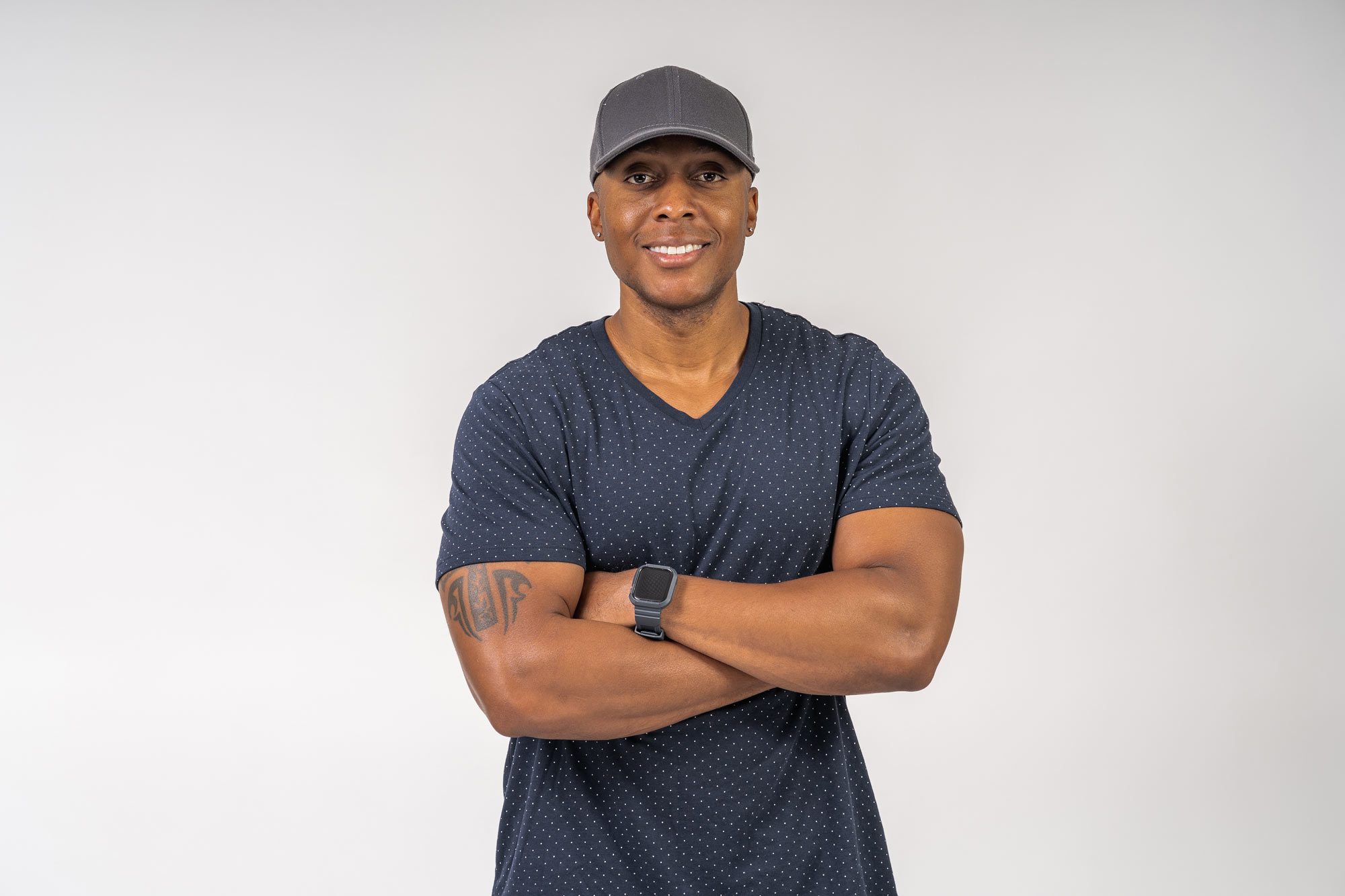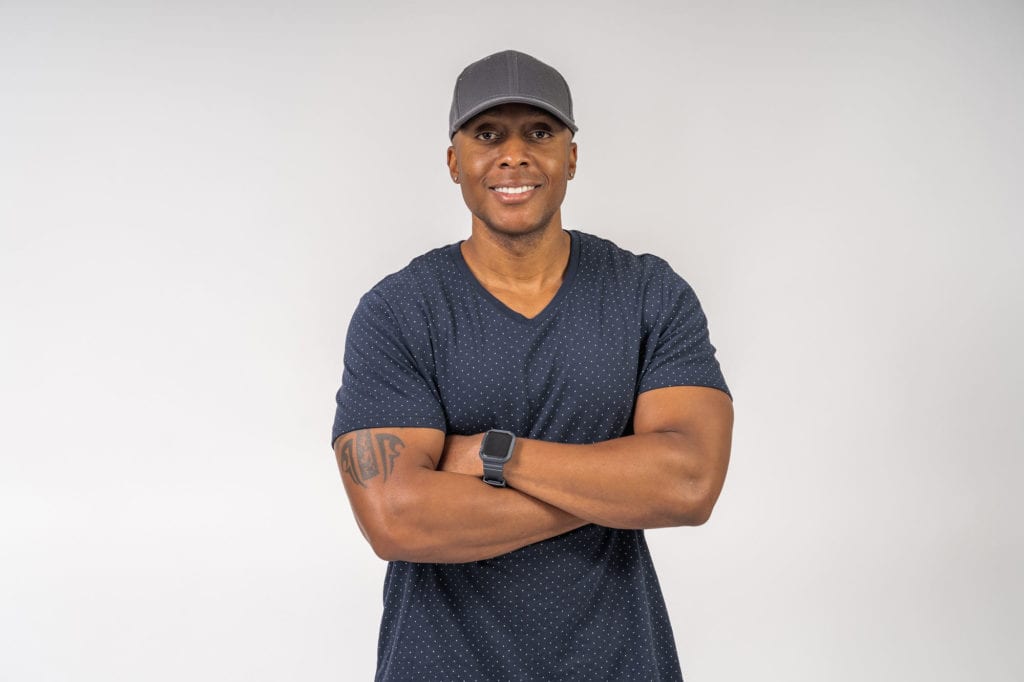 For those of us who don't have an in-house build team (or one that has installed wine rooms in the past), it's important to select the proper vendor to bring the project to life.
If looking for a soup-to-nuts solution, there are two broad categories of firms to partner with: wine cellar builders and general contractors.
A wine cellar builder is a niche company that focuses almost exclusively on creating wine displays from concept to completion. They can source all materials from the racking to the glass and the cooling equipment. They plan the project and oversee the installation. If this firm has a great track record, you can trust them with a project no matter how complex.
A general contractor likely has all the requisite skills to build a climate-controlled cellar. But, you'll need to vet them for both overall reputation and specific experience in wine cellar projects. Building a wine room is part art and part science, meaning experience in these storage rooms is of high value.
Recommendations: Most wine cellar builders are licensed general contractors. Not all general contractors are experts in wine cellar design. Consider using a wine cellar builder if the wine cellar requires cooling and/or glass walls. Any reputable GC will be perfect for passive wine cellar projects but if there are complex cooling requirements, be sure to check for specific experience in that realm.
For cooling projects requiring ducted or ductless systems, a heating, ventilation, and air-conditioning professional is likely to be required. Ensure that the HVAC professional understands refrigeration and air-conditioning principles. These systems also need a licensed electrician to set up power for the cooling units.
Working with glass fabricators (directly or indirectly) who have experience in wine cellaring is preferred.
Return on Investment
Residential Wine Cellar Value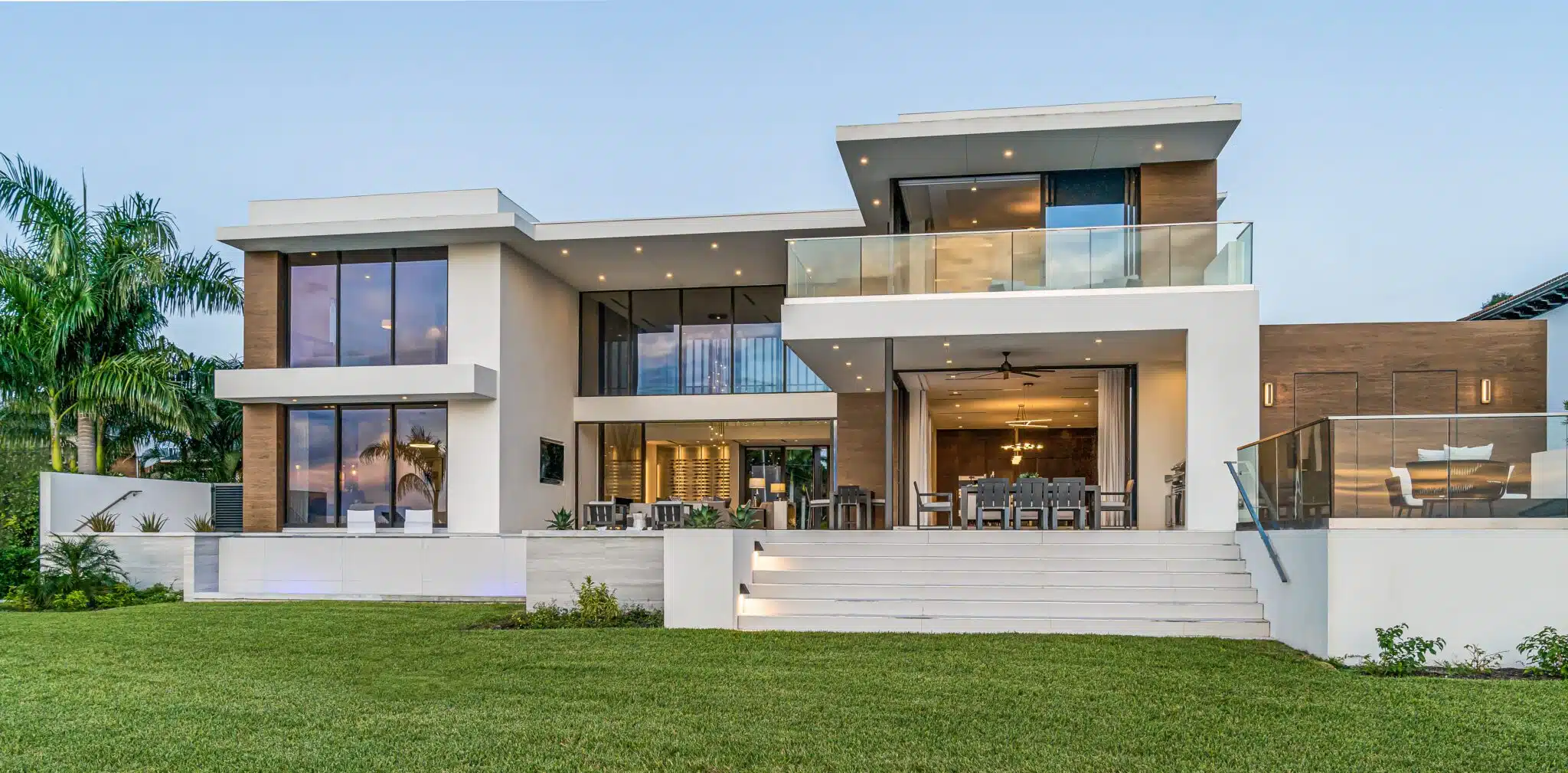 There are many statistics that show how a home's value can improve with the addition of a wine feature, but most experts agree that a homeowner should consider it an investment in happiness over an investment with provable return on investment.
Here are some factors to consider:
According to luxury home builder Toll Brothers, around 20% of buyers in their Arizona division request an upgrade that includes wine storage. They are willing to spend a $15,000–$60,000 premium for it.
Wine cellars are often considered a required amenity in the luxury housing market, generally defined as the top 5% in value in any given market. In the midrange housing market, whether the wine cellar adds value to a residence is buyer specific.
Residences in areas with proximity to wine regions and rich food cultures, such as San Francisco and the Napa/Sonoma Valleys, typically install a wine cellar. Homes outside wine country and those where the food and wine culture is not as vibrant may not wish to invest in a wine room.
31% of homeowners with an annual income of more than $150,000 rate a wine cellar as their most desired home amenity.
Zillow, a leading real estate company, reported in 2019 that homes with premium kitchen upgrades sold 30% above expected value. A wine cellar upgrade was noted in 31% of homes in the study
This value trend held even in starter homes. According to the Zillow survey, in starter homes purchased primarily by first-time buyers, listings mentioning "freestanding tub," "pizza oven," or "wine cellar" sold for more than expected. This could reflect the lifestyle millennial homeowners want to live and the needs of young families.
Commercial Wine Cellar Value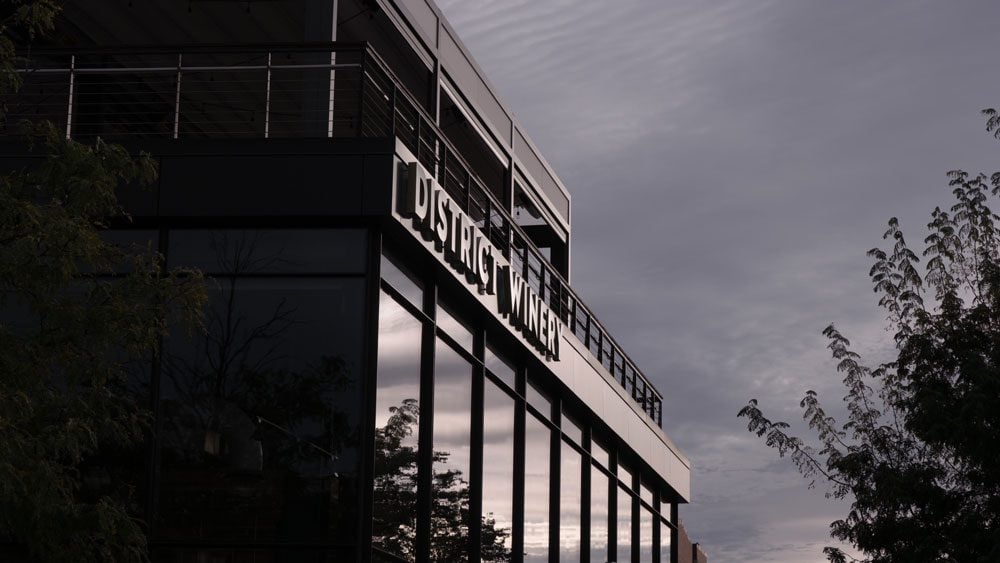 Wine displays have become a signature restaurant design element, evolving into a focal point of interior architecture that builds the culinary experience. Not only do they carry immense design appeal, but also more visible displays can generate improved wine sales.
In high-end restaurants, large display cases feature thousands of selections in climate-controlled conditions. In more casual eateries, smart wine wall concepts put curated selections in front of the customer, essentially saying, "Ask us about a bottle."
In these cases, the investment value of a visible wine room is much more defined. For the same reason top liquor brands like Ketel One have been fighting for top-shelf space, wine stewards are using the labels of the bottles to invite guests to engage with the list.
Meaning, aside from practical storage, restaurants use wine displays for two primary reasons:
To enhance the décor, much like an open kitchen
As a tool for the front-of-house staff to sell more wine
According to a 2017, survey conducted by a wine storage system company of restaurants with wine displays visible to the dining room:
86% of restaurants said it encourages guests to talk about wine
100% said it improves the guest experience
84% said it is a key design element, and
91% said they have met or exceeded wine revenue goals.
This article is part of the Complete Guide to Building the Modern Wine Cellar.