Jan 4, 2016
A restaurant vacation in South Beach and Fort Lauderdale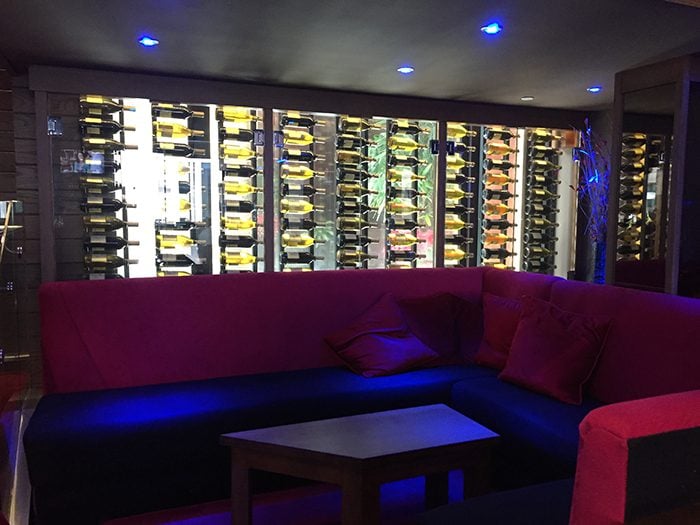 My annual trip to South Florida is a whirlwind experience filled with endless family obligations, traffic and all the fun stress that comes with the holidays. It's not often I get to truly enjoy the place that drives tourists from all over the world for its beaches, culinary experiences and crazy-fun nightlife.
This year, however, my wife and I decided to carve out an actual vacation from our normal family visit. We spent the better part of 10 days in Miami and Fort Lauderdale at the beach, a Miami Heat game, just relaxing, and enjoying a whole lot of great eating and drinking.
Here are some of my culinary favorite experiences — new and old — to help you through you next trip to the southernmost points of the Sunshine State. (We didn't seek out restaurants with VintageView displays ... it just sorta happened because South Florida has such amazing taste.)
Joe's Stone Crab (South Beach)
This is the institution of Miami Beach dining, a 100-year tradition of serving Florida's delicacy, stone crabs. While most of South Beach is shiny, trendy and/or art deco-y, Joe's is a throwback to elegant dining with impeccable service to match its outstanding seafood. I had never been during my 20 years of visiting the area, but I anticipated an insanely long wait to pair with the food and drink. The warnings of how crowded this no-reservations restaurant gets are no joke. It took 15 minutes to wait in line to put our name in — only to be informed of a three-hour wait! Luckily my wife was clever enough to scope out a table on the first-come, first-serve patio dining (score!).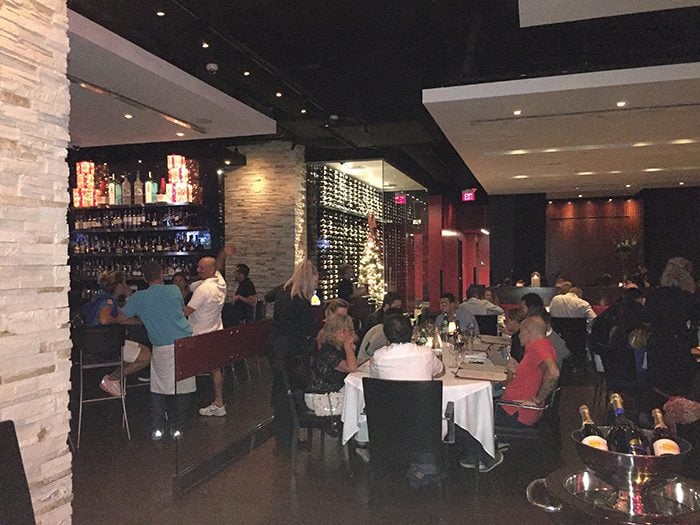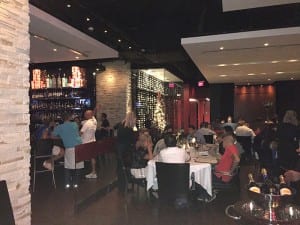 The patio offered al fresco dining, a quiet atmosphere and a simple bar menu that included all the famous Joe's items. The stone crabs were fresh and chilled and perfect with its house made mustard sauce. The pan of hash browns were tasty with a nice char to enhance the texture, and the creamed spinach was crazy good too. It was a delicious two-hour experience.
When we left, our server asked if we'd heard are name called for a table in the main dining room. Nope, we said, realizing we would still have been waiting to eat if we hadn't found the patio.
Red, the Steakhouse (South Beach)
We didn't get a chance to eat here, but on our leisurely walk up the beach from Joe's, we couldn't help getting pulled in for a nightcap. Something about that wine display pulled us in. Red is a contemporary steakhouse that rates as one of the best in Miami, and it offers one of the best commercial examples of a VintageView wine display (photo to the right) to encourage an evening of food and wine.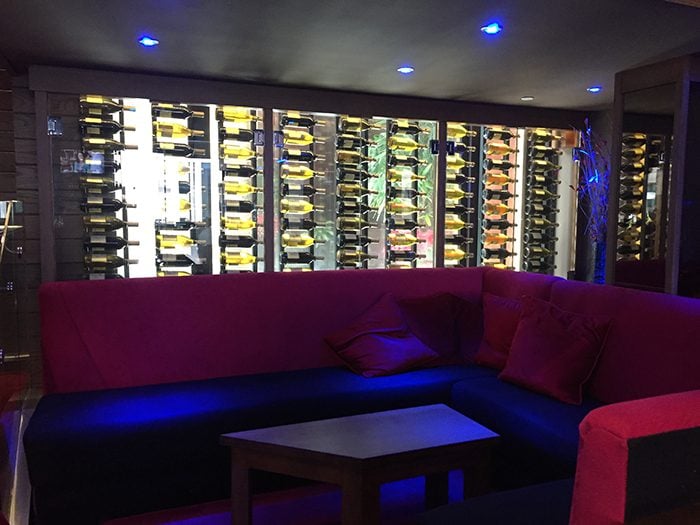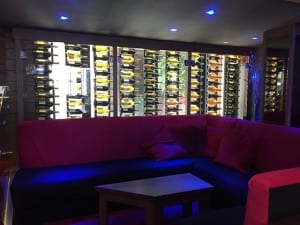 Grille 401 (Las Olas, Fort Lauderdale)
Las Olas is home to a variety of large-scale restaurants that are all too often more show than quality. Grille 401 is large-scale, yet its menu feels fresh and satisfying. I'd been here during other visits during a very dinner service (lots of beautiful people!). The steaks are great and the mix of Asian-inspired seafood options provides a perfect balance for mixed palates. This visit, we opted for lunch and a prime burger. Simple and to the point, this burger is easily one of the best I've enjoyed in Lauderdale.
When you visit, check out the VIP seating to the left of entrance, and dine beneath a gorgeous VintageView wine display (photo to the right). The label-forward wine rooms extend to beautiful custom acrylic displays (not something we offer ... yet) that look beautiful with our metal racks.
Yardbird Southern Table (South Beach)
Being a long-time Denver resident, it's easy for me to assume Miami will be a comparative trendsetter in many things from fashion and music to food and cocktails. It's an assumption that often holds true, but not here. Yardbird is like any number of amazing restaurants in my Mile High City. Its décor is homey, with wood panels and a friendly vibe. The menu is a take on upscale comfort food (Southern influence here) with an impeccable whiskey list. These are all good things, mind you, it was just unexpected to realize how much of a culinary leader Denver has become. This type of restaurant is all over my town, but in Miami you need to book a table a month in advance.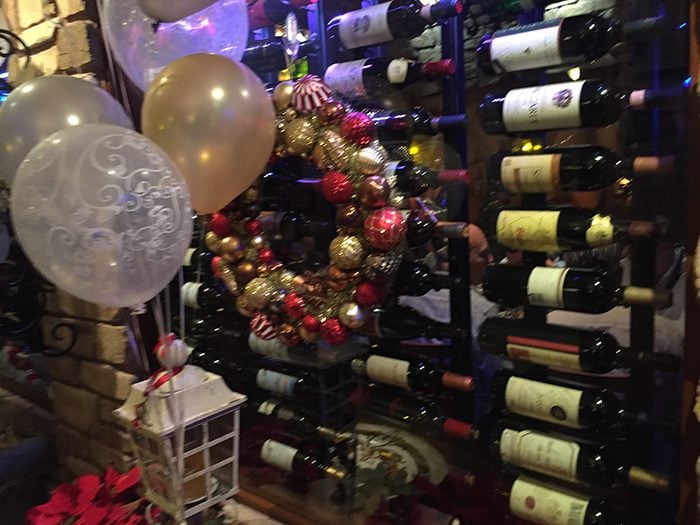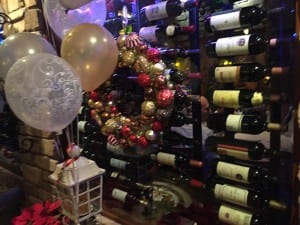 The buzz is for good reason. Yardbird serves some of the best fried chicken you'll ever enjoy. Orders are a half-bird, great for sharing. Going with the Chicken and Waffles should be a requirement. The biscuits are southern and delicious, and the whiskey drinks mix the best of old-school cocktailing with a modern culinary approach.
Café Vico (Fort Lauderdale)
Being an East Coast transplant who grew up on amazing red-sauce (gravy) Italian restaurants, Café Vico always feels like home. This intimate Italian restaurant is housed in a strip mall a few miles west of the ocean. It's a welcome surprise to find great, simple and homemade flavors throughout its menu that is rich on red sauce and pastas. This was my first visit since a recent remodel, and it was equally surprising to be greeted with a VintageView display at the entrance (photo to the right), sectioning off a private dining room. Just another reason to return although I'd come back for the lasagna and a glass of Chianti Riserva alone.
Other Great Bites:
The Dulce de Leche helado at Freddo (Lincoln Road, South Beach). This brings the best treat of Argentina to a cone.
Ham and brie at La Sandwicherie (South Beach), an authentic South Beach stand run by the Frenchest of Frenchmen.
The fruit tarts at Croissan'Time (Fort Lauderdale) are sweet and light and amazing. Just be ready to order quickly — the ordering process resembles the scenes from the Seinfeld Soup Nazi episode.
Jacob Harkins is the marketing manager for VintageView Wine Storage Systems. Reach him at jacob@vintageview.flywheelsites.com