Sep 14, 2023
The Complete Guide to the Evolution Low Profile Wine Rack System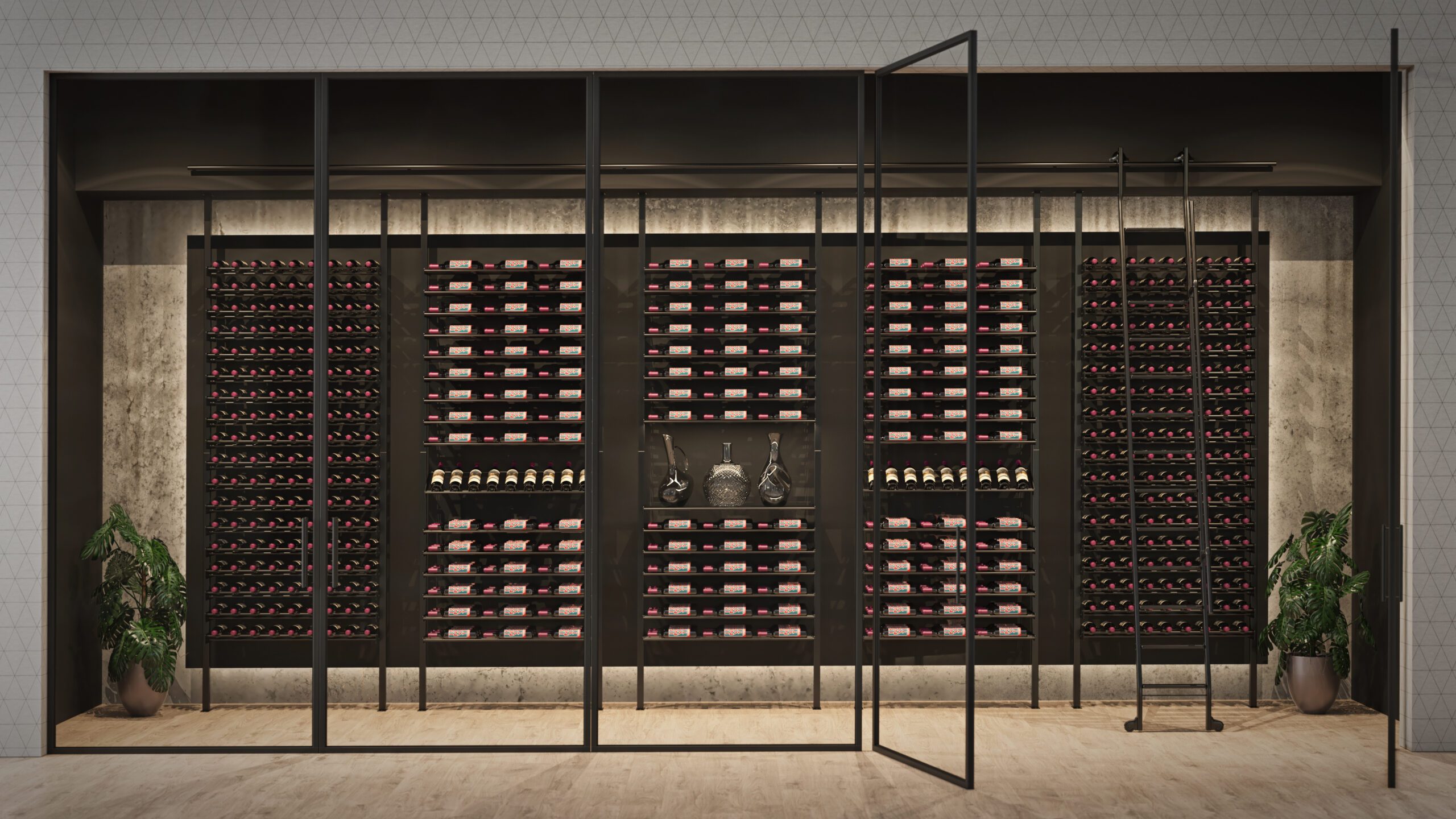 Slim is in. At least in the design discussion of the ever-evolving wine storage world.
The Evolution Low Profile Wine Rack is a floor-to-ceiling mounted solution that offers not only the most ultra-slim profile (starting at just 3" deep), but versatility, quality, and style that exceeds anything else in the cellar.
Although new to VintageView (launched in 2019), we are evolving to meet the needs of top building professionals with five key enhancements that'll leave you wanting to pop open a bottle of Gruet during your next design. (And if you need more excitement, take a tour of this upscale winery in Woodinville that features a 1,400 bottle cellar stored on Low Profile racking)
Scroll down for the Complete Guide to the Evolution Low Profile Wine Rack System, or click for highlights: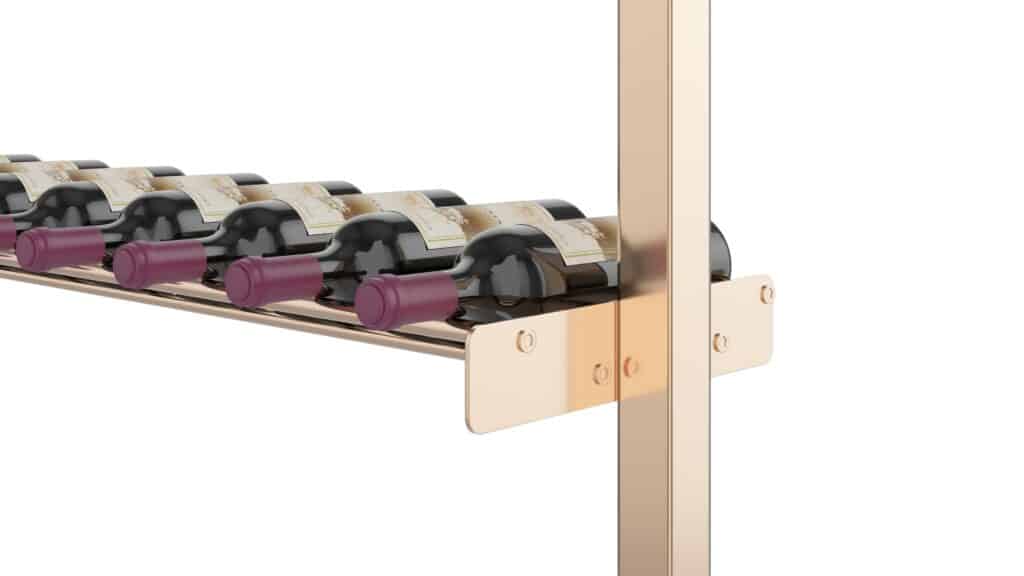 FIRST, WHAT'S NEW:
The Cork Ledge Row (1) is a simple addition that allows a unique take on the cork-out display to mix into any design. It features a five-rod layout that secures bottles facing out.
The Presentation Row (2) brings our popular Somm-style orientation using just one Plate, diagonally attached. Both are available in Matte Black, Cool Gray, Golden Bronze, and Acrylic (3), a new finish addition to the collection (available in Label Forward arrangements, too) that allows for the most invisible way to float bottles off our Posts.
We've also updated our Low Profile Shelf to offer standard availability in 1 Column and 2 Column wide designs (4). Finally, our Posts are now offered in pre-drilled versions (5) to speed up installation. This means there are three unique options to best fit your project and timeline:
Customizable Post: Drill Wine Rack Row locations on site to match any unique wine storage option, varying spacing, styles, and more without adding unsightly unused mounting holes. Ships same week.
5" Predrilled Post: The most common vertical layout, these Posts allow for the quickest installation when unique layouts are not available. Ships same week.
Custom Predrilled Post: For any non-standard drilling request (7" vertical or to include Presentation Rows, Cork Ledges, large format needs, for example), we can predrill Posts to exact specs. Ships in 10 to 12 weeks.
HERE ARE 6 MORE THINGS YOU NEED TO KNOW ABOUT LOW PROFILE...
SUPER SLIM, FLEXIBLE FOOTPRINT
Available in single-, double-, triple-, or quadruple*-depth configurations, the Evolution Low Profile Wine Rack starts at 3" (8cm) in total depth. The system is also available in single-, double-, or triple-bottle width, and can be installed up to 17' in total height with standard items.
What is it we are trying to say? The Low Profile System has so many unique, standard sizing options, it is infinitely customizable to fit the space you are working with.
VERSITLE STYLING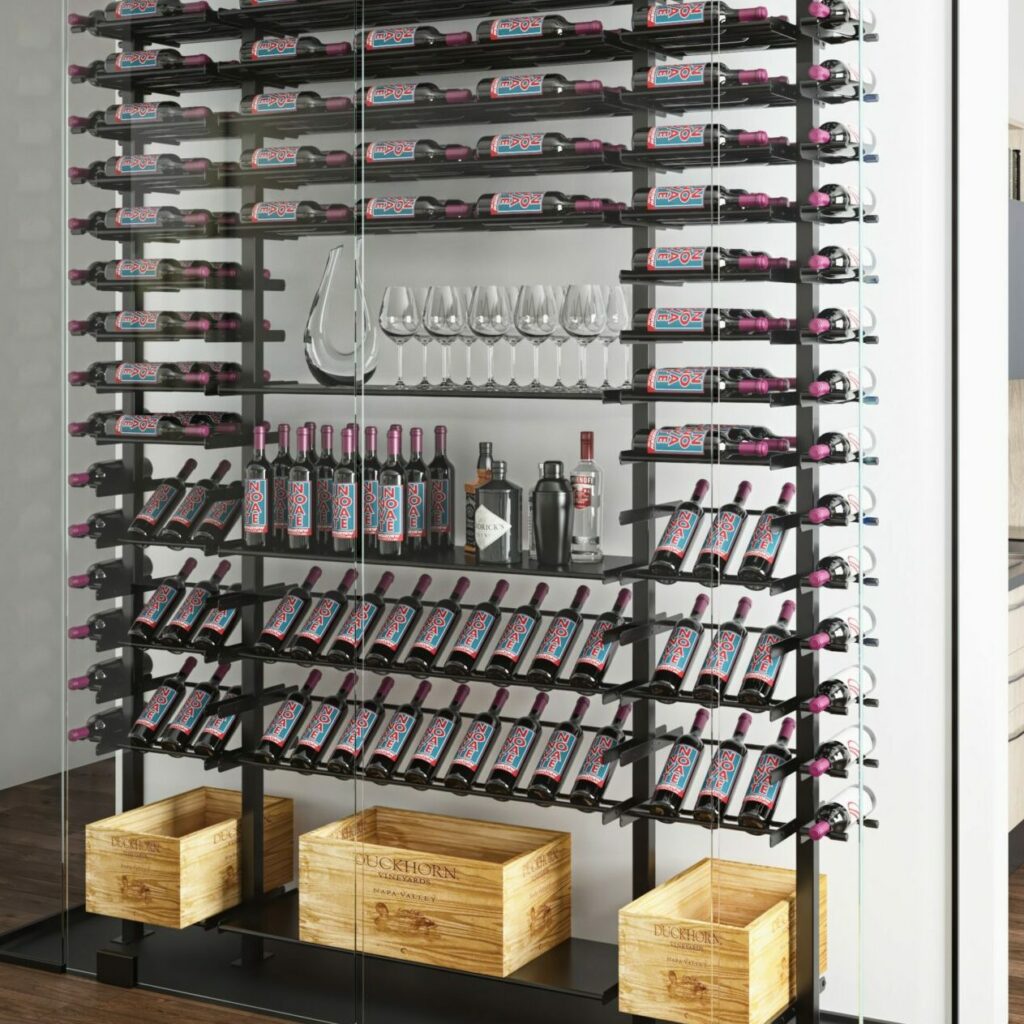 With the option to add wall mounted racking in the same style — via the Evolution Wine Wall — and a full suite of Low Profile and other products in matching finishes, you'll only be limited by of imagination.
Think of adding Vino Pins to the edge of a Post (see above) or integrating Cork Ledges, Presentation Rows, and Shelves throughout an array to add visual appeal with ease.
Add a touch of W Series Wine Racks to an accent wall in matching finishes. Endless options.
Plus, the vertical spacing on our wine racking allows for standard, Champagne, and magnum bottles in the same row. We can help you imagine a design that fits up to 6L formats as well.
REMARKABLE FINISHES
Featured in three remarkable monotone finishes and with several two-tone finish options, Low Profile can match or compliment the rest of the hardware in the room.
Chic Monotone Colors:
Matte Black
Cool Gray
Golden Bronze
Sophisticated Two-Tone Options:
Acrylic and Matte Black, Cool Gray, or Golden Bronze
Matte Black and Golden Bronze
Cool Gray and Golden Bronze
Chrome and Matte Black
SMOOTH POST
Our Post offers a continuous surface, from the floor all the way to ceiling using our patent-pending c-channel connection. Plus, the ability to drill on site (or pre-order the exact drilled pattern needed) ensures you'll avoid showing unsightly, unused assembly holes.
QUICK FULFILLMENT
Most Low Profile system components ship same week, matching our speed with W Series, Vino Series, and Helix racking. If you need a predrilled posts with non-standard spacing, it's just a 10- to 12-week wait (that can be cut in half with expedited service). We'll be the most reliable product delivery for your wine room project.
QUALITY YOU CAN COUNT ON
As with all VintageView wine racks, Low Profile is backed by a lifetime warranty. We could drive a truck over our steel Posts without much risk (in fact, we did. TikTok coming soon.). Which is to say, valuable vintages are safe for decades to come. Our proprietary engineering also features several unique advantages for added strength:
Wine Rods are bolted to support plates to keep them in place
Metal screws fasten wine rack shelves to the Post
Wine rack shelves are made of rigid steel to minimize flex, even at 1 meter wide (39-5/8")
Ready to get started on a wine room design today? Or can we send you a catalog to deliver more inspo to your doorstep?
* 10- to 12-week lead time (or 4- to 6-week lead time with expedited service.