Dec 5, 2017
The Modern Wine Cellar Guide to Glass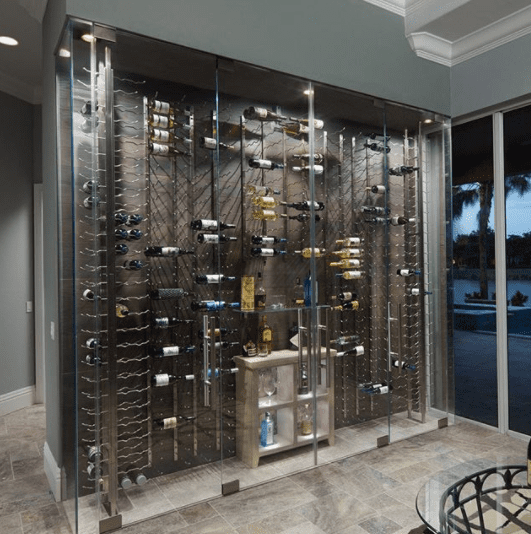 Glass and wine cellars, historically speaking, have been about as synonymous as good vino and Two-Buck Chuck.
For a bevy of reasons — mostly the safety of precious vintages — using glass by the sheet in the cellar environment has never been a good idea. Luckily technology and savvy wine cellar designers have changed that in the last decade.
Glass is now good. Assuming you know what the heck you are doing.
Here's a primer on what you need to know to create a gorgeous, show-stopping, glass-enclosed wine display that will double as safe storage for decades to come.
But first you need to understand why glass has never been considered a safe addition to the cellar environment. There are three primary villains to consider: crazy heat, UV rays, and overall insulation troubles.
These challenges can turn your beloved bottles into mulled wine (which isn't a good thing when it's not by design and doesn't include all those warm, wintery spices). Before the planning begins, take full inventory of the issues at hand such as where does direct light enter the display, how much extra heat does it create, and more.
Most problems can be solved with ingenuity, money, and good planning.
We turned to Leslie Pabst from The Glass Shoppe by Builders Glass just outside of Naples, Fl., for some tips on planning a glass-heavy wine cellar. She's led the installation of more than 100 glass wine cellars (many shown in this story) in the last five years in sunny, hot South Florida. Which means you should listen to her!
Here's what you need to know about wine cellar glass:
Glass
There are dozens of options to consider when picking your wine cellar glass, but they fall into two main categories: framed or frameless glass.
The former is more expensive but allows for double- and triple-paned options. This means you can really crank up the insulation value, saving the need for larger cooling systems. Plus, the addition of metal or wood frames is a desirable look in many homes and restaurants.
The latter uses metal hinges to connect the glass and is often a third of the cost. Frameless looks fantastic in a minimalist environment but it can only be installed in single-pane options. This means you will have to factor the extra heat gain into your cooling system purchase.
Cooling
Glass wine cellars use the same style cooling systems as any other display: self-contained, ducted, split (learn more about these). Since glass has a much lower R value (the level of insulation), it's not uncommon to have to double the size of the cooling unit needed. Plan for that, and you're off to a great start.
UV/Sun light
Dependent on location, the sun's harmful UV rays could become problematic as sunlight can damage wine in the long term. If your cellar comes into direct contact with sun light, you'll need to plan accordingly. Luckily, there are several films that can be added to the glass (clear to dark) that block 99% of UV rays. These treatments usually add just a few hundred dollars to the project price tag and they work.
Wine Racks
Metal wine racks work better in glass environments. We've been studying this for years. Trust us. This is science.