the design forward list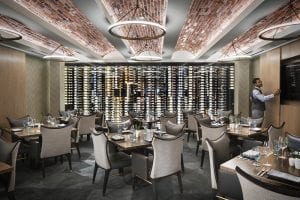 There's hardly a restaurant in the world that wouldn't want to sell more wine. We like to think the same thing about those who visit haute eateries, tasting rooms, and boutique wine stores. They want more wine, too! Our modular, label-forward systems turn blank commercial canvases into custom wine cellars, walls, and more that engage customers, leading them to order (and enjoy) one more glass or bottle. Restaurateurs, retailers, and hoteliers around the world trust our products to hold valuable collections in cellars, behind glass, on floating walls, and as accent pieces that are equal parts design and functional space. Collections ranging from just a few bottles and up.
Design Services & CAD Blocks
|
Installation Resources
|
Inspiration Galleries
Deep Sea Wines
Santa Barbara, Ca
Products: Wall Series
Capacity: 654 bottles
Est. Cost: $1,900
Medlock Ames
Healdsburg, Ca
Products: Wall Series
Capacity: 336 bottles
Est. Cost: $1,250
Rootstock
Cupertino, Ca
Products: Wall Series, Floor-to-Ceiling Frames
Capacity: 936 bottles
Est. Cost: $8,950
VintageView engages restaurants and hotel customers throughout the world with stylish contemporary wine racks.