Mar 20, 2018
Winery Tasting Room Design of the Month (March): Fidélitas Wines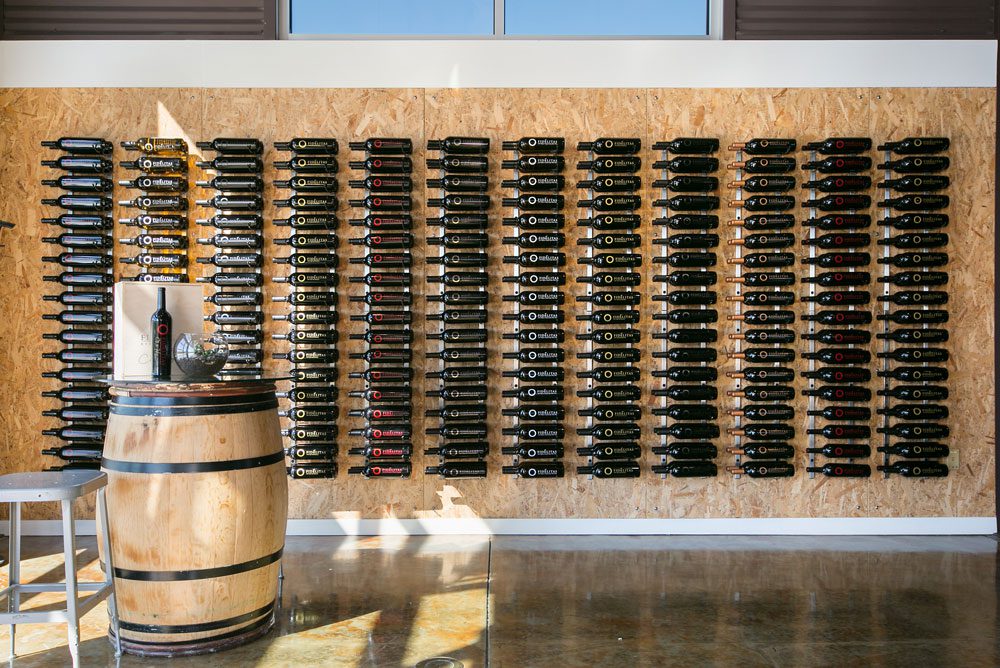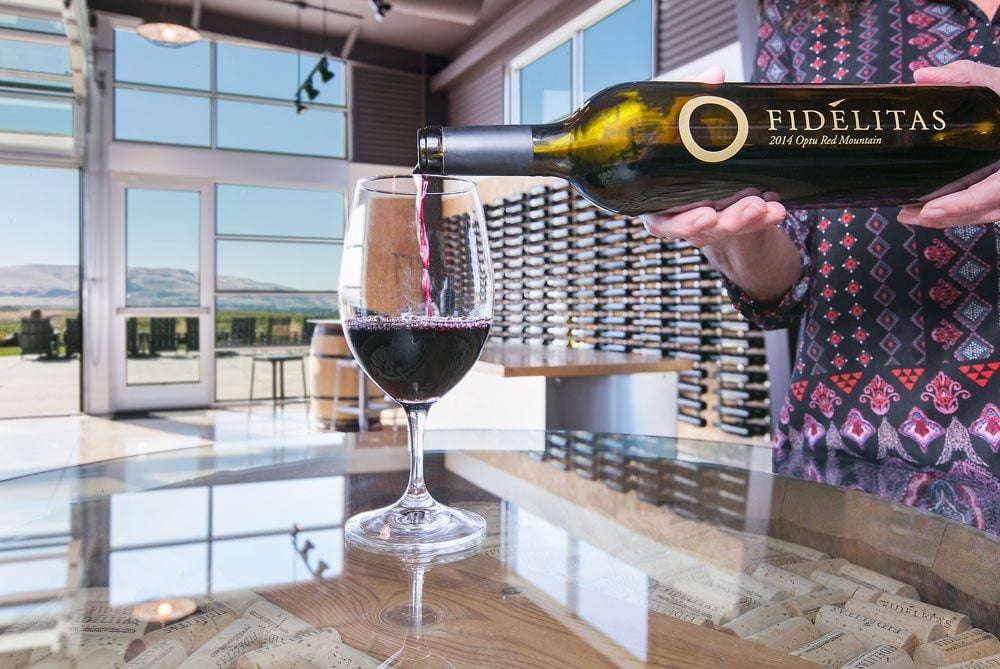 This month's look at modern winery tasting room design is actually a nod to two: Fidélitas Wine's Woodinville and Red Mountain AVA outposts.
The former is located in the quaint wine tasting mecca that brings many of the fabulous wines of eastern Washington within a quick Uber ride of downtown Seattle. The latter is firmly entrenched in the winery's vineyard and production operations and takes full advantage of breath-taking views of the mountains and agriculture.
Both tasting room designs follow the brand's aura of minimalism and pride in keeping things simple. The mantra is to let the wine do the talking (and the wine bottles, for that matter). Using OSB board as wall treatment (exposed plywood, basically), the only decor enchantments* are the wine walls lined with their silk-screened bottles and a pronounced logo and name treatment behind the wall.
* The Woodinville spot also has a map of the wine regions of Washington and a bottle menu
The Red Mountain tasting room features an all glass wall with a garage door that open up to the endless views and vistas of Washington wine country. It's oriented for maximum sun exposure and opens to a patio that screams for guests to linger on long summer afternoons. The Woodinville location doesn't have the prime views, but uses the same glass and open treatment to allow guests to take advantage of the sun every time it pops out.
Wine Display Details: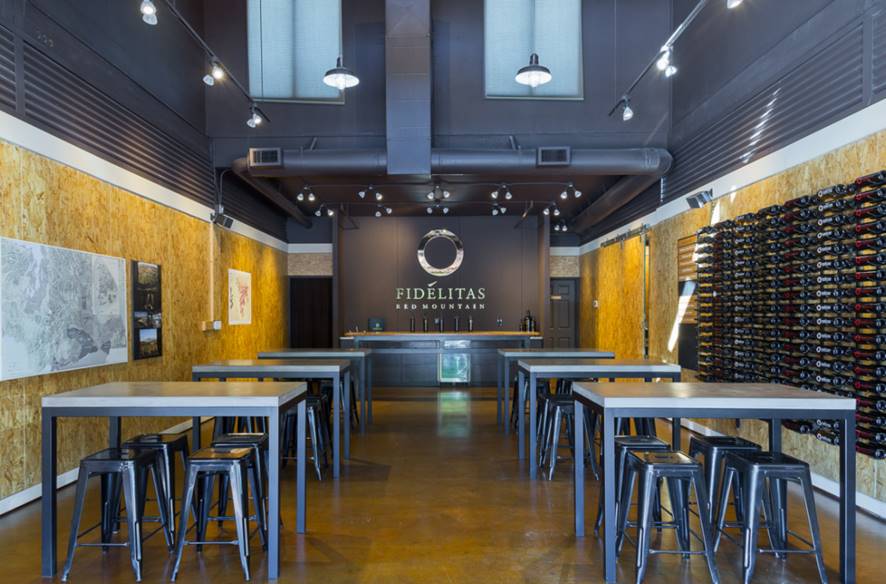 Woodinville 
14467 Redmond-Woodinville Rd NE, Woodinville, WA
Wall Series 6-foot Kits in double-bottle depth configuration
Satin Black finish
432-bottle capacity
Passive cellar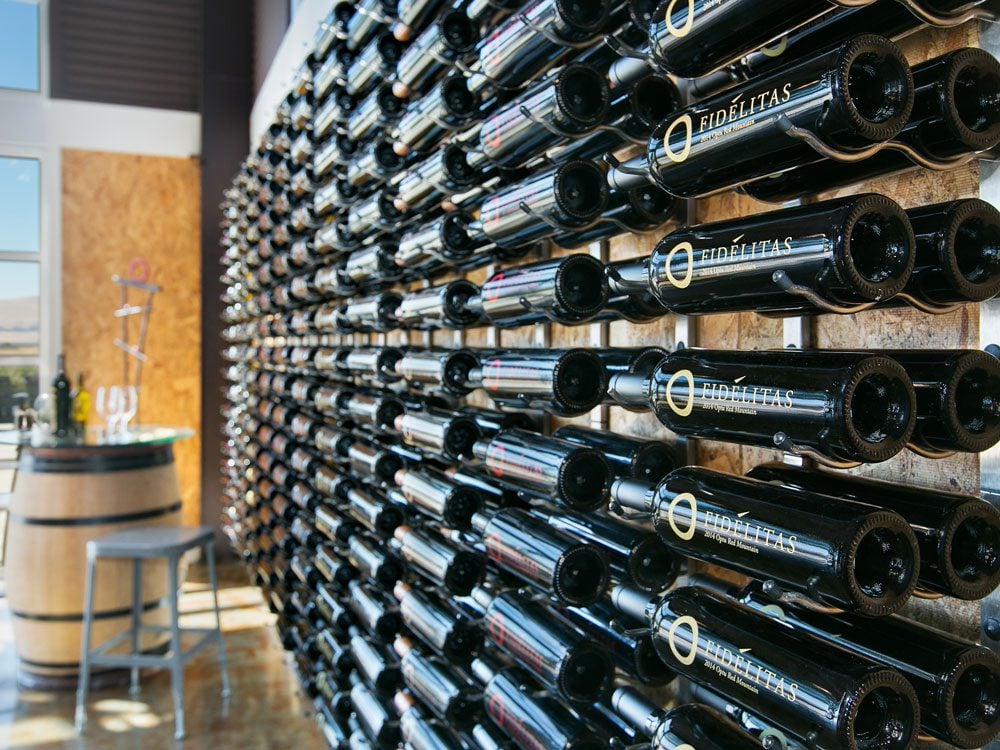 Red Mountain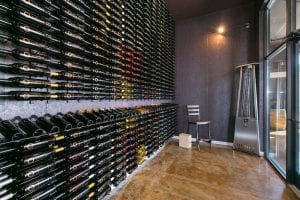 51810 N. Sunset Road, Benton City, WA
Wine Wall
Wall Series 6-foot Kits in double-bottle depth configuration
Brushed nickel finish
432-bottle capacity
Passive cellar
Library Room
Wall Series 4-foot wine racks in double- and triple-bottle depth configurations
Wall Series Presentation Rows
Satin black finish
1,260-bottle capacity
Cooled cellar
Red Mountain photos by Nic Aston