Nov 26, 2014
Wine Displays Are Eye Candy for Diners
Caroline Perkins, Contributing Editor
Wine displays are "a visual destination that let the story of the dining experience unfold." So says Tom Davis, restaurant design expert who heads up the Denver office of
Davis Wince
, a Columbus, Ohio-based architecture firm.
Wine displays have become a signature design element for restaurants, he says. They have become part of the interior architecture, adding a quality component to the culinary experience.
Americans' interest in wine has grown consistently over the past decade, and it can be the hottest aspect of a trendy or traditional restaurant. In either case, if wine displays are to illustrate the story of the dining experience, they need to be front and center in the operation where, as Davis says, they serve as eye candy for all diners.
Charles Malek spent more than a decade in the wine industry, both in the U.S. and Tokyo. He says that restaurateurs now use such displays instead of art or plants. Wine used to be kept in the back in a wine cellar, he notes, but now it is up front and part of the dining experience.
Wine displays can take the form of a wall, a glass-fronted or glass-enclosed room or a divider, depending on the objective and the space available in the restaurant. A wine wall provides an eye-catching backdrop for a dining area, like three-dimensional wallpaper, Davis says. A wine room, generally with enclosed cases to permit temperature control and security, can be used near a dining room's entrance to showcase featured labels and capture diners' attention from the moment of entry. A wine divider, or screen wall, can be functional as well as visual, transparently separating a bar/lounge area from a dining room. The form of each display is a function of the goals of the restaurateur, for example, suggestive selling, decoration or storage.
As with other interior decor features, materials used for wine displays help to create and complement the ambience of an operation. Wood and glass can express a more traditional look, while stainless steel and iron can add a more modern feel. Some displays store wine, usually reds, in the open air. This cost-effective approach allows easy access by servers but may pose security and quality risks. Many other displays are enclosed in glass, with temperature and humidity systems to ensure the optimal storage environment for expensive wines. Closed cases also allow for keeping the wine under lock and key. The more sophisticated the system, of course, the greater the cost. Simple racking can be installed for less than $2,000, while enclosed, temperature-controlled systems can run into the high five figures.
Malek suggests carefully planning out a restaurant's wine program before selecting and designing a display. If the program will feature magnums, half bottles and champagnes, the racks have to accommodate those different-sized bottles. Dining room flow is also important: If a sommelier or servers will select wines from the display during service, access should be as easy as possible.
The number of bottles on display depends on the space available. When showcasing thousands of bottles of wine, weight becomes a critical design issue. In those instances, Davis says, if the display space is not on a slab, alternative reinforcements must be incorporated to support the weight.
In most cases, labels are a key part of wine displays. Storing bottles with the labels visible makes them easy to read and adds to the artistic appeal. In some cases, empty bottles serve as a geometric design element on a back or side wall of a room. Cases for display and sale are generally found in more upscale restaurants, while bottles used for decor are often found in more casual operations. In some instances, premanufactured racks are used; in others, components are constructed elsewhere and assembled on-site.
Lighting is another important element in wine displays. The advent of LED lights means that the bulbs will not heat up the surrounding area, making them an optimal choice for wine displays. Lighting from within turns the wine wall or room into a beacon, Davis points out. Some designs incorporate clear lights, while others feature multicolored bulbs for a different effect.
The final selection of the type of wine display will be a result of the chef's or owner's objective. The concept conversation should take place between restaurateur and designer early on. Whether the wine display is part of the original design of a new operation or is added to an existing space, it should reflect the ambience and personality of the restaurant. Here are three examples of wine displays that demonstrate differing objectives and execution.
Charcoal Restaurant, Denver
Display type: Freestanding divider wall
Bottles held: 70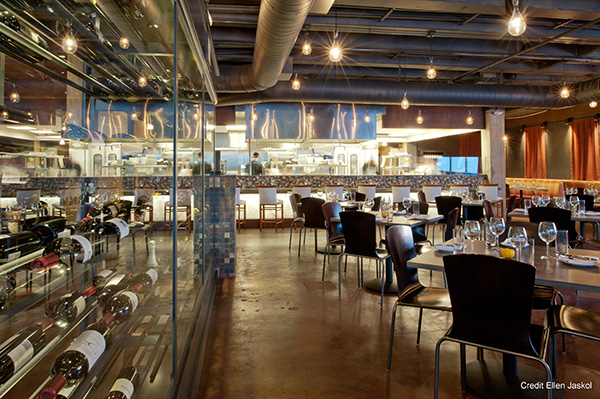 This "fine dining at affordable prices" restaurant has a large freestanding wine wall that separates the bar/lounge area from the dining room. The wall is used as a showplace for the restaurant's favorite wines. It holds around 70 bottles and is temperature and humidity controlled. Both red and white wines are on display, reminding diners that wines are available to enjoy with their meals. The racked bottles are not accessed by staff during service; rather, they're simply for display and suggestive selling while orders are filled from inventory held in back.
Charcoal's wood-and-glass wall is functional, acting as a divider, but also holds visual appeal, as it is transparent. It is lit internally with clear LED bulbs. The wall was built into the design of the original space, says Davis, who worked with owner Gary Sumihiro to create the display.
The restaurant aggressively promotes its wine program as accessible and affordable. Guests can order a flight, half pour, full pour or bottle and a custom-designed wine dispenser lets them sample many wines by the glass. Wine pairings are suggested with signature menu items as well.
Denver-based Charcoal Restaurant, also seen on the opposite page, uses a glass-enclosed, freestanding divider wine wall to separate the bar from the dining room.
Spiaggia, Chicago
Display type: Floor-to-ceiling walk-through wine room at entrance
Bottles held: 1,700
"We had been around for 30 years and had amassed an incredible wine collection, but not one bottle was on display," says Tony Mantuano, chef-owner of Chicago's iconic fine-dining restaurant Spiaggia. The motivation to include a memorable way to display the collection came when the restaurant was redesigned and renovated earlier this year.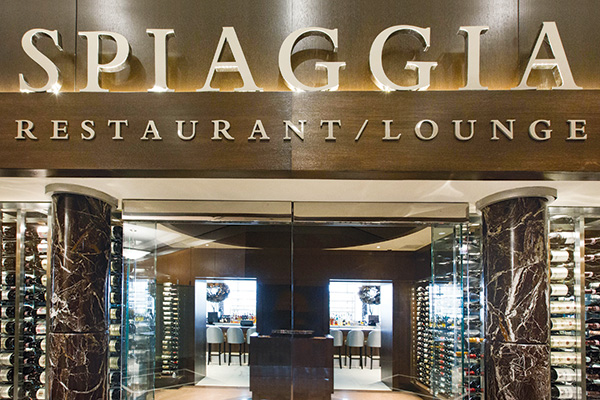 "We wanted to make sure the wine was first and foremost in front of the guests," he explains. The result? Guests cannot miss the importance Spiaggia places on wine, as they now walk through a custom wine room to enter the restaurant. "The wine room is where we place all our trophy wines, the ones the collectors want to drink and that are hard to find. This sends a great message," Mantuano says.
Spiaggia's wine room integrates strategically into the structure of the entryway. The restaurant resides on the second floor of a commercial building, so its front entrance faces into the internal passageway. The wine display is built so that people can drink up its grandeur from the outside as well as the inside. Diners and passersby see bottles placed horizontally, three-deep, on floor-to-ceiling racks flanking the front door.
As one enters through the outer-wall wine cases, the host station sits directly in front on the "fourth" wall. Here, there are doors to the dining room. The walls on either side are also floor-to-ceiling cases and craftily hide restroom doors. "Whether you're walking by, going into the restaurant or using the facilities, you're going to see the wine," he says.
The glass-enclosed cases feature stainless steel racking. The mechanics for temperature and humidity control reside in the ceiling above. The cases stay locked, with only the sommelier or two cellar masters gaining access via key when a customer purchases a bottle.
While designing support for the weight of the wine cases and building appropriate temperature controls are challenges, Mantuano says that proper lighting is also one of the most important elements. Spiaggia's case has clear LED lighting behind the wine so that it doesn't glare or reflect in people's faces.
The display room holds 1,700 bottles. Another 1,800 reside in a temperature-controlled room behind the scenes.
Guard and Grace, Denver
Display type: Floor-to-ceiling wine display and tasting room near entrance
Bottles held: 4,000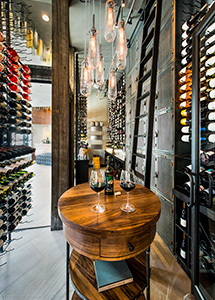 Troy Guard, chef and owner, wanted a spectacular way to display the nearly 4,000 bottles of wine his restaurant offers patrons. Guard and Grace, whose name includes that of his daughter, opened in March and is Guard's sixth restaurant concept. He wanted the wine display to be interactive, allowing servers to take guests inside to view the labels, and to be a place for wine tastings as well. The result of his dream is what Zagat calls a "glassed-in wine tower." The floor-to-ceiling display is positioned as guests enter the front door, setting the stage for a wine-enhanced dining experience.
The wine tower employs racks that position the bottles so that diners can read their labels. Guests can also see through the racks to the other display walls behind. Sommelier Todd Rocchino, who manages Guard and Grace's wine program, also had a custom stemware rack built into the wine display so that all tasting supplies are in the same convenient place. Private wine lockers are integrated as well for guests who choose to purchase and securely store their own special wines in the room.
Following Guard's culinary style, Guard and Grace's menu features both global and local fare. He cut his fusion teeth with Roy Yamaguchi in Hawaii and his own "continental social food" features a blend of Hawaiian, pan-Asian and locally sourced products. This variety means a wide range of wines can pair with the menu items, hence the 4,000-bottle program.