Dec 30, 2019
Q&A with Leslie Inniss of Builders Glass of Bonita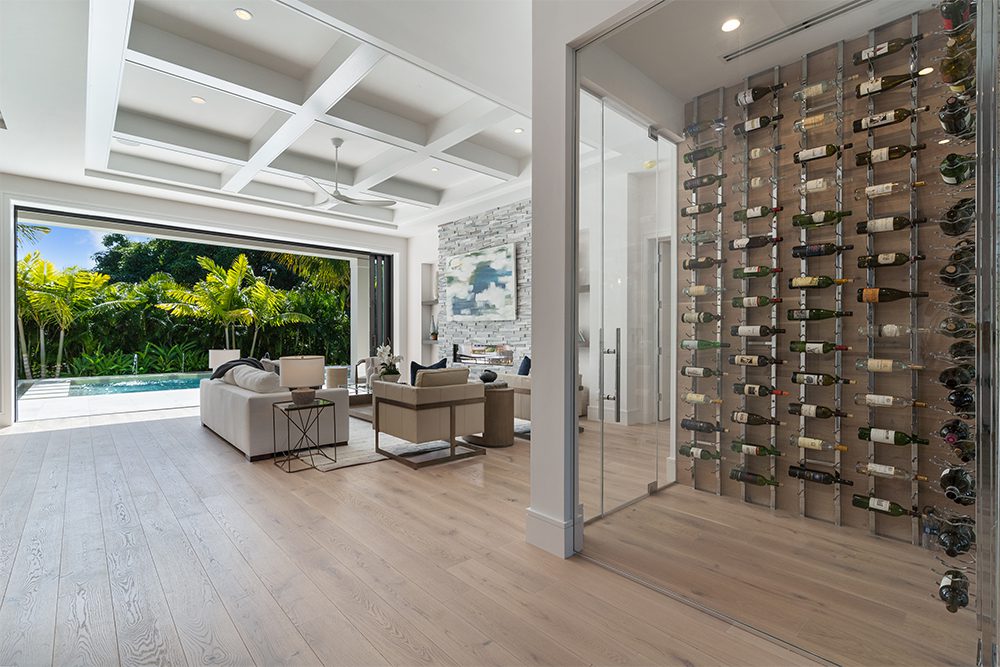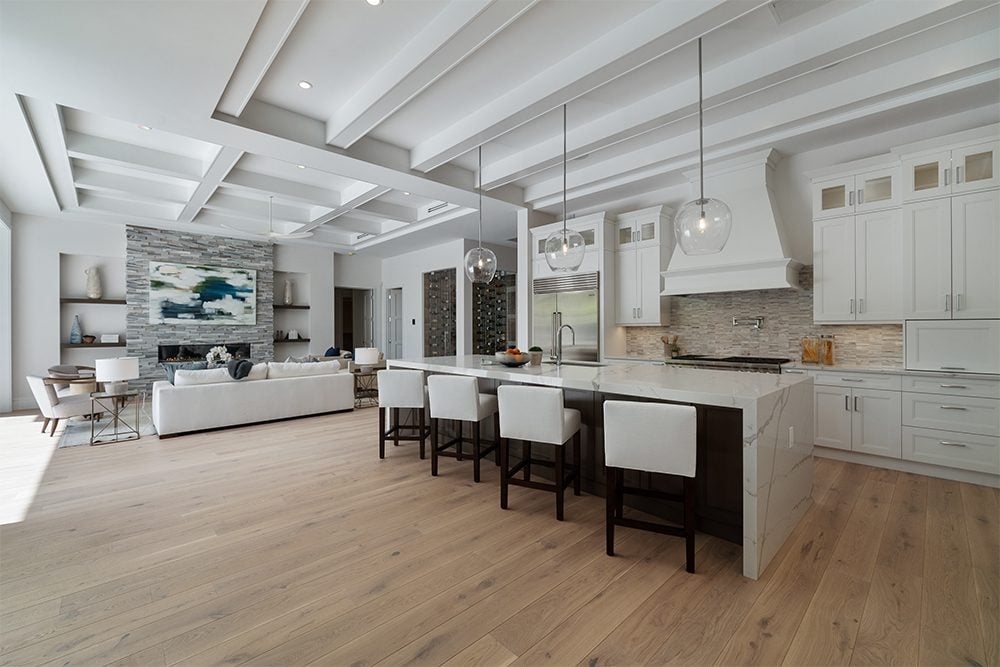 Builders Glass Of Bonita is one of our modern wine cellar partners. This awesome team knows what's hot in glass design and are equipped to incorporate VintageView metal wine racking in any space. More than just a pretty face, Builders Glass has an in-house full fabrication facility that allows them to get creative and explore the endless glass possibilities.
Based in Bonita Springs, FL, between Fort Myers and Naples, Builders Glass is the largest showroom of its kind in Southwest Florida. We recently caught up with Leslie Inniss, owner of Builders Glass to discuss her love for designing glass wine cellars.
Brooke Webb: Tell me a little about yourself and how you got into the design business?
Leslie Inniss: I started my career in the glass business right out of college. Glass wine rooms became a huge part of my business about 5 years ago. Before I knew it, I was designing the wine racking for my glass wine cellar clients, and loving it.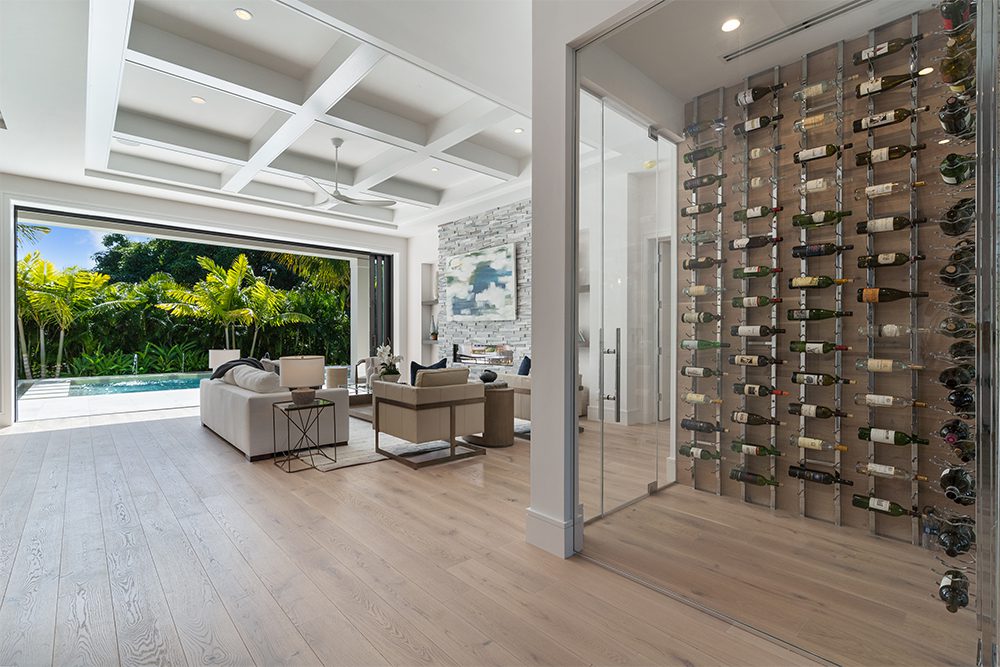 BW: What is a project you are currently working on that is particularly exciting?
LI: One of my recent favorites is a glass wine room that has glass on 3 sides. One of the glass walls serves as a room divider to the study. The floor to ceiling racks in front of this glass wall add the right amount of privacy. Functional design! (pictured above)
BW: Is there a favorite, completed project with VintageView that you can describe?
LI: I recently did a large wine room here in Naples where the client wanted to also add a wall of racking outside of the wine room, open to the kitchen and dining area. We installed the wall mount racking with mirror as the backdrop. It turned out amazing! The bottles and the lighting reflect in the mirror and give the illusion of endless racking. (pictured below)
BW: What trends are you seeing in wine cellar design?
LI: The chrome has been really hot. Our clients are also loving the floor to ceiling racks for the enhanced appearance they provide.
BW: What has your experience working with VintageView Wine Storage Systems been like?
LI: Vintage View has been great to work with. I can always count on plenty of communication and a beautiful CAD drawing to present to my clients.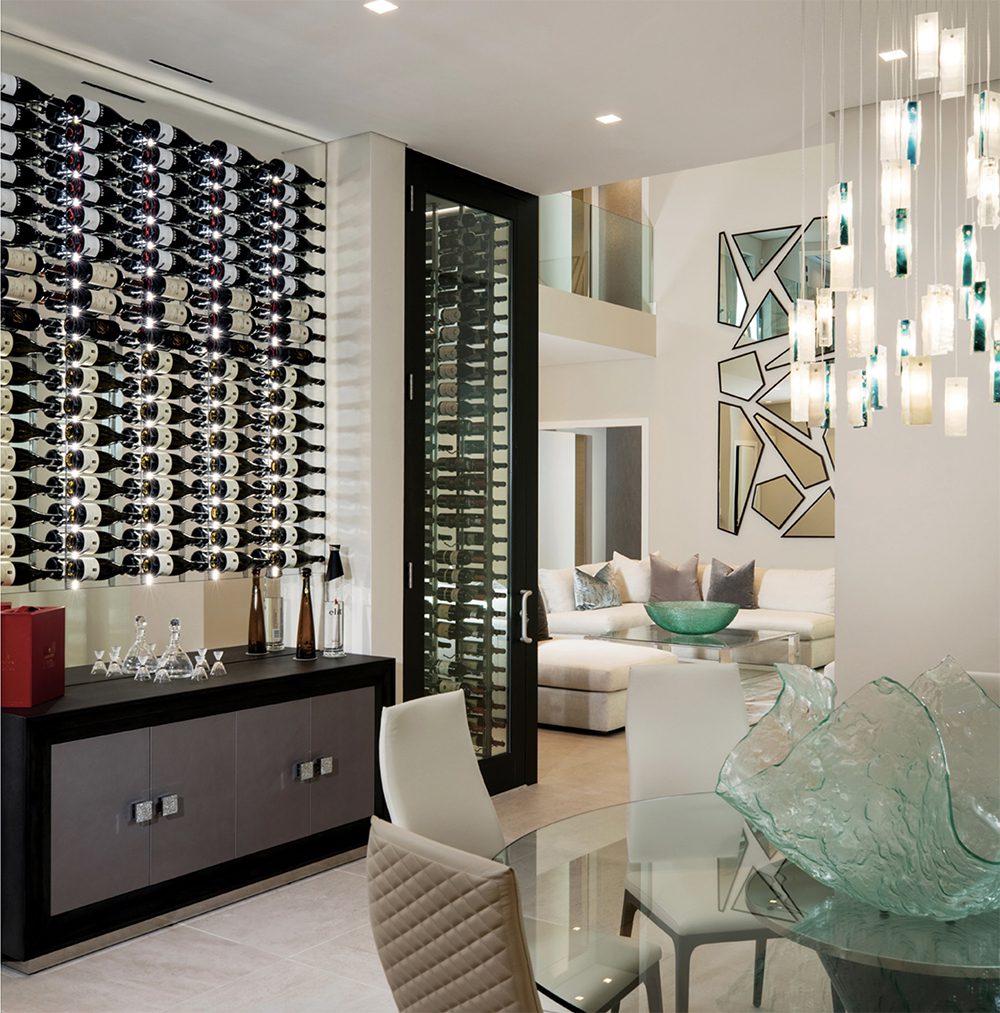 BW: How do your clients respond to VintageView Wine Storage Systems?
LI: My clients mostly have all glass wine rooms so they love the modern look of Vintage View and label forward design!
BW: What is an ideal client for you to work with?
LI: My ideal clients are the ones that have seen my work, and trust that I will design them the most attractive and functional wine storage possible.
BW: What do you like to do aside from work?
LI: Drink wine!
BW: Are you a wine connoisseur? Is there a bottle of wine that you covet?
LI: I am more of a wine drinker than a connoisseur I like to buy my wine at Costco. I can get some great bottles of wine for under $20 and I can buy in bulk!