Oct 27, 2016
A peek into Carmelo Anthony's modern wine cellar designed by Joseph & Curtis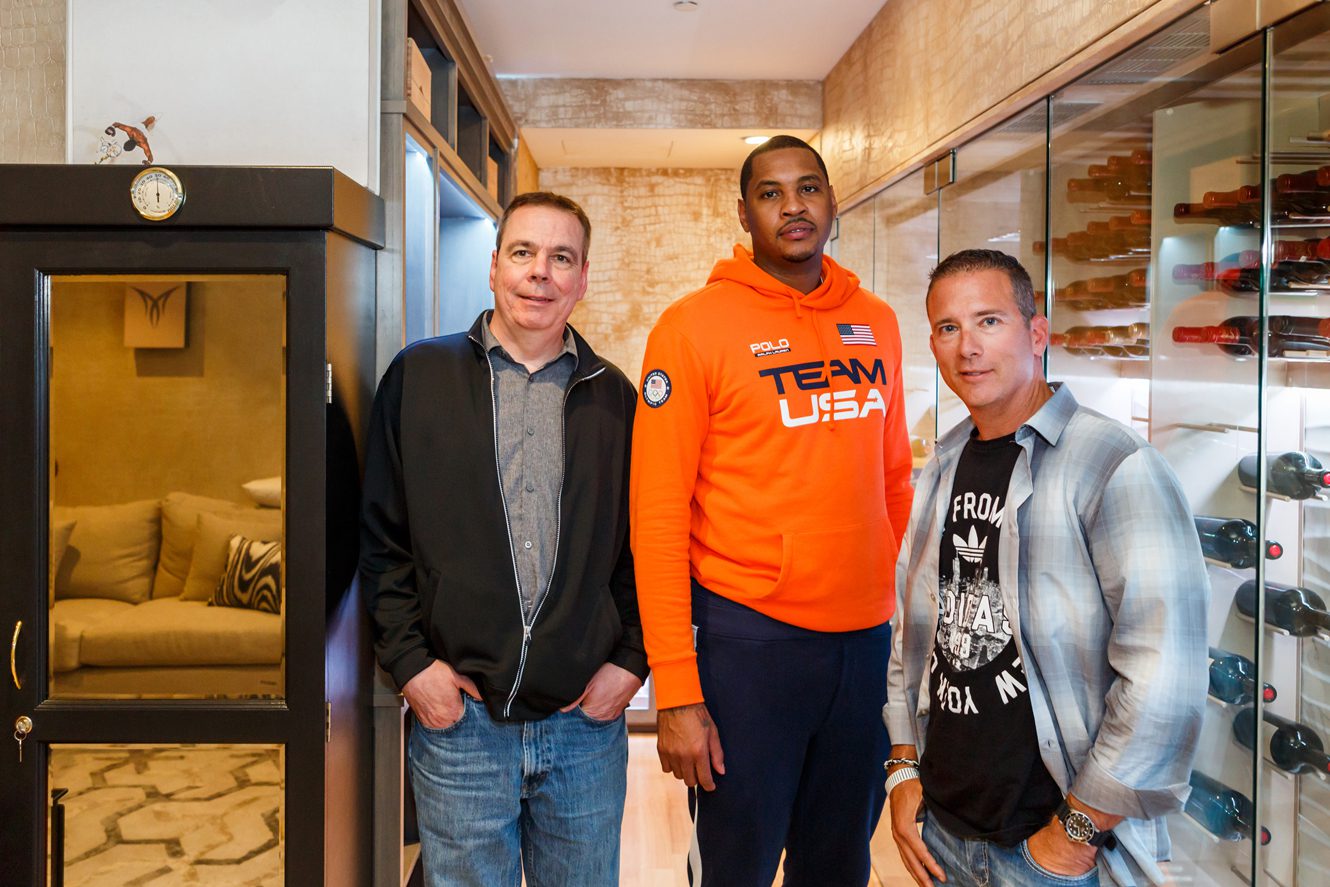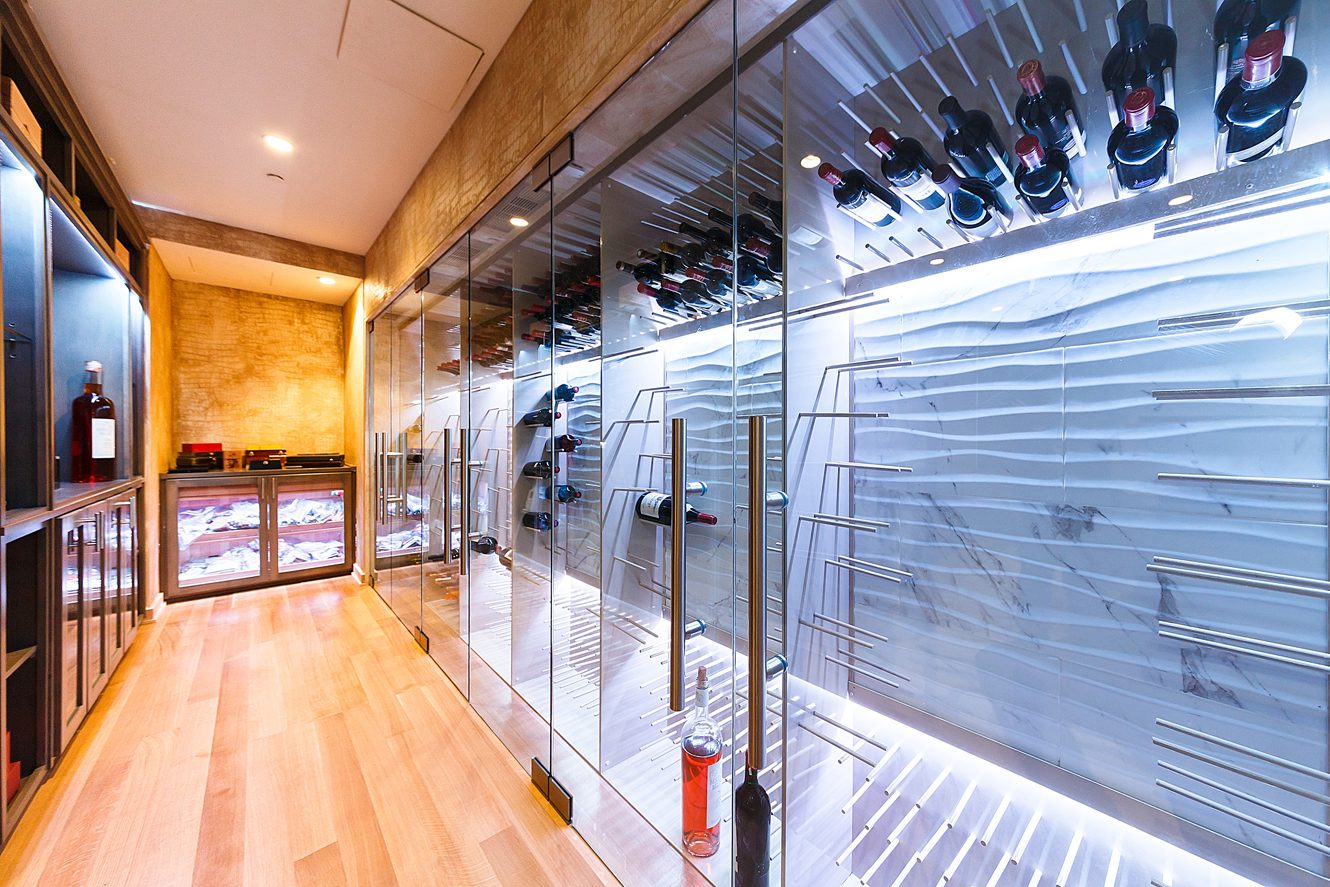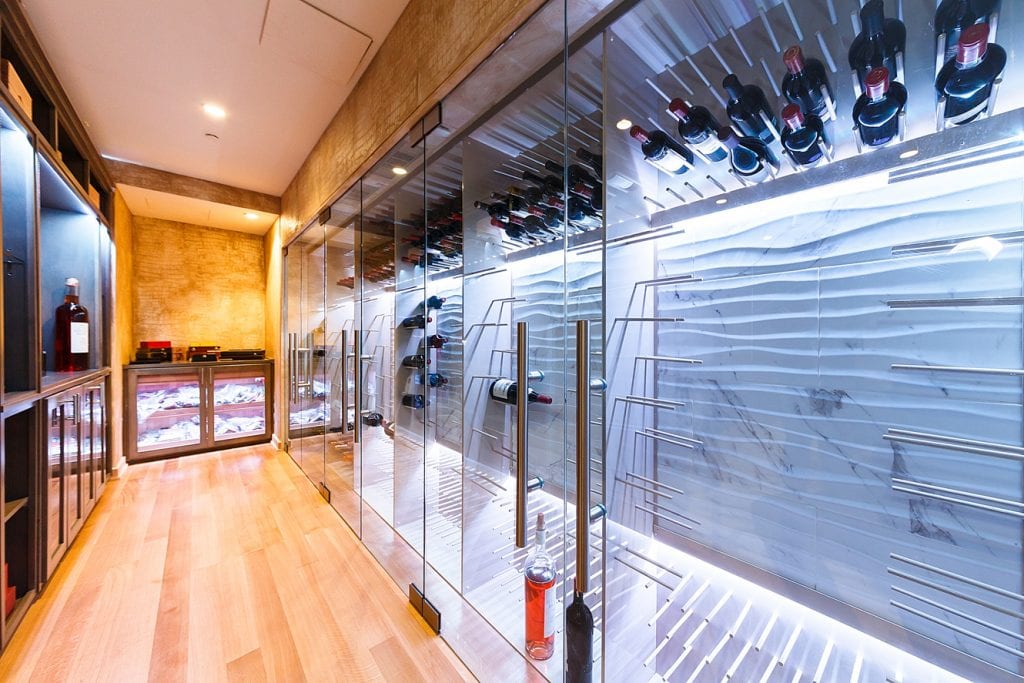 A quick google search about NBA superstar Carmelo Anthony will uncover a few non-basketball related hobbies. Notably for us: a love for collecting and enjoying fine wines, cigars, and really good Scotch. Which is to say he's our kind of guy (and as a Denver-based company, we still have many fond memories of his all-star run with the Nuggets before switching jerseys for New York Knicks fame).
So it's no surprise that his recently completed man cave in his Manhattan apartment features a one-of-a-kind, design-forward wine room that serves as the backdrop to one amazing entertaining/lounging/dream room.
Joseph & Curtis Custom Cellars, a certified VintageView wine storage designer, created the wine room, bar, and humidor, dovetailing off the overall room design by LA-based Alicia Lamar Home, whose client roster includes Eddie Murphy, Denzel Washington, Gabrielle Union, Michael Strahan, among others. Good company.
The result is a 500-square-foot room (transformed from a bedroom) that is hardly a cave in any sense. The goal was to achieve an understated wow factor, and it succeeds by becoming a stylish, modern homage to the finer things in life, built for entertaining, relaxing, and showing off deep collections of cigars, fine wines, and top-shelf liquor.
Beyond the contemporary wine room (we'll get back to that in a minute), it features five flatscreens, a sound system that would make Jay-Z envious, a 500-cigar humidor line with hand-selected old-growth Spanish cedar, and a custom bar to house Melo's extensive collection of high-end scotch and tequila.
The wine room itself creatively showcases Melo's wine collection, using Vino Pins (a contemporary wine peg) to show off wine in both label- and cork-forward orientation. The glass-enclosed room features gorgeous LED lighting, climate control, and a custom metal backing.
We caught up with Joseph Kline, one-half of the Joseph & Curtis ownership team, to talk about this fantastic project that includes a number of features we just haven't seen before in a modern wine room. Kudos.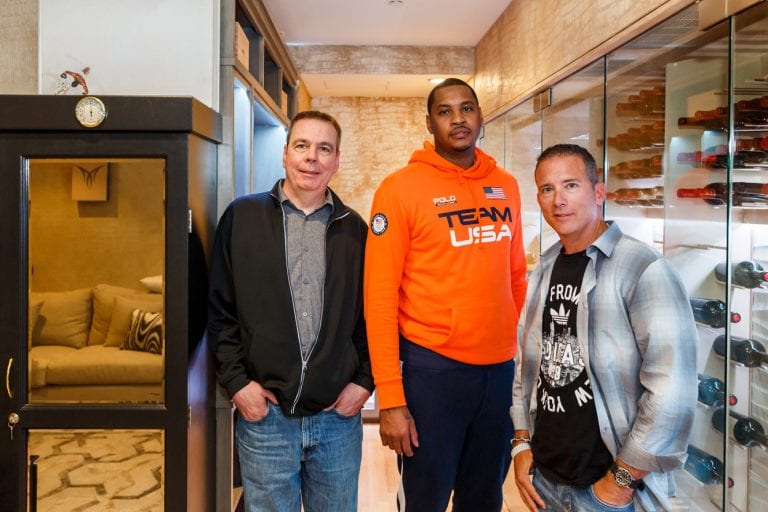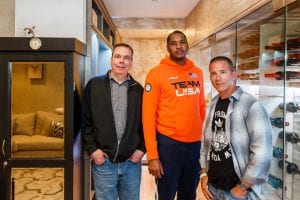 Cellar Details:
Capacity: 330+ bottles
Design: Modern by Joseph & Curtis
Racking: Vino Rails in both cork-forward and label-forward configurations
Cooling: Twin high performance coils with outdoor condensing unit
Lighting: LED indirect
Walls: Cellar interior custom metal with powder coating; Faux alligator skin finish on the exterior (designed by an LA-based artist)
Glass: ½-inch tempered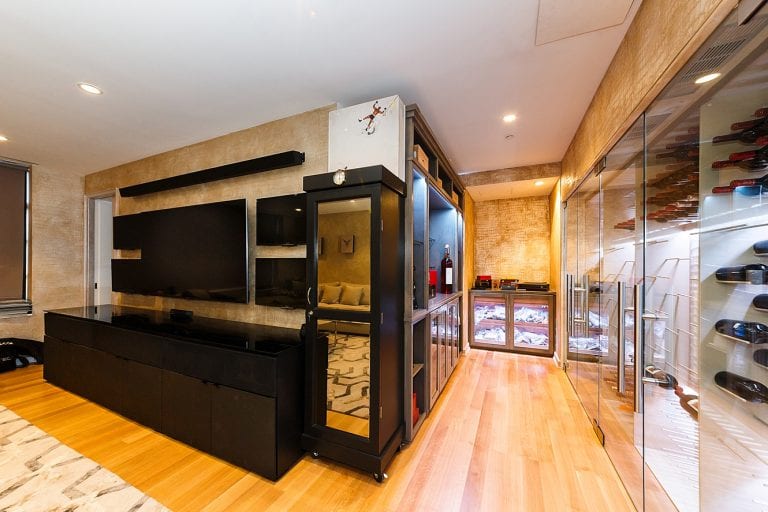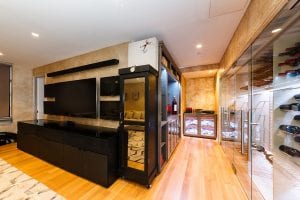 VintageView: You guys are Knicks fans, right?
Joseph Kline: Is there any other answer?
VV: Fair. Did courtside seats come with the job?
JK: We put in a request for those. Still waiting for Spike Lee to give up his chairs!
VV: We've read a lot about Melo's love for wine. How big of a wine geek is he?
JK: I'm not comfortable using Carmelo and geek in the same sentence, but he is definitely an enthusiast. He, like all of us who love the grape, is on a long, but fun, journey of discovery.
VV: We'll refrain from geek and Melo in the same sentence, too. More importantly, what is he drinking?
JK: Burgundy is his passion right now, but as we all know, that evolves.
VV: There's a lot going on here. Modern wine racking, textured walls, fantastic lighting treatment all blending well here. What inspired this design?
JK: We wanted a less is more design. We like to say, "let the wine do the work." Although the materials were important, we wanted the wine to be the star, and this design allows that.
VV: You used Vino Rails to display wine cork and label forward. What prompted that?
JK: Vino Rails are perfect for this type of presentation.
VV: How does the display fit within the master plan for Melo's man cave?
JK: Fantastically! Carmelo can watch games and entertain with a stunning backdrop of the wine cellar. When having dinner parties, guests can come through and admire the collection and wines can be chosen for dinner.
VV: Any challenges creating this type of room in an apartment-driven environment like Manhattan?
JK: Don't get me started. Changing a light bulb in Manhattan is complicated. Joseph & Curtis Custom Wine Cellars go at these challenges head on.
VV: Freestyle. Carmelo Anthony is...
JK: An entrepreneur. Luxury time piece collector. Vintage wine collector. Did I mention he can dribble?
More Info: Joseph & Curtis: We Dream in Red and White
Based in New Jersey, Joseph & Curtis offers complete custom cellar design and installation services throughout the United States. Joseph & Curtis is a VintageView Certified Designer.
Contact the design team:
| | | |
| --- | --- | --- |
| | | |
| The bar area. | A hallway view | Even closer. |