Oct 1, 2022
October Moodboard

It's the season of pumpkin spice and crisp air, fires in the fireplace and flannel sheets—the perfect time to cozy up with a nice bottle of wine. And what better way to enjoy it than in a beautiful setting?
The autumn months bring about a whole new palette for designers to work with, giving you room to create something new inspired by the changing seasons. Whether you're looking for a splash of color or something more subdued, this is the time of year when you can really let your imagination run wild!
We are currently inspired by all things lavish. Wine Libraries, Traditional Design, and Rustic Finishes are the top of our watchlist for October— here's how to incorporate these elegant features into your next design!
Wine Libraries
Libraries aren't just for books anymore.
Wine Libraries (not to be confused with Library Wines) are a whimsical trend that has taken the design world by storm.
Wine rooms are often tucked away in an inconspicuous place, to provide more room for entertainment areas. With the Wine Library concept; the wine cellar becomes the entertainment area.
The concept of a wine library involves creating a space to showcase your vintages in an artful, open manner. The walls inside the cellar are lined with racking, which can house cases of wine, much like you would books.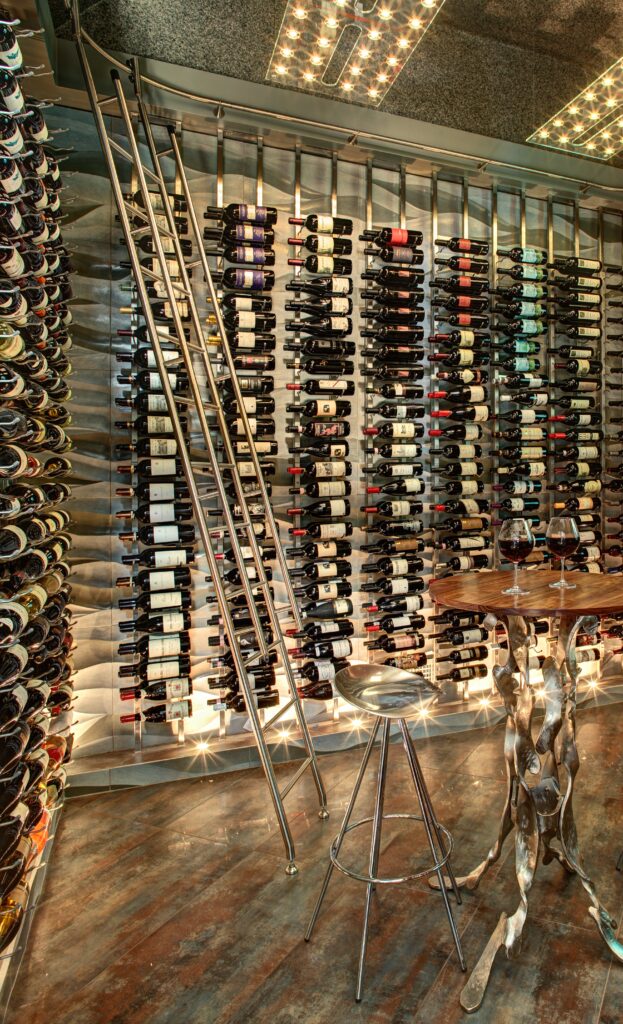 Traditional Design
Traditional design is a style that has been around for ages, and it's still a favorite today. It's all about creating an atmosphere that feels warm and welcoming, with rich wooden features and moody jewel tones. It only makes sense that this sophisticated design style has found its way into the most luxurious part of the home; the wine cellar.
The hallmarks of Traditional design such as crown molding, intricate patterns, and wood-paneling all add structure and opulence into a room without it feeling too dated. Traditional rooms are often centered around a focal point, like a fireplace or a statement chandelier to draw on the early 18th and 19th century aesthetics that the design style was once based off of.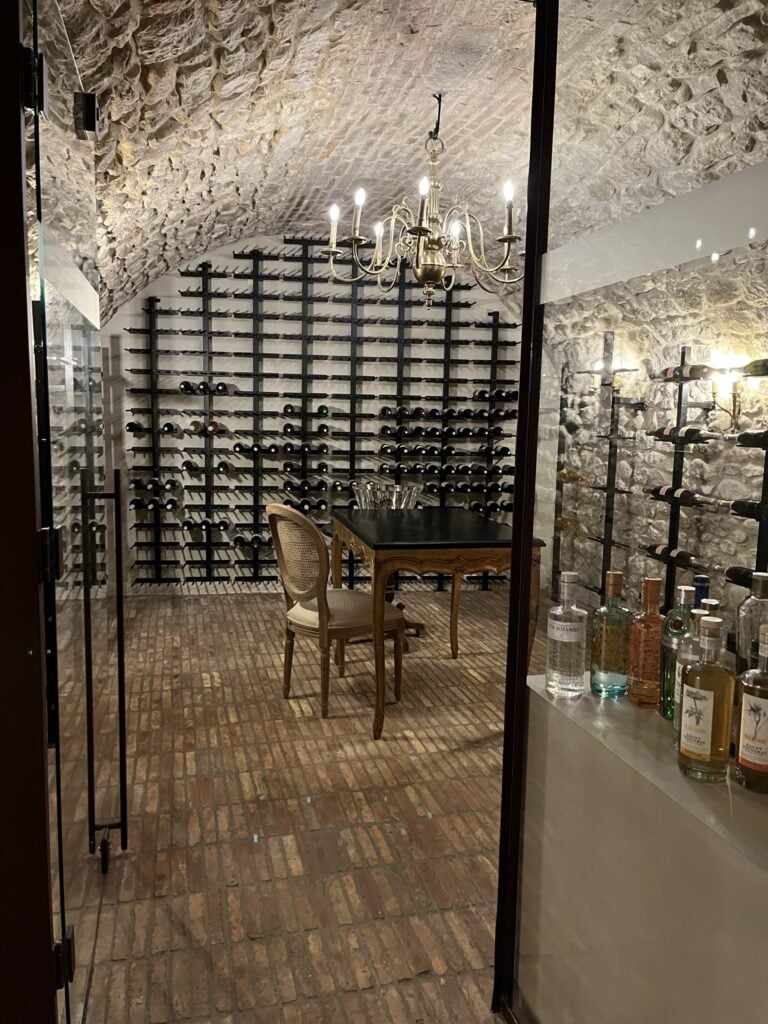 Since structure and consistency are the name of the game, one might think wooden wine racks are most likely to be in Traditional cellars. However, we've been able to place our versatile racking in a host of traditional spaces— creating one-of-a-kind storage systems fit for—well, a king!
W Series racking is often our go-to for Traditional; as it brings form and function— but we've begun to see remarkable iterations of Vino Series products in time-honored aesthetics.
Rustic Finishes
Rustic finishes are all about letting the beauty of nature shine through.
Rustic accessories take inspiration from the natural world, using wood and other organic elements to create a homely atmosphere. You'll see a lot of curves and imperfections in rustic accents— uniqueness is key! The focus is on accentuating the character of each piece rather than worrying about how they fit together.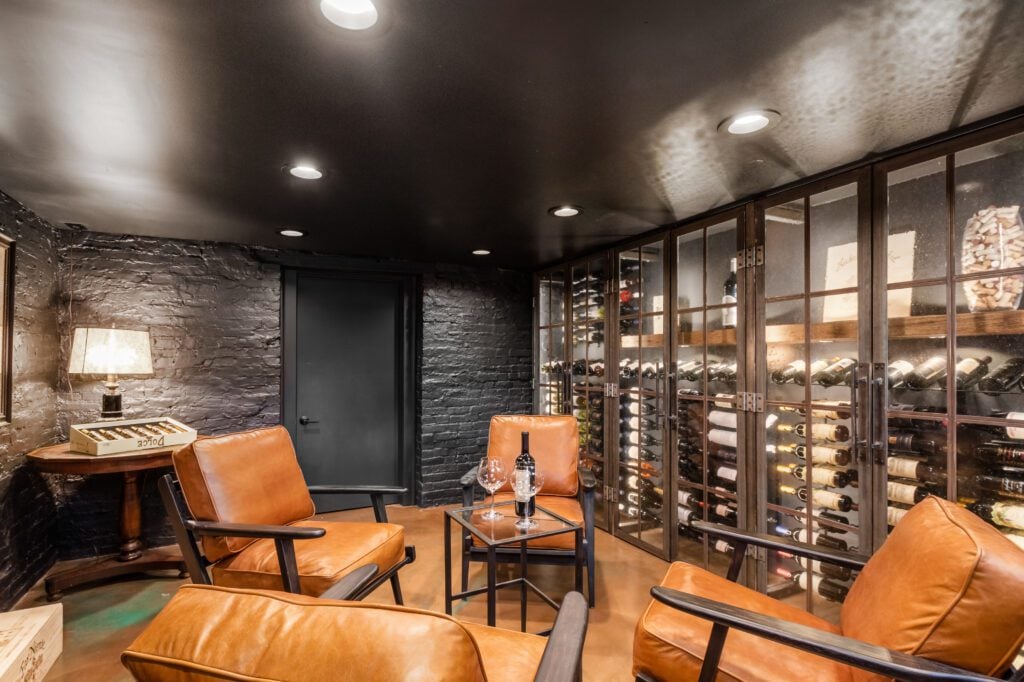 As the leaves begin to change and the weather begins to cool, these features are a grand addition to any home. But with every cozy finish, you need a glass of wine; and we have you covered.
Viognier is the pick for the month. More specifically- the 2020 Roussanne Viognier by Bonacquisti wine company in Denver, Colorado. A white wine blend made with two Rhône valley grapes, that grow especially well in Colorado. This sweet white wine is both delicious on its own, or pairs perfectly with squash, cauliflower, curry and other warm seasonal dishes.
Bonacquisti developed the wine using 80% Roussanne and 20% Viognier. The result- a medium body with a delectable swirl of lemon citrus, peach and honey. Together, the grapes emit floral aromatics and create a rich, rounded and smooth finish.
We can picture it now- a perfect autumn afternoon with a glass of Viognier in hand, as we immerse ourselves in the elements of Traditional Design, Rustic Finishes and Wine Libraries. No matter your design needs this season, this mix of modern comfort is sure to wow guests, clients and onlookers alike.