Mar 24, 2020
Modern Wine Cellars of Instagram | Quarantine Edition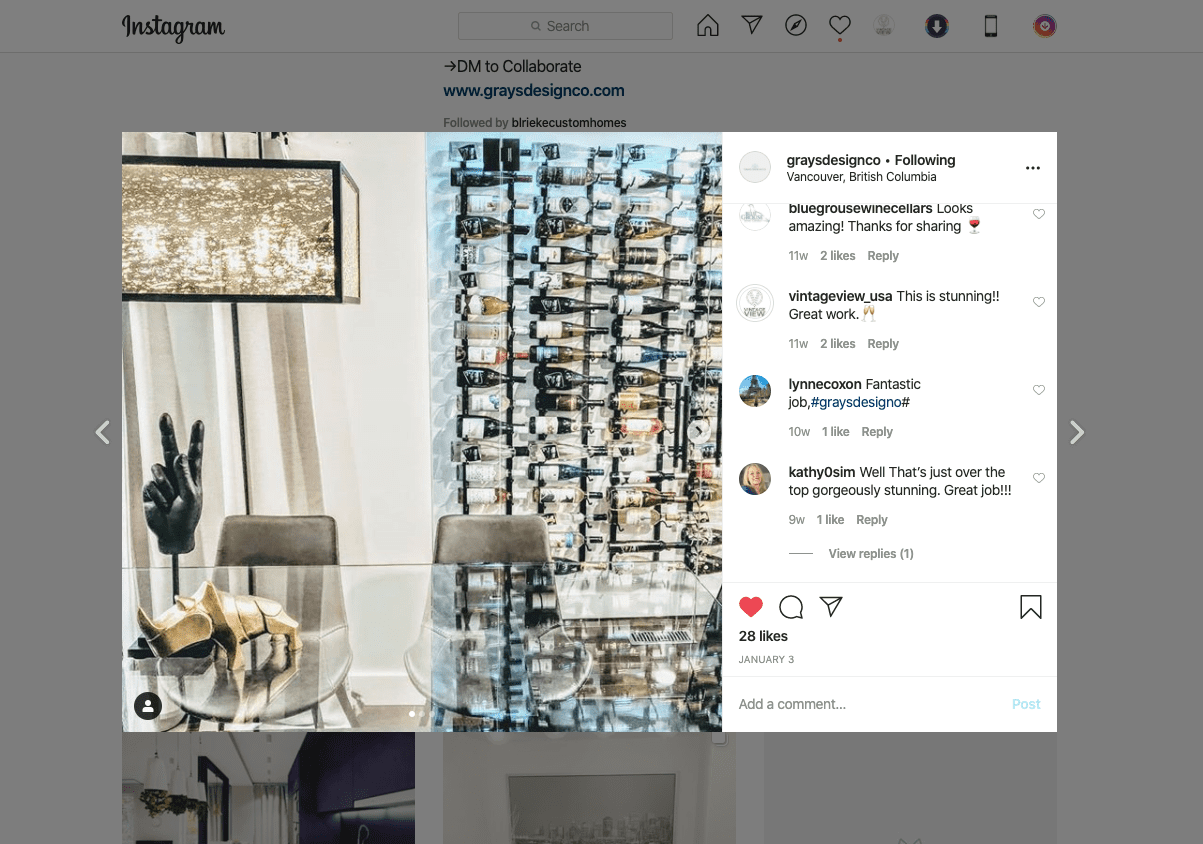 We could all use a break from reality this week (month? quarter?). The coronavirus has sent most of us to remote offices around the globe trying to figure out what's next — and even has caused a city-mandated shutdown of VintageView's headquarters (read more).
So let's take a step back and smile. Look at some sexy wine cellars. And get inspiration flowing for when this pandemic leaves in favor of a much more normal way of life.
Here are our favorite-distraction inducing wine cellars found on Instagram. Gives shelter-in-place a different context.
Enjoy, stay safe, and drop us an email just to say hello. We love hearing from you!
Are you a design influencer? Learn more about how we can partner.
7. Exceeding Expectations
Vancouver, BC
When a designer — in this case @graysdesignco — says the "project far exceeds my expectations I'm a happy girl," we pretty much just blush. Glass enclosed. Well lit. Great attention to detail in the choice of furnishing in front of the bottles. Bravo.
Wine Wall Details

6. Texture, Texture, on the Wall
Jupiter, Fl
So much goodness here. The chic columns of VintageView racking. The gorgous millwork in the middle to showcase large formats. The custom wood racking on the sides. A pop of design by adding W Series Single wine racks atop. Oh, and that wall treatment. Tile? Not sure. Looks great. Scroll to see it lit up. @chatelain_construction had fun with this.
Wine Wall Details
5. Minimalist Chic
Houston, Tx
Luxury extends to this wine room, just off the kitchen. White walls, shower glass doors and aluminum Vino Pins take this room to contemporary bliss. The wood flooring warms things up a bit.
Wine Room Details:

4. Open Door Policy
Atlanta, Ga
There is truth in the idea that blending makes things better. Be it wine or materials in design. This glass wine room by @infinitehome features metal framed panes, brick walls, custom millwork, and VintageView's patented W Series metal wine racks. Stunning.
Wine Cellar Details:

3. Clever Nook
Twin Cities, MN
Designer @whenmegandesigns hit the nail on the head when touring this Parade of Homes masterpiece by @landmarkbuildco: "Ok, it's official, every home needs a fun wall of wine. It can be multi-purpose art haha!"
Wine Wall Details:

2. HOMΞ BΛR
Newport Beach, Ca
Design influencer @joelleuzyel sums it up simply, with a stylish HOMΞ BΛRproclamation. This single sided display is set on frames (connected via floor and ceiling mounts) that allow the wine wall to pop off the wall. It's no surprise that the combo of architecture powerhouse Brandon Architects and builder Patterson Custom Homes teamed up on this.
Wine Wall Details:
1. Dream Cellar
Los Angeles
Who wouldn't want to glide down that steep, custom staircase into this room? Especially as the 2,500-bottle cellar by @cellarmastersinc features a tasting bar so you don't even have to move from the wine wall to enjoy a sip.
Wine Cellar Details:
Now that you're inspired. Let's talk.