Jul 20, 2016
Modern Evolution: A Luxury Show Home in Wayzata with a Killer Glass and Metal Wine Room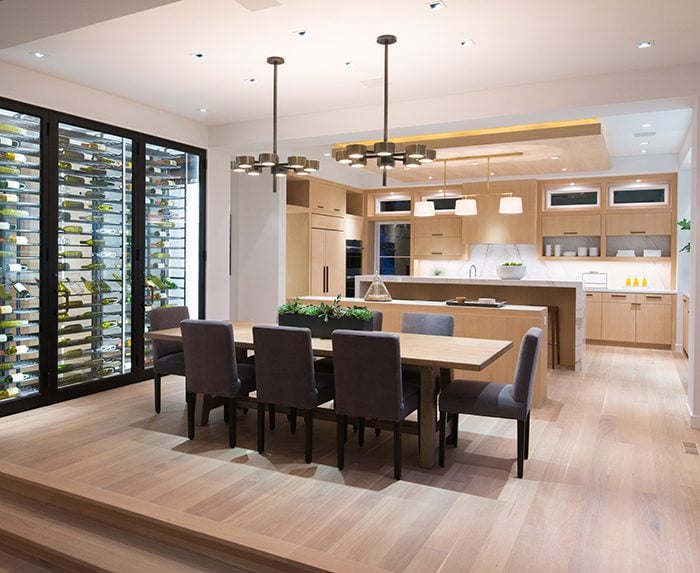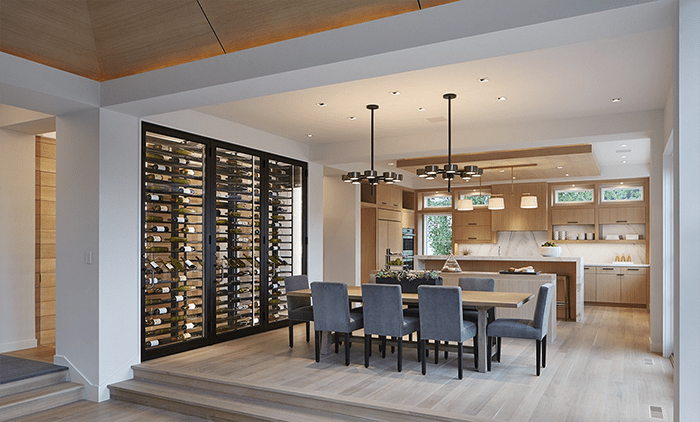 Warm. Modern. Why choose?
That was the sentiment behind the design of this beautiful Minneapolis-area show home located at 1570 Locust Hills Circle in Wayzata.
Despite it being a new build, the design team — KGA Lifestyle — knew the market they were selling into. To succeed in selling this multimillion dollar home, they needed to blend aspects of contemporary design with the region's love of traditional decor.
When it debuted last summer as part of the 2015 Midwest Home Luxury Home Tour, this property showed off the best in clean and open spaces giving it modern appeal, says Blayne Ross, who served as the creative director on the project. "A lot of wood a lot of warm tones" provided the balance.
"There's something interesting to look at around every corner," he says.
Especially the wine display. This visual, climate-controlled glass room overlooks the dining and kitchen areas, smartly dividing a hallway leading to a bathroom.
Ross wanted to create a centerpiece to the key entertaining area of the home — a 5,000 square foot, 4-bedroom masterpiece — and he wanted it to look and feel custom. When he began researching custom wine cellar racking, there was sticker shock.
Enter the dynamic Evolution Series line. Ross' vision for the wine storage became a reality using standard Satin Black rods to hold the wine and VintageView custom-fabricated steel dividers to support the display. The result: A wine display that cost less than $8,000 (for racking only) but looks every bit the $19,000 he was quoted for complete custom racking fabrication from other sources.
"I was able to get one I wanted without having to be in the custom price realm," he says. It was great "to be creative and not get crazy from the developer side."
While the photos of the home tell a story of a well-designed property from every room, the wine display is certainly a major visual draw.
It holds 650 bottles, including a sleek presentation row that provides a visual break from the sideways label-forward Evolution Rod display. It has three glass doors that open up to the dining room, allowing for easy access.
"We really wanted to bring the wine rack into the space so you were looking at the label," Ross says. "It's an art piece, and it's included in the conversation of main-floor living."
The room is also fully climate controlled, with cooling piped in through vents on the side and double-paned glass to maintain efficiency.
"It's clean, and it's simple," he says. "It is so prominent in the room, and it's such a design piece. It was far more than a wine rack. It was a design element."
His clever design work on the wine display and home paid off. The home sold within 30 days for more than $3 million. We'd like to think the wine racks had something to do with that.
Photos by Ryan Siemers | Provided by KGA Lifestyles