Jun 17, 2019
Inspire Kitchen Design Studio's Angela Otten is Passionate About Kitchens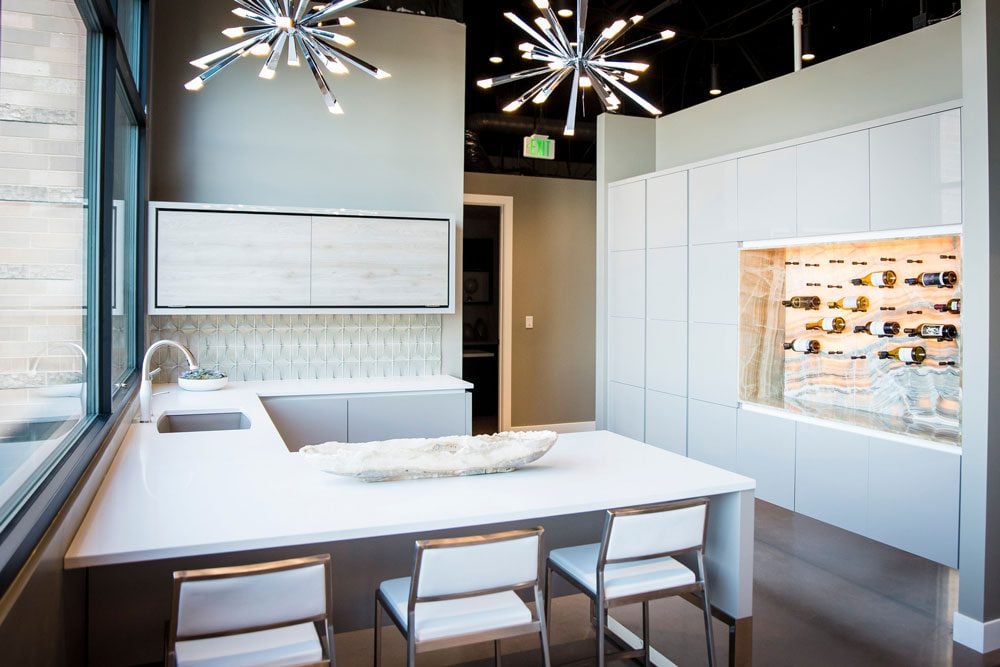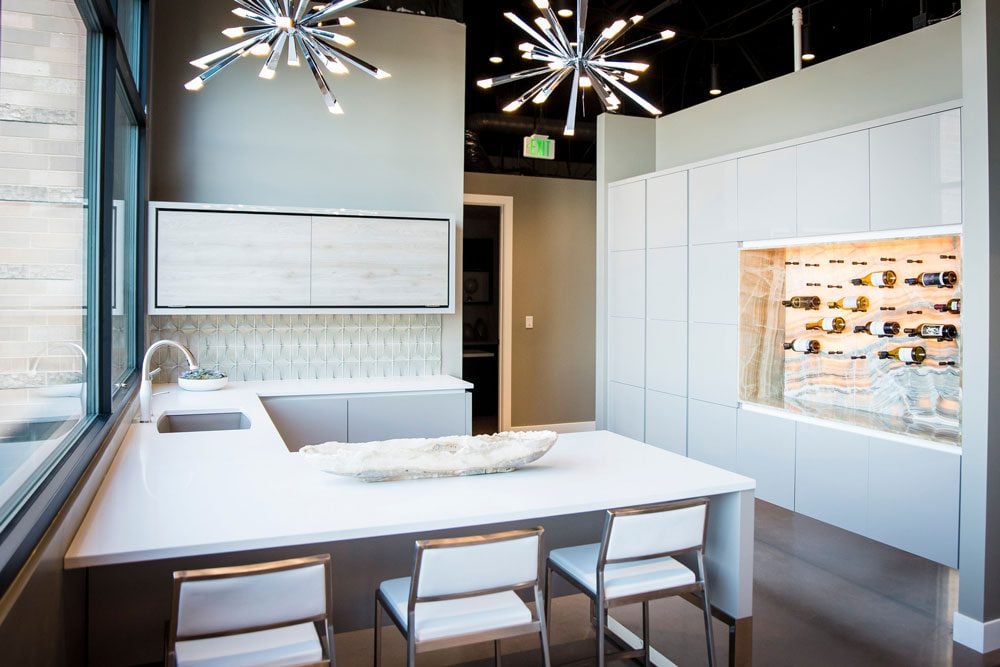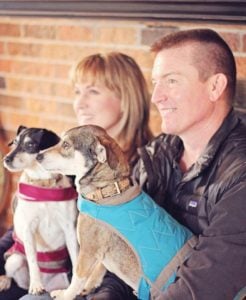 Angela Otten and husband Steve have more than 55 years of experience in the design and construction biz. With a thriving and very in-demand kitchen design business, Inspire Kitchen Design Studio, the Ottens and their team are very busy but also loving every minute of it.
You can see their style on display at her showroom in the brand new International Design Collection (opened May 2019) just steps from Denver's Santa Fe Arts District. Several of Inspire's amazing finished projects have graced the pages of local publications of note, such as Colorado Homes & Lifestyles and Denver Life Magazine. Needless to say, Angela is a top designer in the Denver community.
I had the opportunity to interview Angela and talk about many things from how she found her calling in design to her favorite wine and meal (hubby, Steve is her favorite cook), and what she sees in the future of wine cellar designs.
Read below for the scoop.
Stacy Moya: Tell me a little about yourself and how interior design became your passion.
Angela Otten: I graduated college with a fine arts degree and thought, "what will I do with this?" My first job out of college was being an architectural specification representative, a very long title for a "laminate rep." I then worked at a furniture store for a while and finally found my calling with my first kitchen design job. It just clicked. Marrying form with function, the skills I learned in art school all applied: proportion, balance, positive/negative space, tone, and value are very imperative when designing kitchens.
SM: What quality(ies) must your team members have?
AO: I've always joked about how many hats a kitchen designer needs to have to succeed. We must be able to design well, but that's a fraction of what being a kitchen designer is. We need to be like a therapist for people who don't know what they like — to be able to draw out of them what feels good to them. A kitchen designer also needs to be an engineer in order to figure out how each piece interacts with the next, and design things that haven't been done before. We are also project managers, customer service people, schedulers, estimators and sometimes marriage counselors.
SM: What is the first thing that captures your eye when you walk into a room?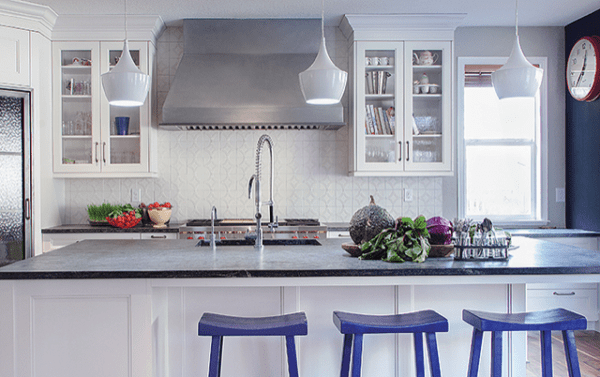 AO: I tend to have an A.D.D. episode when I walk into a new place! I might be talking to you however, my eyes are wandering to the new surroundings. I pick up on details, whether good or bad. If I see a bad detail, my mind is working to find a solution to remedy it. Because my job is to fix things, I envision the bones of the structure and imagine how it might be altered for a better flow and function.
SM: Who and/or what inspires you?
AO: I see inspiration everywhere, thus the name of my company. I get inspired by nature, artwork, architecture and other individual's designs. I also get inspired by new internal hardware and accessories- they can make my designs more creative. Most of all, I am inspired by my clients. Everyone is different and has different needs and likes. It's a success when I can design something that is all about them.
SM: What do you see in the future of wine cellars?
AO: Typically in the past, wine has been stored in a closet or cellar in the basement behind a door with generic wood racking. Now, the wine cellar can be a focal point in a home. Glass doors and walls, as well as beautiful racking systems make it easy to display a collection of wine where everyone can enjoy it in the common areas of a home. We see the wine storage integrated into part of a kitchen, in a dining room, as a room divider or a focal point in a bar. We love to experiment with unique material as a backdrop behind the wine racks such as backlit onyx, rough stone, wood paneling or wallpaper.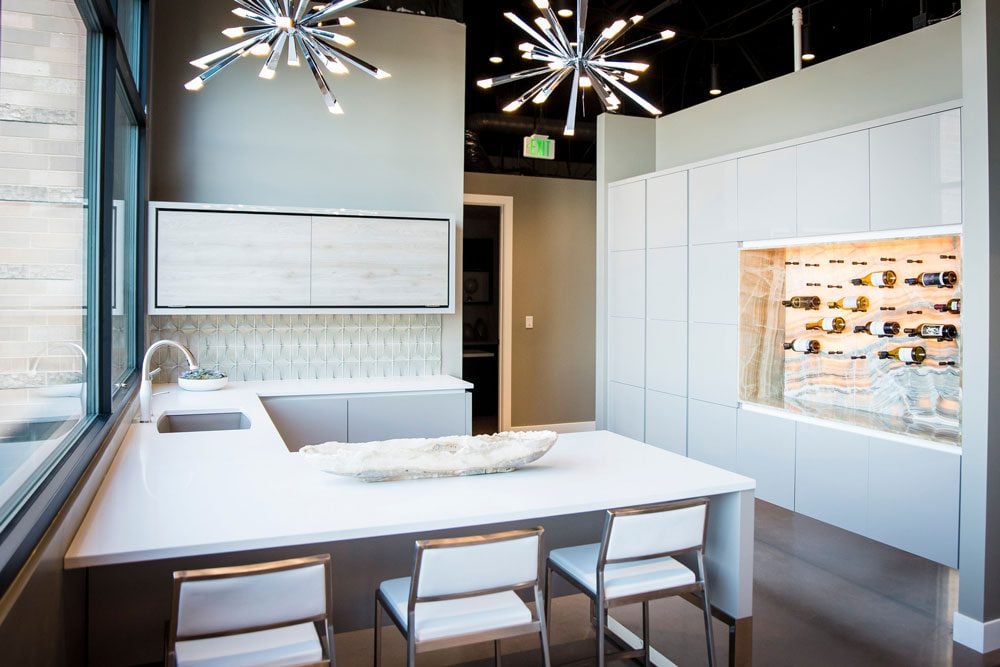 Design note: Like this beautiful kitchen design shown above. Using VintageView's Vino Series Pins, Otten created a beautiful wine wall feature in her showroom. Backlight onyx creates a dramatic effect. Plus, the wine becomes interactive during cooking and entertaining events.
SM: What are you currently working on?
AO: We have all sorts of interesting projects we are working on at the moment. We just finished a traditional "Tuscan" style home out east, we are in the final legs of a gorgeous ultra modern home up in the mountains. We also are working on a smaller craftsman style bungalow in the city as well as several transitional homes around the area. Many of the larger homes we are working on have a Vintage View wine cellar designed in the common spaces.
SM: What is your favorite wine?
AO: I love "Blindfold" by The Prisoner Wine Company. I prefer really buttery chardonnays and even though this is a blend, it's my all-time favorite!
SM: What is your favorite project to date and why?
AO: It's really hard to pick just one! I get excited about working on different designs—monotony absolutely kills me. I am finishing a project right now that I am absolutely in love with. The kitchen is modern, with channel hardware and horizontal sequenced walnut around two huge islands. It has a front kitchen and a back kitchen—perfect for entertaining. The entire hood and hood wall is covered in an exotic marble; grain matched across the entire space. It took a lot of planning and perfect execution to make all the details come together.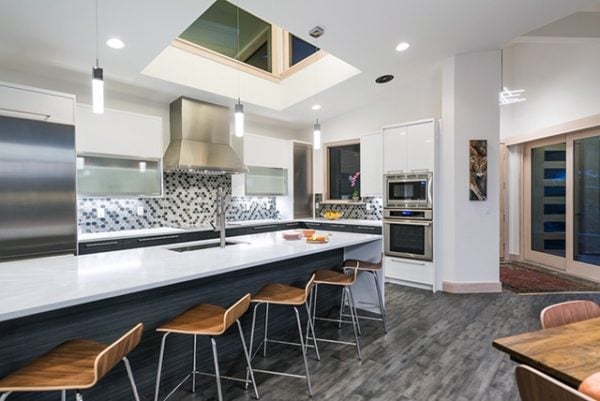 SM: What is your dream collaboration?
AO: I love collaboration. The best projects happen when the builder, designer, architect and kitchen designer all come together with their ideas. We can bounce concepts off of each other and lend advice to the team with each persons specialty.
SM: What's it like to work with your husband?
AO: Steve and I have been working together since we first met, throughout many businesses. It's wonderful having a partner in work and life who always has my back. We work in tandem; with Steve heading up the installation crew, and I handle the design side. It's great, except that the work never ends; it's difficult to leave it at the office—our work discussions are morning, noon and night.
SM: What do you enjoy doing when not working?
AO: My second passion is horses. We have three horses; Mocha, Tango, and Shiloh who live on our property. We enjoy going off the grid and "horse-glamping" in the back wilderness for up to seven days at a time. Shiloh is a three year old, Rocky Mountain colt that I am working on breaking and training this summer. Steve has also got me excited about clay pigeon shooting; his main passion.
SM: Your specialty is kitchen design, do you also enjoy cooking? If so, tell me about your best dishes.
AO: Steve is actually the main cook in our family; I usually follow behind him as a sous chef, helping chop/dice/prep and cleaning up as he works. It's not that I can't cook well, he just enjoys it more, and I think he likes having me do the dishes! I can tell you what one of my favorite dishes that he makes; osso bucco! Lamb shanks slowly cooked in a mirepoix, laid on top of mushroom risotto, yum!
Stacy Moya is a South Florida based food, drink, and travel writer and photographer for a variety of online publications like Eater.com and Huffington Post.