Jan 27, 2020
Design Case Study: Wine cube at The New American Home in Las Vegas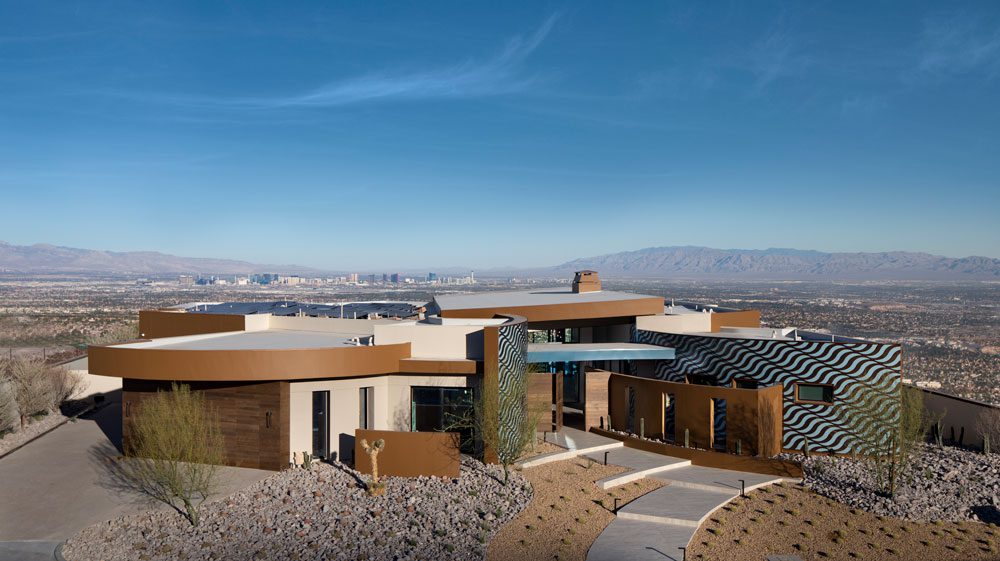 The goal of The New American Home is for the selected custom homebuilder to make a statement as tens of thousands of the best design/build professionals invade the International Builders' Show in Las Vegas each year. It's a lofty task that the rockstars at Sun West Custom Homes completed with bold vision, befitting of Las Vegas.
Get the 2020 catalog for more inspiration like this. Get yours!
| | |
| --- | --- |
| DESIGNER BIO | |
| Designer | Suzanne Czar |
| Company | Sun West Custom Homes |
| Title | Sr Interior Designer |
| Years in with Sun West | 7 |
| Number of wine cellar projects | Just about every home designed |
| Role in the Project | Lead designer |
| Instagram | @sunwestlv |
The Project:
A 7,000 square foot home perched high on the mountain of the tony Ascaya development, just outside Las Vegas, this contemporary home blends elements of water and desert for a compelling final product. Designer Suzanne Czar of Sun West Custom Homes calls this, "oasis in the desert."
Design Challenge:
The wide open nature of the main living area in this estate needed a grand entrance that didn't interrupt the flow of the room that allows for amazing site lines of the Las Vegas Strip from just about every angle. Part of the oasis/desert theme in the home called for concave walls throughout, leaving the wine room foot print anything but normal square.
Design Solution:
To create the jaw-dropping effect, the all new Vino Series Panel was centered behind the main glass wall of the wine room. Visible as guests walk into the home or enjoy a meal at the main dining table, the invisible nature of the acrylic Panel creates the dramatic wine wall without interrupting sight-lines. The all new Vino Series Post was used to frame that display while also creating glass wine columns at every unique angle created by the unique cellar floor plan.
"My first reaction when I saw the wine room with the beautiful new Post and the acrylic Panel was so exciting because it's something I haven't used before," Czar says. "It looks like everything is floating. It's beautiful."
Design Approach:
Bringing different elements of earth, representing fire and water, allows this show-stopping home to feel natural. The water entrance cools the space, while a wall-long fireplace reminds you of the desert. It all flows so well.
"The goal was to create an oasis in the desert," Czar says. "It starts at the front door with a body of water. It flows through the house with beautiful different shades of blues and then continues outside to the body of waters in the back of the home as well as the fire features."
Lesson Learned:
Creating a wine room with curved glass can create problems for accessibility. The Vino Series Panel and Vino Series Posts had to be positioned just right to ensure proper wine bottle access.
[ngg src="galleries" ids="4" display="basic_slideshow"]