Dec 13, 2022
December Moodboard

The holiday season is the perfect time to add a touch of luxury to your home, and incorporating the latest interior design trends can help you create a sophisticated and festive atmosphere. One space that is particularly well-suited for holiday decor is the wine cellar. With its warm, inviting atmosphere, a wine cellar is the perfect place to enjoy a glass of wine and celebrate the season.
This moodboard features Golden Bronze accents, Champagne, and Jewel Tones colors to welcome in the most wonderful time of the year. Whether you're planning to switch up the decorations at Christmas or simply want to add that extra sparkle on your dining room table.
Golden Bronze
One of the hottest interior design trends we saw in 2022 was the use of golden bronze hardware; and it's definitely here to stay. This warm and elegant finish can add sophistication to any space, and it is especially fitting for a wine cellar. You can incorporate golden bronze hardware on fixtures such as wine racks, light fixtures, and even the door handle to the wine cellar.
Golden bronze finishes are sure to enhance the atmosphere of any room and create a luxurious look in your space.
Champagne
December is the month of champagne, whether its to celebrate family near and far or to ring in the new year; the bubbly French wine secures its spot on our moodboard.
To accommodate for the bigger bottles; we offer 'Magnum' spaced racking for clients who primarily collect Champagne, Bruts, or other distinctively shaped bottles like Pinot Noir.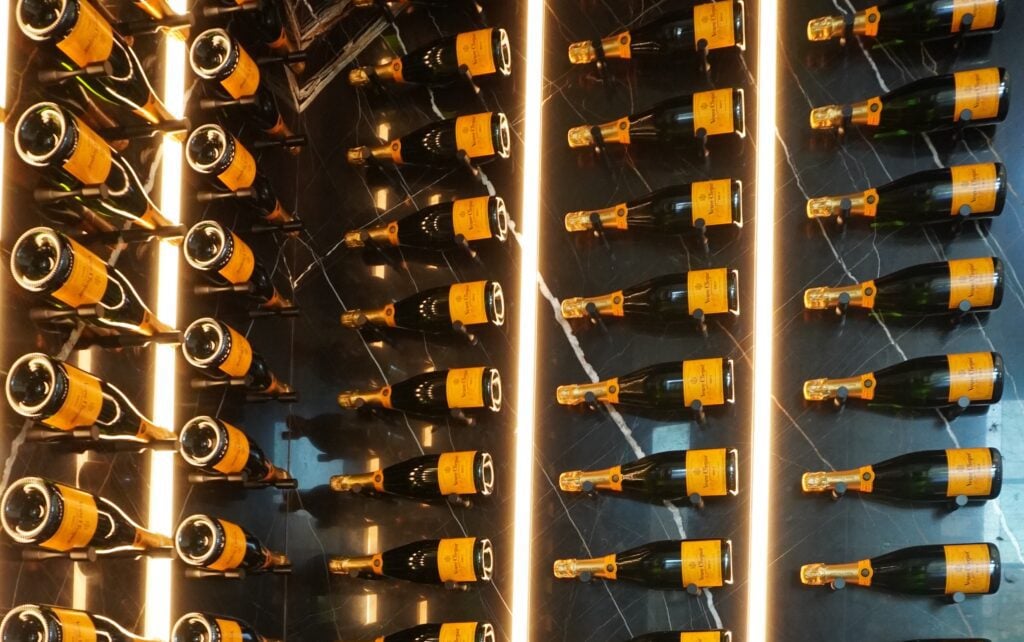 Jewel Tones
Finally, jewel tone color schemes are also a popular trend for December. These rich, saturated colors, such as emerald green, ruby red, and sapphire blue, can add depth and richness to a space. In a wine cellar, you can use jewel tones as accents, such as on throw pillows or artwork, or as the main color scheme of the room.