Apr 29, 2016
Coffee and Wine: Turning a Pantry into the Ultimate Design Forward Beverage Station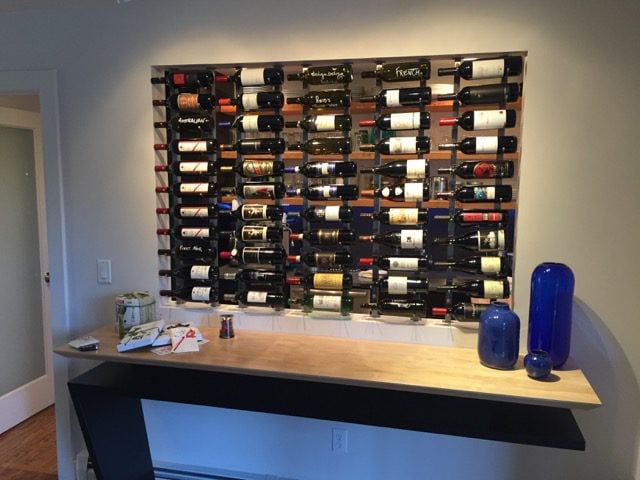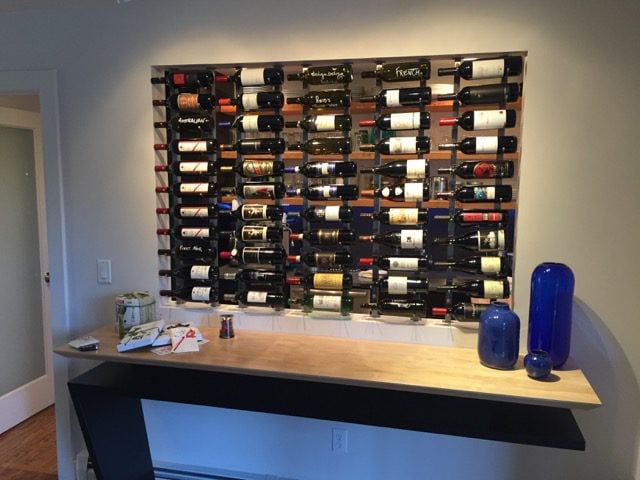 Pantry? Nah, Reid Benes wanted to turn his space off the kitchen into the ultimate beverage station in his Denver-area home.
The project started with a Rocket R58 Espresso machine. This commercial-grade station makes trips to Starbucks (or Dunkin' Donuts) a major step down in quality and experience. Coffee is as important as wine in his (and our) book.
But Reid didn't want to hide this gem of a caffeination station behind a wall (we like the way he thinks!), so he decided to carve out an interior window space to integrate, visually, the serving area with his kitchen.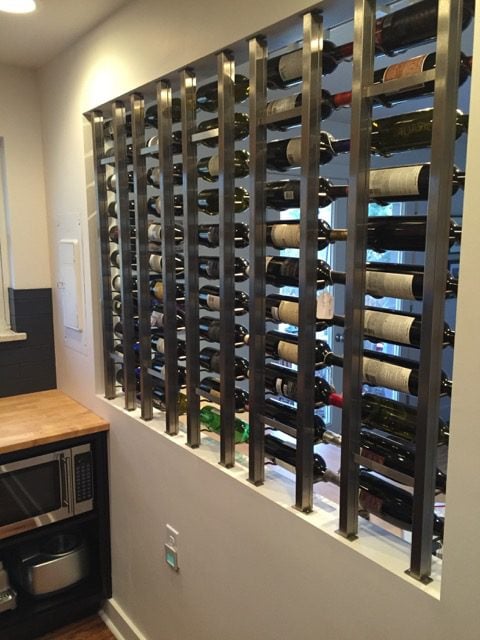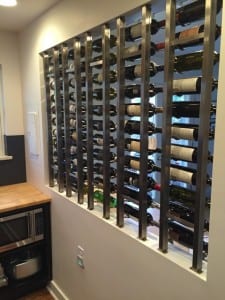 "I didn't want to fully hide the new pantry behind a closed door, so the idea of opening up the wall between the pantry and kitchen was hatched," he told us. "I didn't want a fully open view, but rather something partially open."
That's where VintageView comes in to the story.
In keeping with the visual beverage station theme, he installed 5 columns of single-deep Wall Series contemporary metal wine racks into the window space. Using our Floor-to-Ceiling Frames, he filled in the window area with 55 bottles of wine. For an added element of minimalism, he opted for the hidden baseplate upgrade.
The end effect being a gorgeous wall of wine that still allows guests in the kitchen to see into his dream coffee station.
We often talk about melding wine and design with our project. He added our other favorite element: coffee.
"The idea of a see through wine rack sounded like it might work, both opening up the space and showing off some my wine," he said. "After seeing some of the (VintageView) designs, I knew this was the right solution. Even better to support a local company."
We couldn't agree more.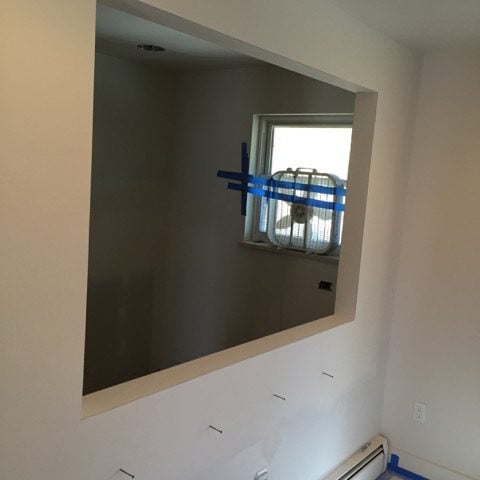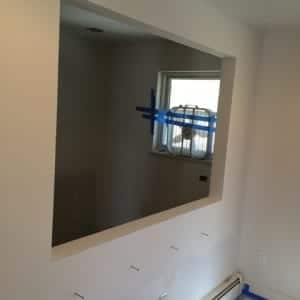 "Design in important to me as is quality," Reid says when talking about his career with a travel software company — and life in general. "Skimping on either is short sighted."
A Bit More About Reid
What's your go-to wine? Tough one here. I love GSM blends from Australia, and the Ironstone Pressings from d'Arenberg is one of my favorites. I started drinking red wine again on a trip to Australia in 2003, and was lucky to be traveling with a colleague who knew quite a bit about wine. Shiraz was the start. I travel frequently to Italy, and I love so many wines from there, but right now a Barbera is what I drink most often. I do buy some bigger Italians and like to pull out an Italian Ripasso from Tommasi. If I'm feeling Old World, I have a couple of great bottles of Chateauneuf du Pape, same GSM blend but French.
Day job? I help coach companies on innovation, product and design strategy. Right now I'm working for a large travel software company working both internally to improve products and the way we generate new ideas as well as working with some of our customer to do the same.
Bigger coffee or wine drinker… In the morning I always make my cappuccino. But at night it's wine. A perfect match, no?
Wine Wall Project Specifics
3 FCF-HD frames, cut onsite, to produce 5 columns of
10 FCF-Hidden Baseplates for added minimalism
5 WS41-P racks, cut onsite to fit his spacing
Total racking cost (estimate): $1,375