Hotel Cerro (San Luis Obispo, CA)
To visit San Luis Obispo is to fully understand the lure of California's Central Coast. Relaxing, yet upscale. Naturally beautiful, yet tied to a chic urban center. A juxtaposition at every corner, just steps from amazing wine country.
At the heart of this quaint town is Hotel Cerro, a vibrant boutique in which details in every space and room make all the difference. (A pour over coffee setup in the room? Yes, please.)
It starts in the lobby. Comfortable, stylish seating arrangements beg guests to lounge. Ample open areas allow for a stunning piano and space for a weekly live music series. And a glass enclosed wine room/distillery/private dining area encourages guests to sip on some vino or stroll to the in-house restaurant, Brasserie SLO.
It's all part of the reason the property has been name the perfect weekend getaway, called one of the best hotels to book in 2023, and featured in Forbes.
Which is to say you might want to visit in person to get the full experience after reading on below.
By The Numbers
432

Bottle Capacity

65

Luxury Rooms

1

Whiskey Stills

28.9

Miles to Serial Wines (another well-designed wine room)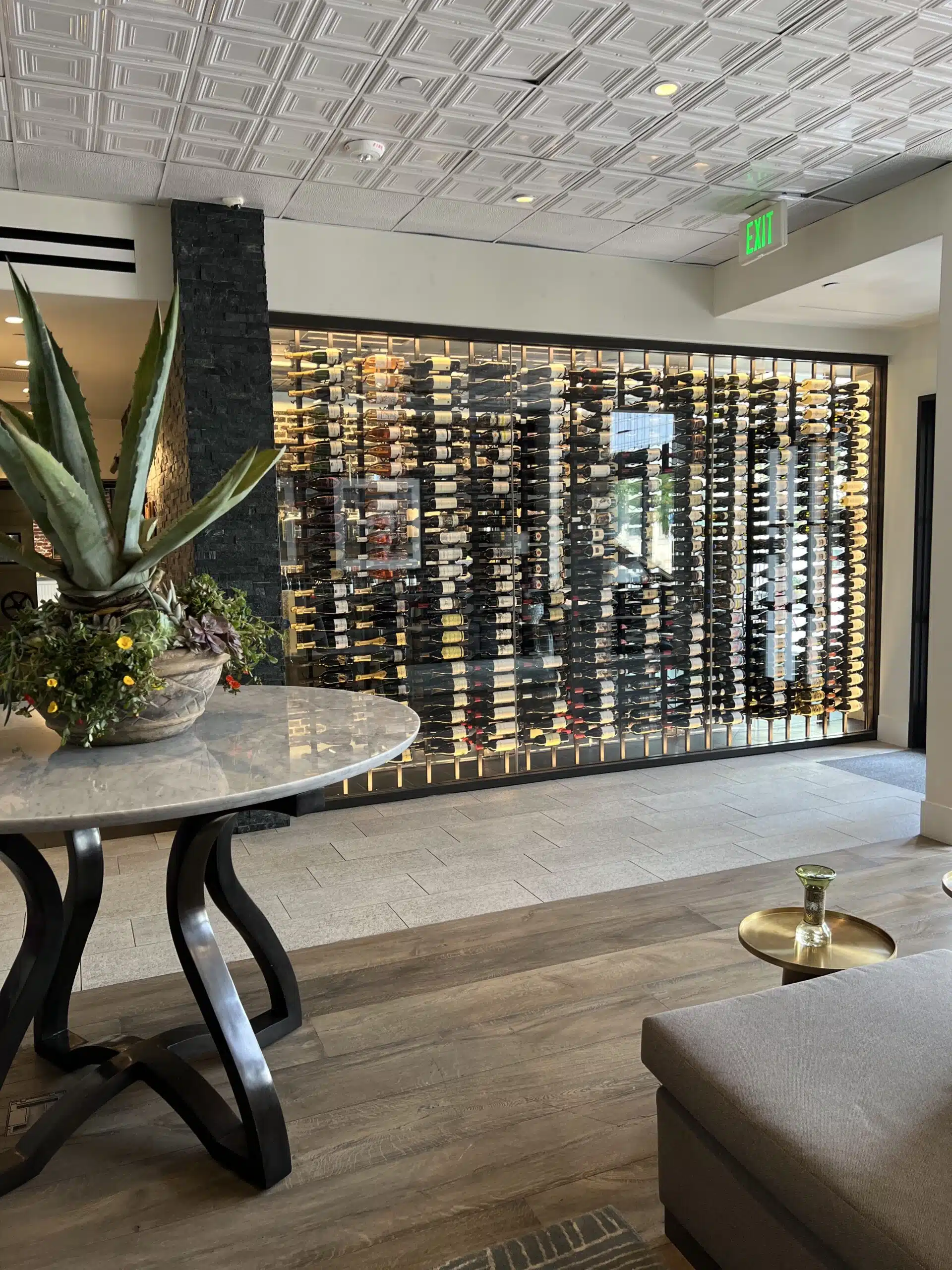 Design Challenge
A priority from Day One, the wine room was initially defined as a private dining area with an attractive wine feature. That focus shifted several times throughout, before landing on the complex combination glass wine wall/private dining room/distillery experience.
Such a seismic pivot in room function — largely due to the pot still that required unique fire and health coding issues — created significant changes to the layout of the room, including reimagining the glass enclosure for the wine bottles.
Designer Bio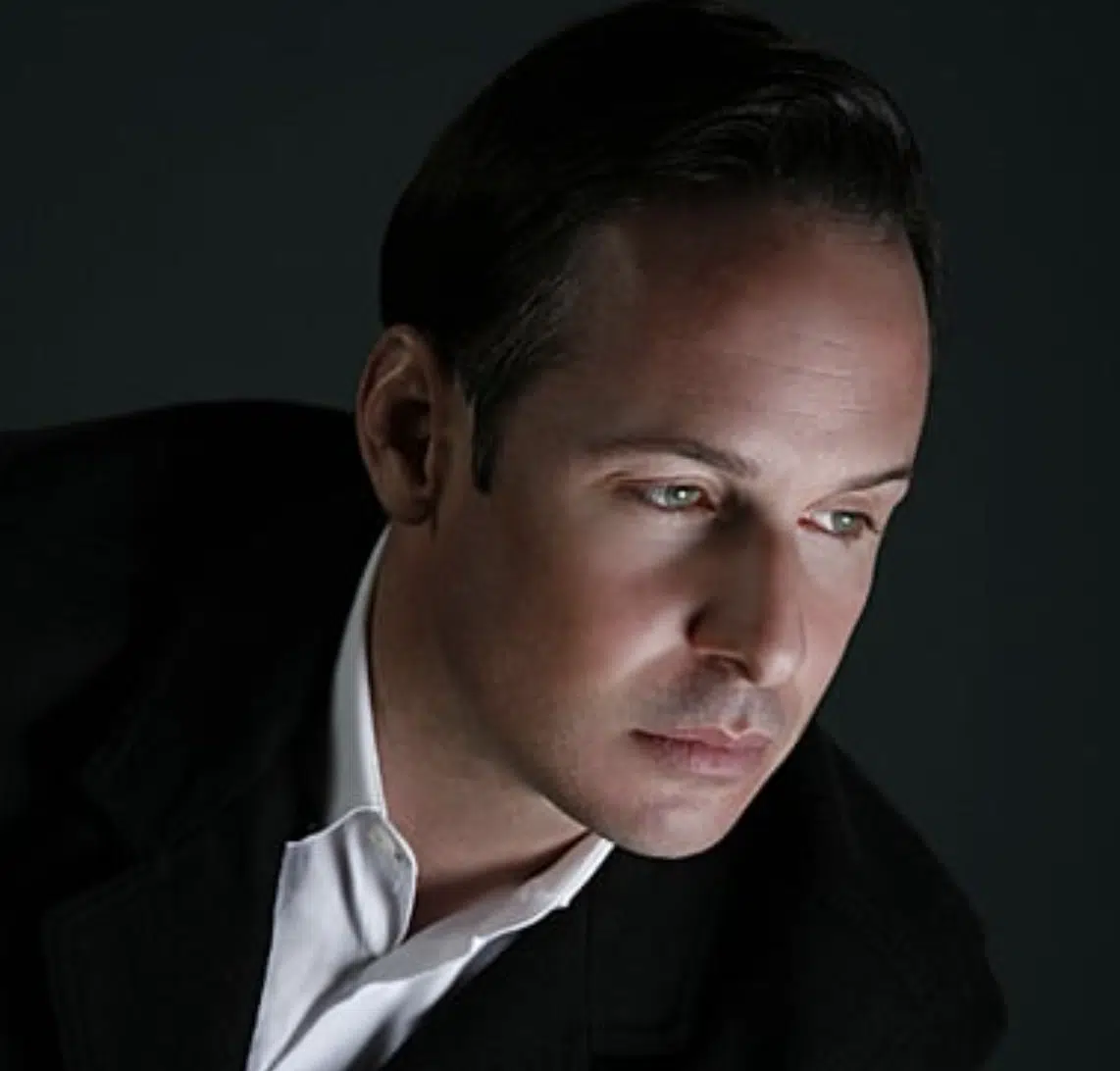 Ian Saude
Creative director and Co-founder
Designing Since: 1996

Number of Projects featuring Wine Storage: 50%
The Solution
Through a mix of creativity and nimbleness, lead designer Ian Saude of Ian Saude Studio, an interior and industrial design boutique, created a functional room that managed to serve all three requisites.
This included finding space for both the still and an aging area for spirits without sacrificing style. To enhance the aesthetics, Saude opted for a black stacked stone spline wall and featured leathered absolute granite countertops. Copper highlights throughout tie the still into the concept.
The remarkable wine display became a visual divider between the private dining area and the lobby, with glass on both sides. This put wine on display in both areas, with functional storage being accessed through the Distillery Room. Featuring the W Series Wine Rack Frame system allowed the wine bottles to seamlessly float behind glass, label-forward and visible to guests in the private room and those spending time in the lobby.
Design Approach
The overall project aimed to integrate organic modern architecture with elements of early 20th century shophouse architecture, building off the historical nature of downtown SLO and Spanish territorial touches that relate to the origins of the city. Saude's team drew on inspirations from hotels in Europe, particularly in Spain and Italy, where contemporary interiors mesh with older original buildings.
The Distillery Room, with its prime frontage window, built off the Euro style design by creating a window shopping experience that also matched the general characteristic of downtown SLO.
"Every effort was made to create and impressive but minimalist wine enclosure which would convey a sense of elegance and simplicity amidst the surrounding design elements, which might be more traditional and transitional in style," Saude says.
Saude also designed much of the hotel's furniture — including bronze tables, foot stools, upholstered furniture, and even the area rugs in the common areas — ensuring the theme maintained its cohesive feel from the wine room to lobby, and throughout the rest of the property.
Lesson Learned
While Saude could ring off a lengthly list of lessons learned: one stood out. Early and clear communication about project goals. The addition of the distillery functionality in the wine room came later in the process, which led to numerous change orders and challenges that likely could have been reduced with early planning.
Defining all the wine room needs pre construction is a tenant of our 6 Steps to Designing a Modern Wine Cellar course. We get it!