Aug 15, 2018
The Best Wine Cellars of August (residential, commercial, and retail)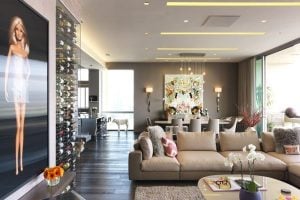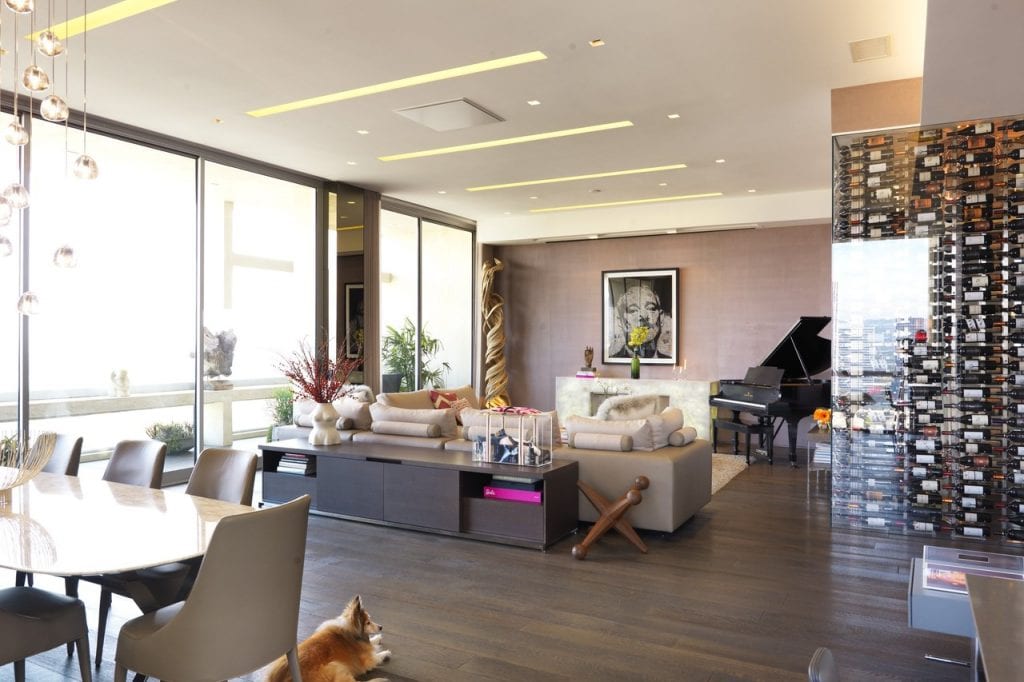 As summer comes to a close, we look to east, west, and north for the best in wine cellar design this month. Read on for killer wine cellars in LA, Chicago, and Virginia wine country.
See previous wine cellars of the month
Residential Wine Cellar: The Barbie Penthouse
If you're going to live in an amazing penthouse you might as well make sure the interior reflects the glamor of it all. This is exactly what Nicole Sassaman did when she renovated the Barbie Penthouse (as in the former home of the real-life Barbie, Barbara Siegel).
Sassman bought it and created a contemporary space with the finest design element that paid homage to Mattel royalty. It includes one of our favorite wine rooms, a glass display that is front and center to the main entertainment areas of the apartment.
The cellar welcomes guests as soon as they walk in. Using Wall Series metal wine racks mounted to Floor-to-Ceiling frames, it positions the labels for the hundreds of bottles in her collection as art. Fully climate controlled, the room not only looks amazing — it can safely store classic vintages for years to come.
Barbie Penthouse Custom Wine Cellar Details:
Wall Series metal wine racks (single-deep configuration)
Brushed Nickel finish
Estimated Bottle Capacity: 480
Estimated racking cost: $3,500
Location: Los Angeles, Ca

Restaurant Wine Cellar: Warm Contemporary Chicago Design 
A contemporary restaurant design calls for a contemporary wine cellar. III Forks in Chicago designed wine cubes and wine walls throughout its dining room, setting the stage for hungry guests to want to order another glass or bottle.
Using warm lights, metal racking, and glass the restaurant uses these displays as eye candy, while also serving a role in creating a private dining area. Wood paneling and clean lines throughout the restaurant make the wine cube even more of a focal point as the lighting focuses the eye on the label-forward design.
The display at III Forks uses Floor-to-Ceiling Frames that hold single- and double-deep Wall Series metal wine racks. With more than 3,000 fines wines to choose from in the spectacular glass wine room, guests can enjoy the perfect wine pairing with their steak or seafood dinner.
In addition to the amazing inside view, guests can enjoy their wine and entrees overlooking Lakeshore Park. Now that's a great way to enjoy a meal.
Taking the weekend in Chicago? Check out our three other picks for wine and design in this awesome city.
III Forks Custom Wine Cellar Details:
Wall Series metal wine racks (double- and triple-deep configuration)
Brushed Nickel finish
3,000-bottle-capacity
Estimated racking and framing cost: $24,000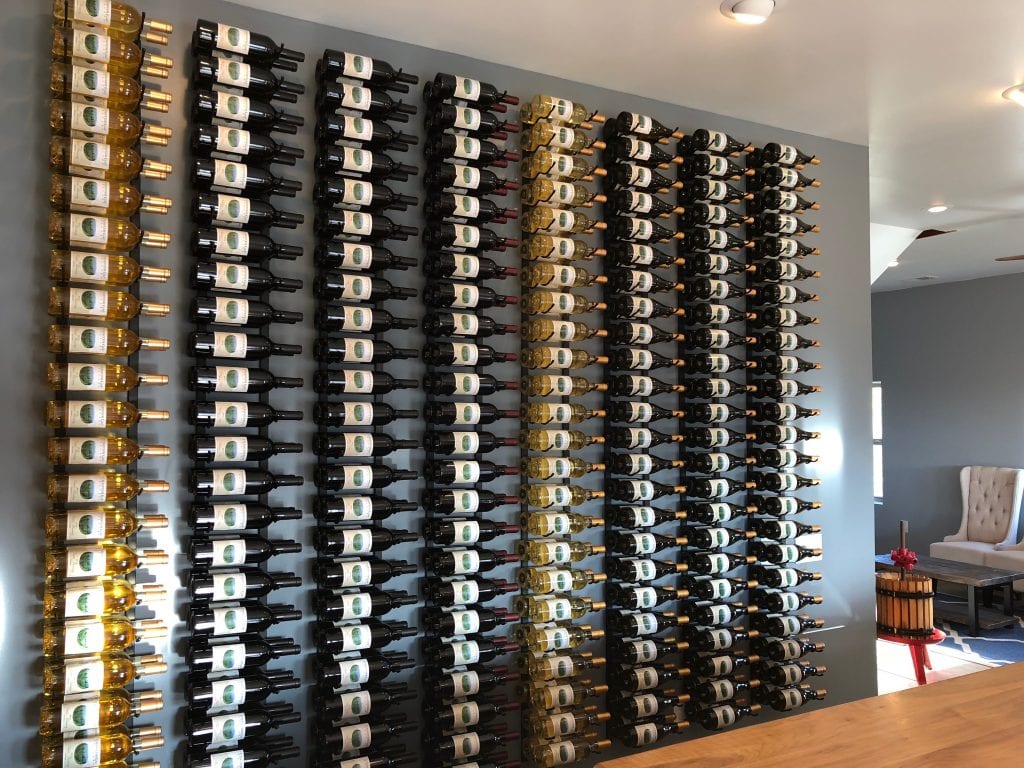 Retail Tasting Room Design: Great Views Everywhere in Front Royal, Va 
As the summer is nearing an end, we wanted to find a winery to share with great grapes and a complementary view. This took us to Front Royal., Va., to the Chester Gap Cellars tasting room. (Side note: Did you know that Virginia is a top-1o wine producing state by volume; and even higher in national prestige?)
This boutique vineyard and winery operation sits at 1,000 feet in elevation, meaning the vineyard views provide all the incentive you need to visit. Luckily, the owners didn't rely on nature alone, enhancing the wine country experience with killer reds and a chic tasting room complete with a stunning wine wall.
Using Wall Series metal wine racks, owners Jeff Seese and Travis Patton created an unmissable 8-foot-tall wall of wine, showing off its estate grown Viognier, Roussanne, Merlot, Cabernet Franc, Petit Verdot, Petit Manseng, and blends to tempt visitors.
Chester Gap Cellars Wine Wall Details:
Wall Series metal wine racks (double-deep configuration)
Satin Black finish
192-bottle-capacity
Estimated racking cost: $1,750