Nov 13, 2019
5 Years of Design Excellence at the Denver Life Designer Showhouse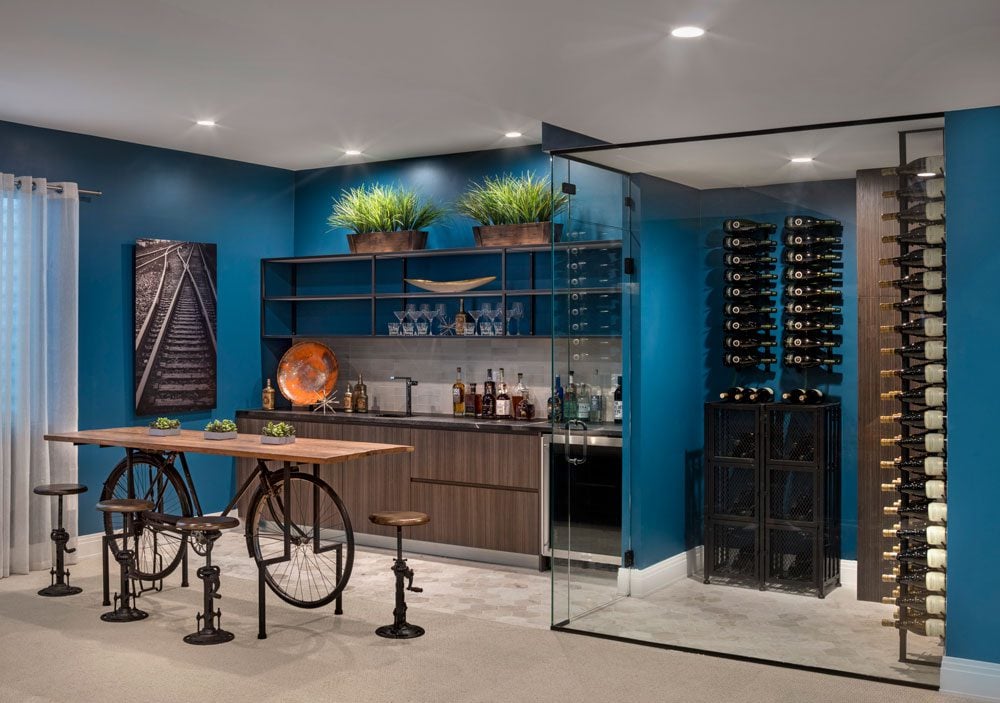 Since 2015, the Mile High City's top design pros have come together to create the Denver Life Magazine Designer Showhome, a multi-million dollar piece of real estate that shows off an impressive blend of aesthetics and livability to hundreds of area design buffs.
The ultimate goal: a "market-ready" home. AKA, one that will sell quickly and for top dollar. The invited tastemakers to the project are each assigned a room and tasked to create something stylish and relevant, featuring the best in in furnishings, decors, technology, and more.
A wine feature is naturally a big piece of the build, and each year, designers have selected VintageView's modern, label-forward wine racking.
Join us in a walk down memory lane as we take a look at our favorite design elements over the years.
2015 Denver Life Magazine Designer Showhouse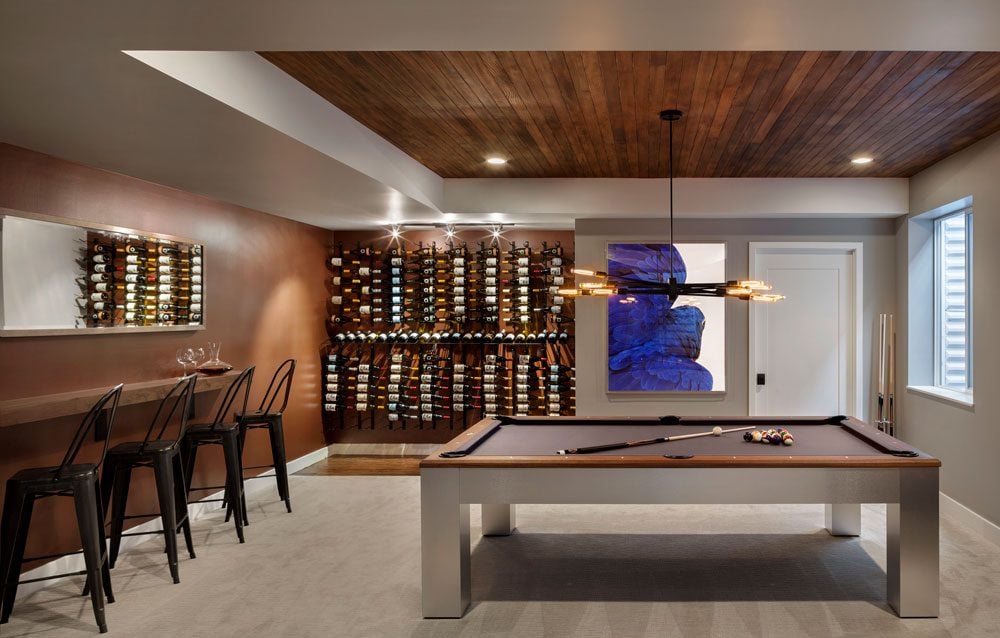 This stunning 4,800 plus square foot home in the Cory-Merrill neighborhood is a testament to modern sensibility that doesn't sacrifice the warmth of traditional design.
Highlights include its spacious kitchen that features chef's appliances (obviously) and a super smart window placement that allows glimmers of light to sneak in from above its sleek white cabinets, giving off a perfect glow. Striking and comfy all at once.
This same design thought carries to the basement where Caliber Construction created a beautiful wine wall accent in the expansive entertaining space. Instead of cooling the wine room, the design relies on the subterranean climate to store wine safely. Adjacent to a billiards area, the dream wine wall sets the tone for an engaging night of wine, pool, movies, maybe some more wine. Perfect.
Wine Storage Details:
384 bottle capacity
Satin black finish
W Series Wine Racks

Double and Triple deep configuration
Home builder: Caliber Construction
Architect: Don Goerig, Goerig Design
2016 Denver Life Magazine Designer Showhouse
Upon entering the 3,800 square foot 1930's Washington Park tudor, it's apparent something special is unfolding. The gorgeous design elements throughout the home mesmerize, from magnificent wood floors, to charming brick walls, and exquisite modern art.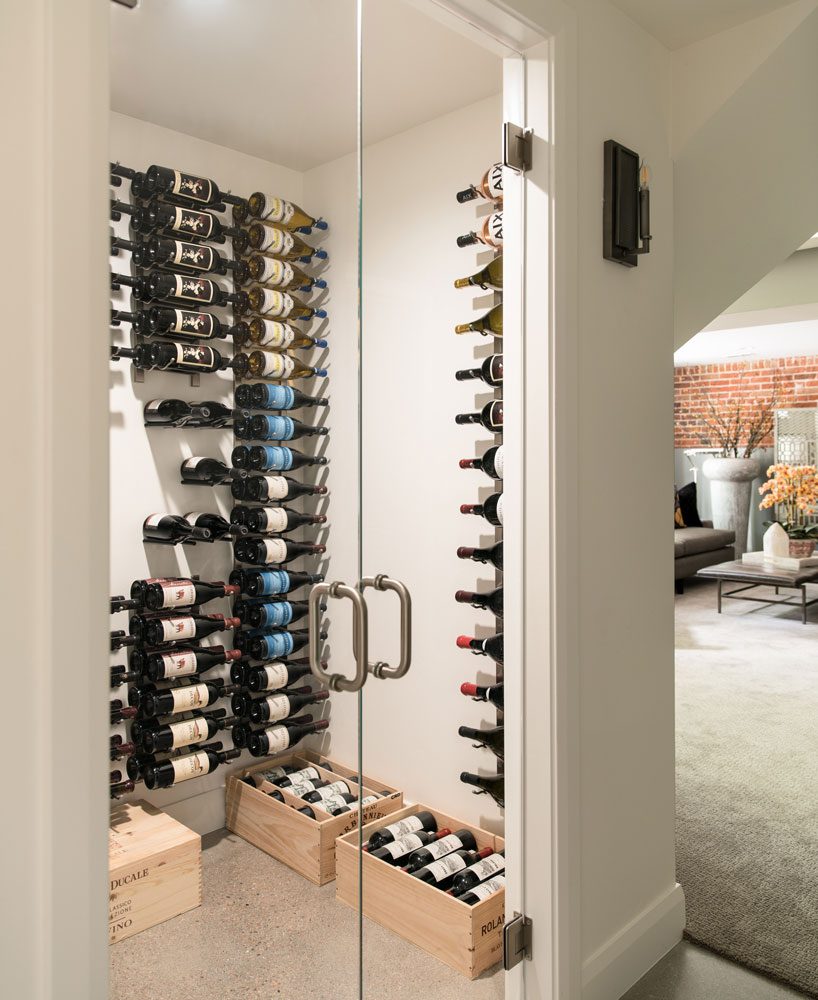 The traditional, yet spacious, master bathroom is our second favorite room in the home, mostly because of the relaxing, massive, freestanding tub that overlooks the yard through a picturesque window. One can imagine the homeowner soaking in there for hours with a candle lit and a bottle of wine open.
Good thing there's ample wine storage in the home, too. Enter our favorite spot: The wine room.
Caliber's lead designer, Caylin Engle, created a sexy, 184-bottle wine display off a wet bar station steps from the coolest basement room in the city. The mix of metals, glass, and concrete in the bar/cellar area continue the transitional design featured throughout this renovation.
A few wine racks and some wine glass storage in the wet bar complete the look, begging guests to imbibe and stay awhile.
Wine Storage Details:
184 bottles
Brushed nickel and anodized black finishes
W Series wine racks

Champagne and Magnum storage

Vino Series
Home builder: Caliber Construction
Architect: Carlos Alvarez
2017 Denver Life Magazine Designer Showhouse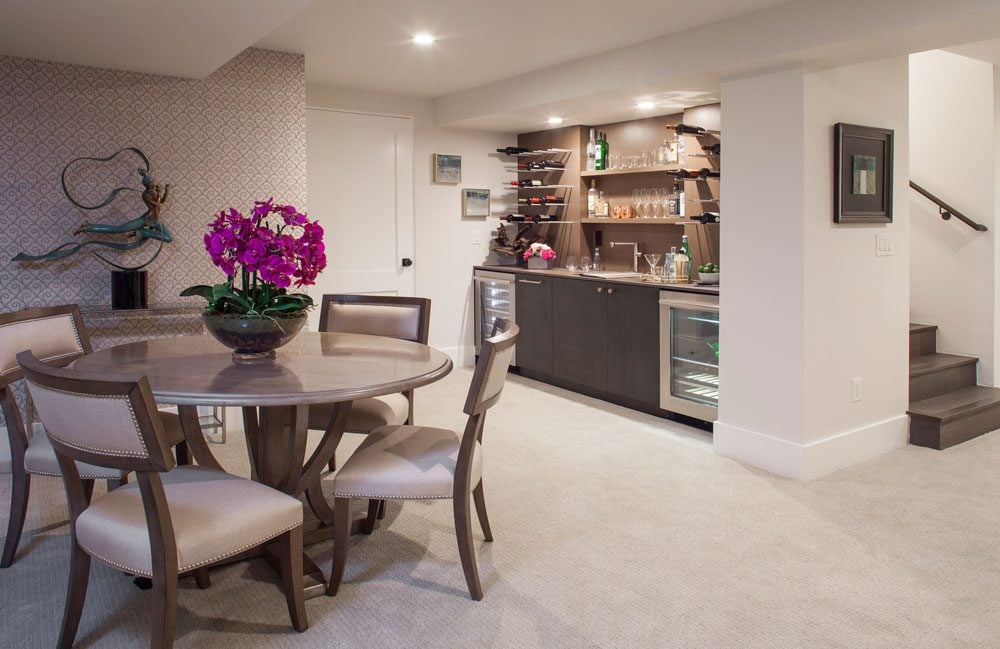 Originally a one story, 1,200 square foot home, this reno included popping the top with an upstairs addition that tripled the home's original size to a spacious 4,605 square foot.
We love the dining room, decorated with warm, timeless furniture, accented in gold. Pure elegance. Wherever you sit, tall black framed windows bring in the outdoors, making it the perfect spot to sip on a glass of wine. Yes, we have a one-track mind.
For wine storage, the old adage "less is more" rings true. The design features elegant cork-forward Vino Rails jetting from the wall of a wet bar. Holding a tidy 32 bottles, it makes a bold enough statement that wine is taken serious here without taking up too much space. We're guessing the homeowner puts the cocktail wines on display and stores a few a few cases of dusty Bordeauxs in a crawl space.
Wine Storage Details:
32 bottles
Vino Rails
Milled aluminum finish
Home builder: Caliber Construction
Architect: Alvarez Morris Architectural Studio
2018 Denver Life Magazine Designer Showhouse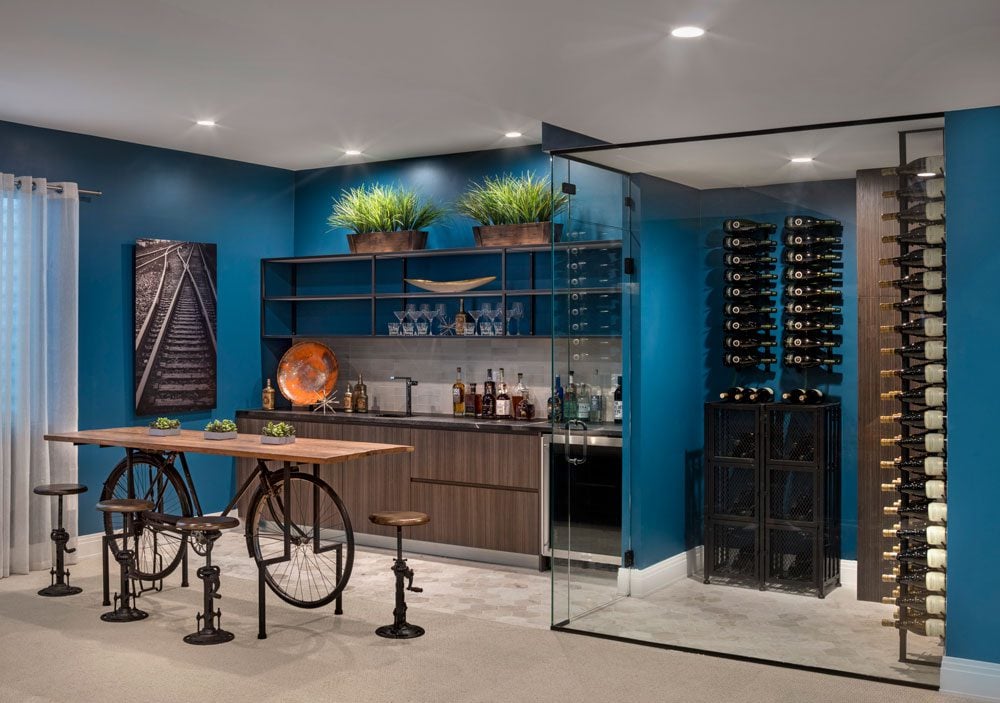 This new build 5,488 square foot, four-story contemporary in the Washington Park displays elements of nature throughout. Beautiful wood grain tables and artwork gave off a peaceful aura as you walk through the home. A key example of this is found in the master, where an oversized natural wood headboard covered the black accent wall. Adjacent to the bed sits a cozy fireplace hidden between two decorative grid windows.
The home gets a little bolder in the basement, where a modern wine storage solution displays 270 bottles with a mix of floating wine racks against glass and industrial wine lockers. The choice of rich blue walls and a bicycle wheel table at serious flavor to the room that is perfect for entertaining with a decadent bar, pool table, and spacious barstool seating.
Wine Storage Details:
270 bottles
Case & Crate
W Series wine racking
Satin black finish
Home builder: Caliber Construction
Architect: David Paauw Design
2019: Denver Life Magazine Designer Showhouse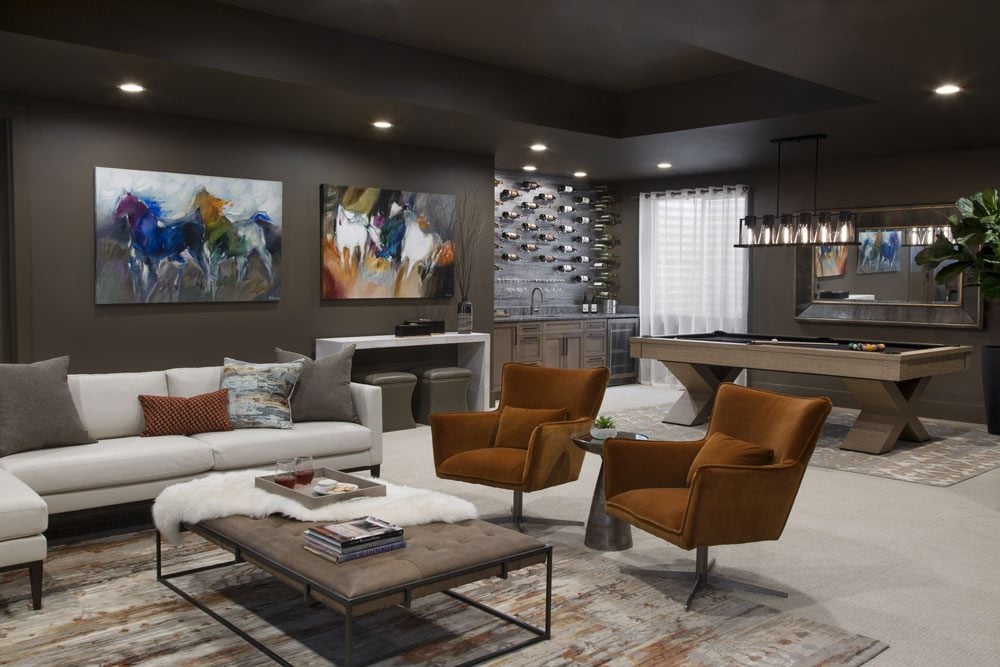 This $2.5 million home stands out in one of Denver's most charming neighborhoods.
This home, while traditional in nature, had enough modern pops to make it stand out. Previously lacking natural light, the open floor plan interior of this stunning home now shines.
The large white kitchen cabinets are surrounded by marble backsplash tile and draw in the eye. While the kitchen looks the modern part there is still a warm, friendly vibe, which can be attributed to the brown, gold, and black accents in the lighting, chairs, and décor.
These same warm colors are found in the basement. Situated in the corner of the downstairs recreation area, our modern Vino Rails and Vino Pins served as beautiful accent pieces to sophisticated wet bar cabinets designed by Angela Otten of Inspire Kitchen Design. The downstairs recreation area is the largest area in the home, making it the perfect spot to play a game of pool or sip a glass of wine.
Wine Storage Details:
56 bottles
Vino Series

Rails as Stemware and bottle storage

Milled aluminum finish
Home builder: Caliber Construction
Architect: Alvarez Morris Architectural Studio
Learn to design wine cellars like these: