The McNemar House brings live music to Buckhannon — specifically to a family living room with a beloved wine wall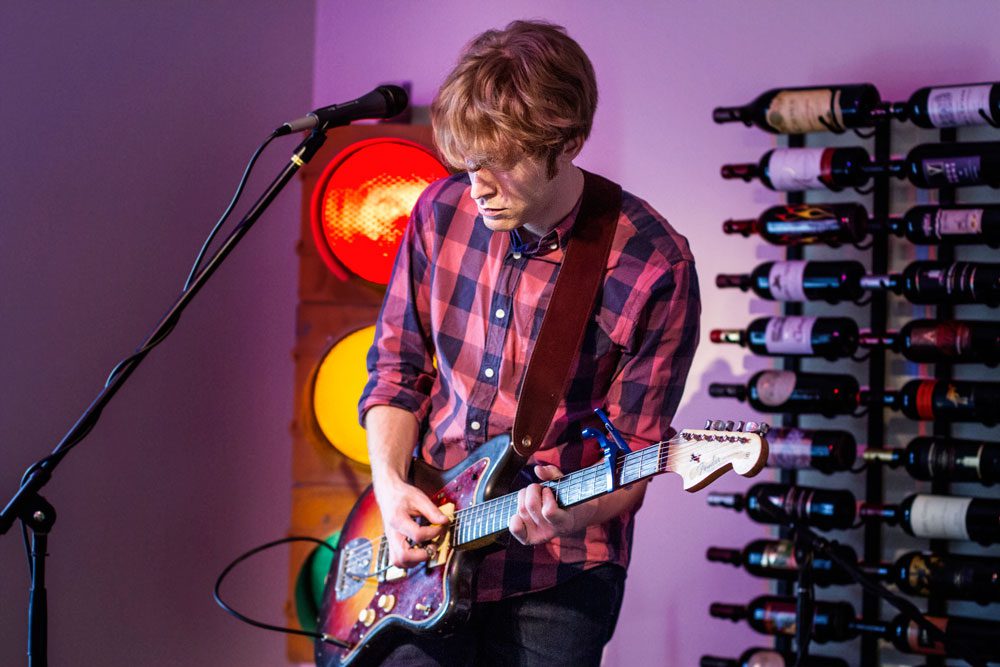 When you've lived in big cities, you tend to get used to music, art, and myriad cultural attractions at your doorstep.
So what happens when you love all those things and move back to the small town in which you were raised? You can either…
1) Enjoy the slow-paced life and drive hours for the occasional big-city experience, Or,
2) Bring some of the desired culture to your doorstep — or more specifically, your living room
The McNemars choose the latter.
Heather and Bronson McNemar grew up in Buckhannon, West Virginia, a blink-and-you'll-miss it town of 5,500 people in the Allegheny Mountains. But they spent five years living in much larger places, falling for the rich entertainment and culinary offerings hard to find in rural Appalachia.
Family and the appeal of small-town living eventually lured them back to Buckhannon, a perfect place for them to raise their (now) 5-year-old son, Gunner.
They found a great piece of land a stone's throw from where Heather grew up and were lucky enough to have their respective fathers build them a home. During the two years it took to construct (more on the home's beauty in a moment), the McNemars longed for some of the aspects of big-city living.
They would need to drive 45 minutes to catch some theater (and that was only available during summer) and at least 90 minutes to Morgantown to catch a good band. "We missed having the opportunity to see live bands. We missed the arts and culture available in the city," says Heather.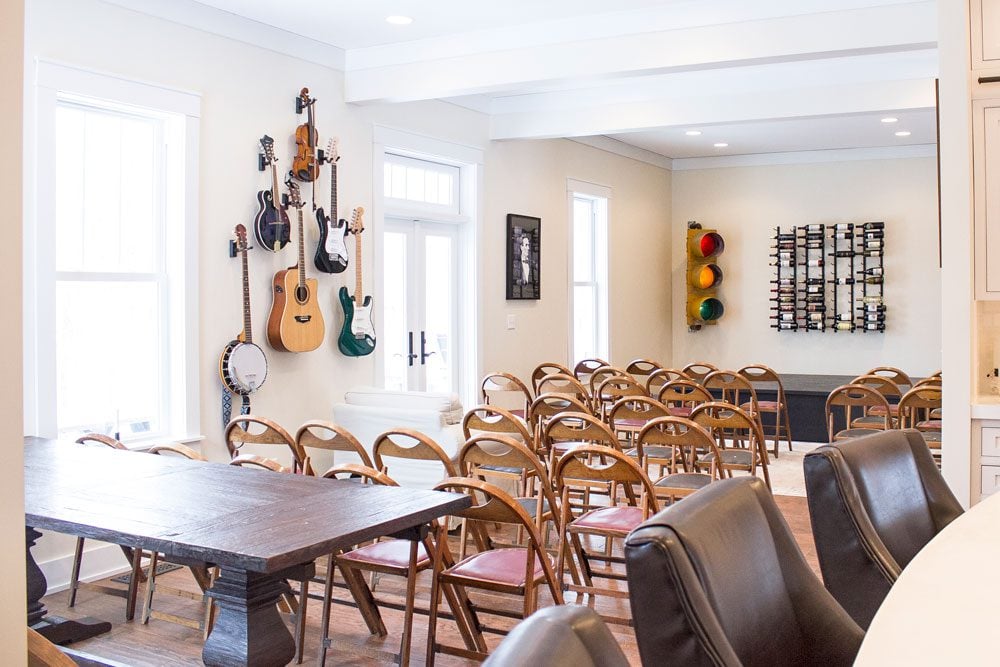 The Venue
So they brought the music to town. Specifically, their living room.
Riding a small, creative arts' wave in Buckhannon, the McNemars dedicated their living room to serve as a multi-purpose public cultural center that can seat more than 50 for events.
They built a custom stage — easily moved when not in use — and their home instantly transformed into an oasis for arts with a fashionable wine wall serving as the backdrop for the musicians and artists they bring to town.
And we're not talking just cover bands from around the corner. Uniquely positioned along Interstate 79, they've pulled talent from up and down the East Coast, with regional bands and singers that can fill their intimate space with music lovers near and far.
No, it's not Madison Square Garden, but The McNamer House fills a void in this charming town.
"There are several local bars in town with live music, but we're the only place where you are coming for just the music," Heather says.
What started as a passion project has rapidly transformed into a larger commercial venture. The couple is currently working to get a full restaurant and liquor license (so the wine wall will be functional!). They also rent rooms on Airbnb.
Beyond being able to attract musical talent from Nashville to Maine — not to mention fill her country home with strangers willing to pay up to $20 apiece — Heather says the most surprising thing about the business has been the ability to bring people together. And yes, she's specifically talking about differing political views that have too often divided people in today's hyper-polarized environment.
"People come with different political opinions, and by the end of the night they are friends," she says. The cultural differences extend to the palate, which is why this space continues to be exciting with the addition of food and booze. "We have a great, welcoming environment to try new things. It's a beer culture here. It's a light beer culture," she says.
Heather hopes to sway her guests with the Cabs, Merlots, and craft beer she and her husband enjoy.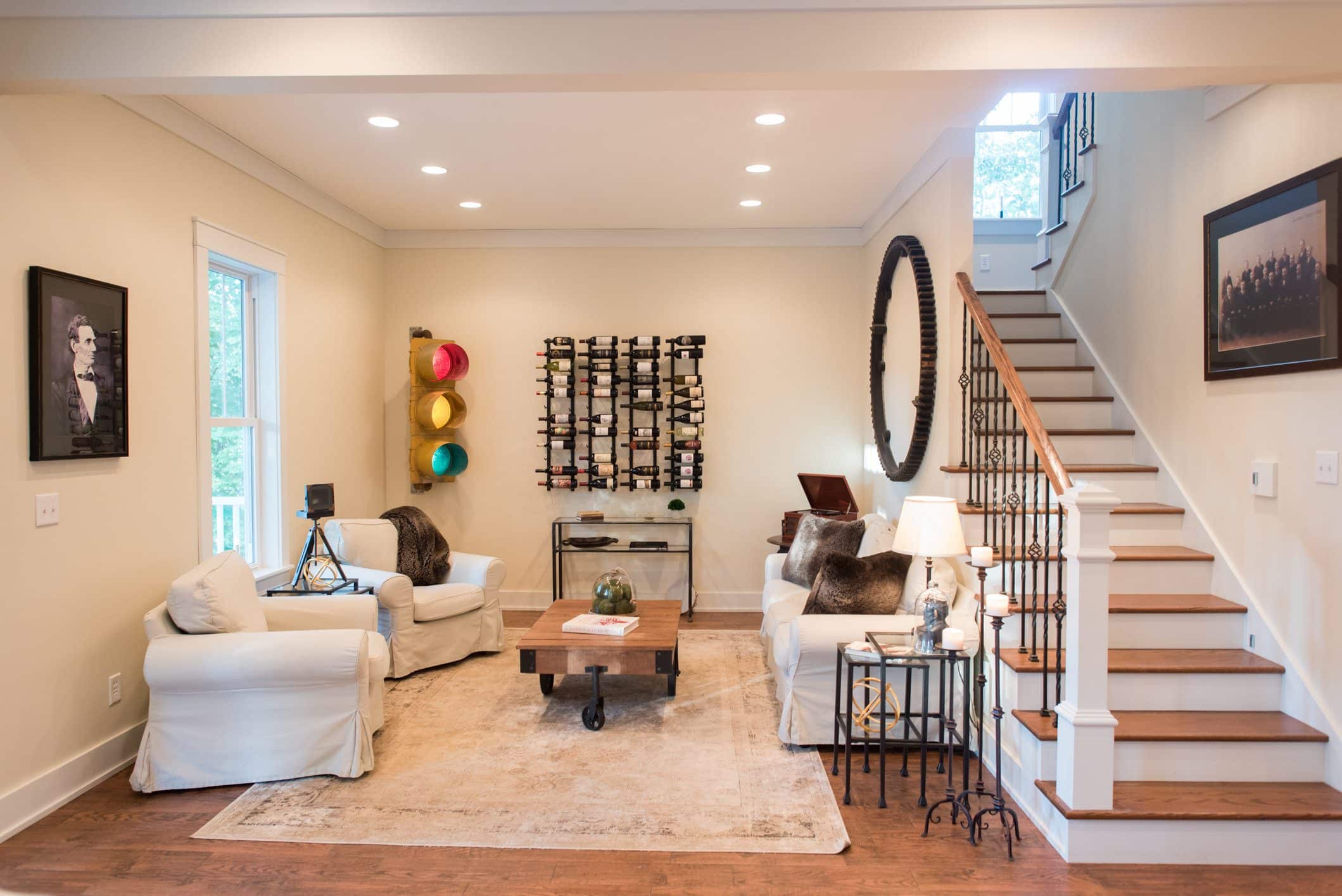 The Design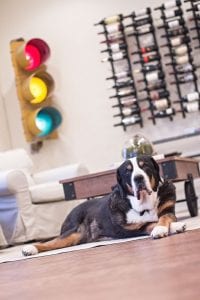 Offering local art, interesting music, and tasty food and drink certainly helps bridge divides, but we imagine the blend of homey farmhouse design also brings people together.
The living room is warm, featuring plush couches (removed for events) that encourage interaction. The décor is all conversation starter, with an antique street light pulled from the center of town, a label-forward wine wall showcasing some tasty wines, and other tastefully selected art pieces.
It's all very cozy and eclectic.
Touring the rest of the home finds so many well-curated design choices, with each room tied into the next with oak-styled tile flooring that pays homage to the farmhouse style. The details from the ceilings to light fixtures impress.
The McNemars also have the requisite farmhouse dog. Wendell is an 11-year-old Greater Swiss Mountain Dog who loves to greet guests. "He's a regal looking dog," Heather says. He stars in more than a few promotional photos circulating the internet.
Although when the food and beverage license kicks in, Wendel won't be attending many events anymore.
With everything else designed to perfection, and some good wine in your glass, we're confident you won't miss the furry animal sidekick.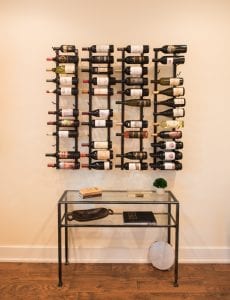 Wine Wall Details:
Recent Posts
Imagine a dark, cool, underground cellar dug in...

The designer tool bag expands with the versatil...

The moms in your life have earned a little more...
About VintageView