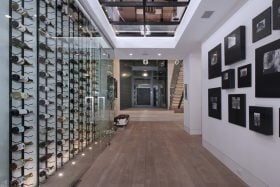 When the interior is luxurious and the design embodies chic minimalism, there is much to be envious about. This two-story wine wall design pulls in contemporary California elements and drives them between a glass floor for one of the most unique displays you'll find in Orange County — or anywhere. The cellar's tall double-doors open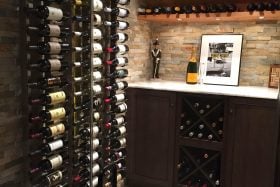 Transitional design is a mix of modern and traditional elements, and its a niche that is trending today. For good reason as the merging of elements allows limitless potential. This compact Briarcliff Manor cellar is a great example. The darker hue of the wood and stone walls provide the traditional feel, while the lighter wood,
With the children out of the house, Neil Frieser wanted to transform his Stamford, Ct., basement from a kids' playroom into an entertaining mecca for the adults. He just needed to add some vino, colorful LEDs, and a stylish area to sit and enjoy his wine-focused adult play area. "I wanted a fancy place to
The world leader in modern, label-forward wine rack design.