Our Team
We love wine. We love good design. Most importantly, we love helping you through the entire process of planning your home or restaurant wine cellar, from planning to the day your modern wine racks arrive onsite.
Logistics & Customer Service
Marcy Sturm
Residential Wine Cellar Consultant
Born and raised in Colorado, Marcella has over 10 years of customer service and sales experience and is excited to be joining the VintageView team. She also is an artist of all mediums and often makes custom art pieces for friends and family. When not working you can catch Marcella and her boyfriend hiking, camping, fishing snowboarding, or simply enjoying the outdoors with her two amazing pups Dynamite and Little Luey.
Ellen Benecke
Sales Coordinator
As Denver's newest resident, Ellen is excited to join the VintageView team. She recently graduated from San Diego State University where she studied Business Management and Spanish. Ellen is passionate about traveling, country music, and educating people about elephant endangerment. If you listen closely, you can probably hear her cheering for her beloved Denver Broncos.
Design & Marketing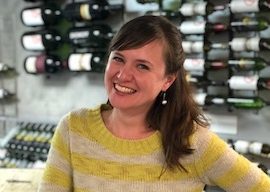 Sarah Marsden
Design Project Coordinator
Sarah Marsden (not related to James Marsden) was born in Minnesota, raised in Baltimore, and just moved to Denver from Reston, Va., at the beginning of 2018. She has had many ventures from community management to co-founding Marsden Media, a freelance event/portrait photography business, with her husband. Sarah has traveled to 44 countries and 44 states so far in her life. When not traveling or working, she is involved in comedy improv and sings in the church choir. Most importantly, she actively tries to Catch 'Em All while exploring the city with her husband and two terriers.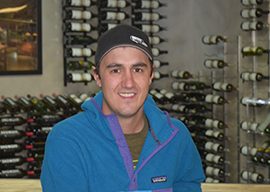 Thomas Lafiura
Cellar Designer
Thomas made the leap from designing kids playgrounds (literally) to adult playgrounds (figuratively) when he joined the VintageView team. He brings his AAS degree in architectural design from Red Rock Community College and several years of spatial design to this post. When he's not designing your wine cellar, you can find him playing disc golf or dreaming about scuba diving all over the world.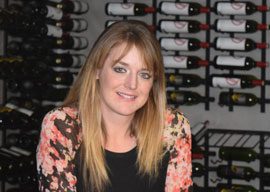 Katie Swoboda
Cellar Designer
Katie comes to the wine cellar design world with experience working on a diverse portfolio of projects including model homes, corporate offices, and sports arenas and stadiums. She holds an Interior Design degree from the University of Nebraska (Lincoln). When she's not designing your wine cellar, you can find Katie teach barre class (and recruiting her VintageView colleagues to take classes), spending time with her family (husband, daughter and two dogs), exploring local breweries, and watching Cornhusker football.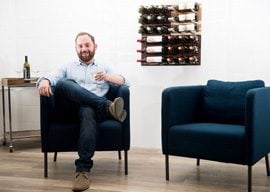 Jacob Harkins
Director of Marketing
A New England transplant, Jacob has called Colorado home since '98 when he moved west to attend the University of Colorado-Boulder. Following an award-winning career in journalism, he transitioned to the ad agency world, simultaneously earning his sommelier certification and becoming an advocate for Colorado wine (naturally, his modest 100-bottle wine closet features several Grand Valley, Colorado, selections resting on VintageView racks). Jacob is also an avid skier and backpacker, who thru-hiked more than 1,400 miles of the Appalachian Trail and is working his way toward climbing Colorado's 54 14ers.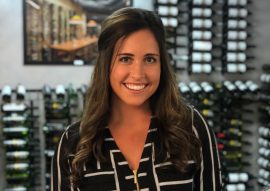 Taylor Molliconi
Sales Development Representative
Taylor has recently joined the VintageView team with enthusiasm to grow her skillset in sales and marketing. She is a Colorado native and recent graduate from the University of Colorado - Boulder, where she studied Strategic Advertising and Leadership. A large part of her college experience was being a four-year member of the Colorado Cheerleading team, where she had the opportunity to cheer on Colorado athletic teams and also compete in the national cheerleading competitions in Florida each year. Before college, she was a competitive gymnast for 16 years. With this being said, she's obviously passionate about sports and being active. Outside of work, you'll find her enjoying the outdoors, whether that be hiking in Boulder or camping deep in the Rocky Mountains.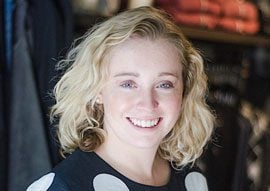 Megan Timlin
Marketing Coordinator
Megan comes to VintageView from the fashion industry, where she owned a women's clothing boutique for two years. After failing forward, she continued to stay true to her original mission of working with local fashion designers and helping them grow their businesses through marketing and sales. Lucky for us, Megan decided she needed a change, and her love for wine and design brought her here. A Denver native, she enjoys spending time with her dog, Kingsley, shopping at local boutiques, and eating great food.
Office Dogs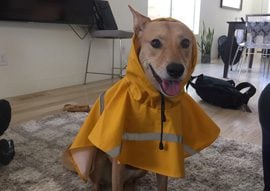 Panda Bear
Chief Barking Officer
Panda loves to share kisses but barks first and asks questions later — especially in front of the men in the office. She can usually be found curled up under a desk in the marketing department on Fridays. In her spare time she chases tennis balls and is known as the fastest dog in Jefferson Park. Her dad is Jacob.
Iris
Chief Office Dog (In memoriam)
Iris was Dave's loyal companion for more than 17 years. She could always be found napping next to her dad's desk in the sales department. At nearly 18, she was sent to Doggie Heaven in June 2016. Her beloved dad Dave Elliott could not have had a better companion throughout the years.
VintageView is better than a wine rack. It's a contemporary wine storage and display system.