Sep 28, 2017
Sweet and Grapey: Bully Hill Vineyards (NY) Sweet Walter Red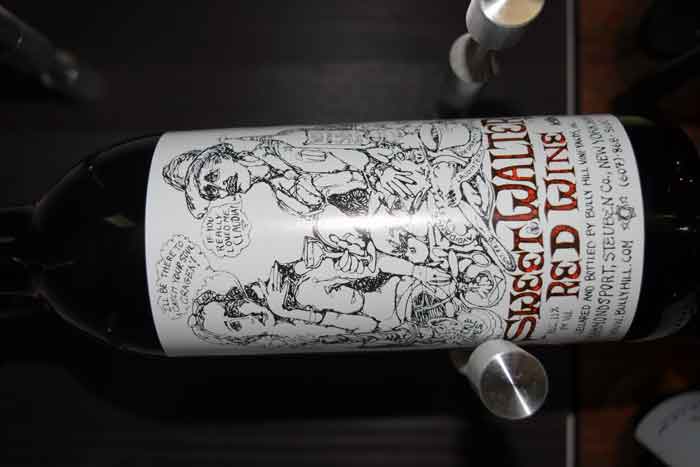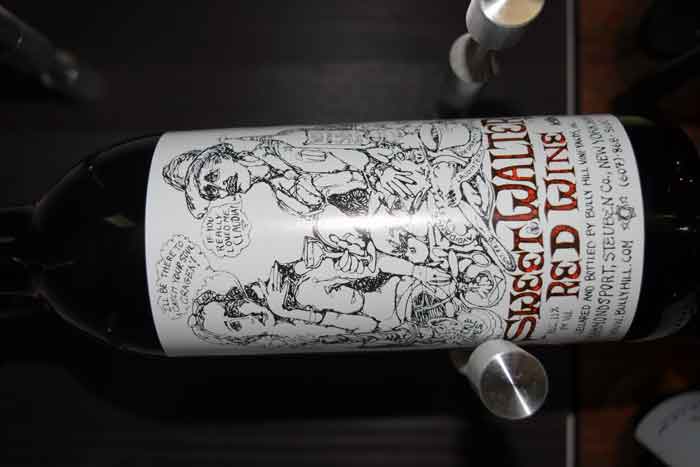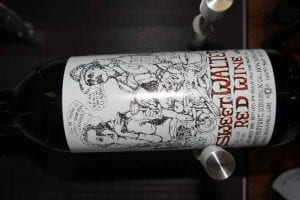 There's something very simple and old-fashioned about the label design of Bully Hill Vineyards "Sweet Walter Red" NV Concord, Reugon, Baco blend. Like you should be sitting on a porch on a warm summer evening with this bottle, talking about the day's exploits, the politics of the week, or maybe an adventure on the horizon.
The cartoon characters on the bottle are doing the same, so why not?
Picking by Label: We pick a wine bottle based on its label — then decide if it tastes like it looks.
At the very least, this wine from the Finger Lakes region of New York should give you something to discuss, if for no other reason than the fact that it features a blend of native American grapes. This is not Cabernet, and the name of the wine already tells you to expect the sweetness to pound your palate.
If you clear your mind of French wine for a few minutes, there's a lot to enjoy here. It's well made for its style, not shying from the grapey flavors of the Concord both in production and the description of the wine. Concord certainly steals the show, but the blending grapes provide an unexpected depth to this sugary bottle.
It's grape juice. With alcohol. It's sweet. It's unapologetic. It could use a little chill. And we'd love some stinky cheese by its side the next time we explore this wine from Upstate New York.
Did it live up to expectations?
Based on sweet name and the old-fashioned drawing, we were expecting something with loads of sugar and porch-pounding potential. It delivered with an added bonus of a little unexpected finesse. So, yes.
Aging Potential:
As with most non-vintage wines — especially ones produced from American grapes like concord — this is a drink now wine (although it will look great hanging on on your Grain + Rod panel). If you like the interesting flavors, this is a mainstay in the winery lineup since 1983, so there'll be plenty more chances to find a bottle. $9.99
Why Did You Pick This Wine?
"The black and white cartoon style label on my bottle combined with the red lettering really caught my eye. It was fun and playful. " — Shanna Sweet, Design Project Coordinator