Sep 12, 2017
A stunning residential wine wall Down Under featuring label-forward metal racks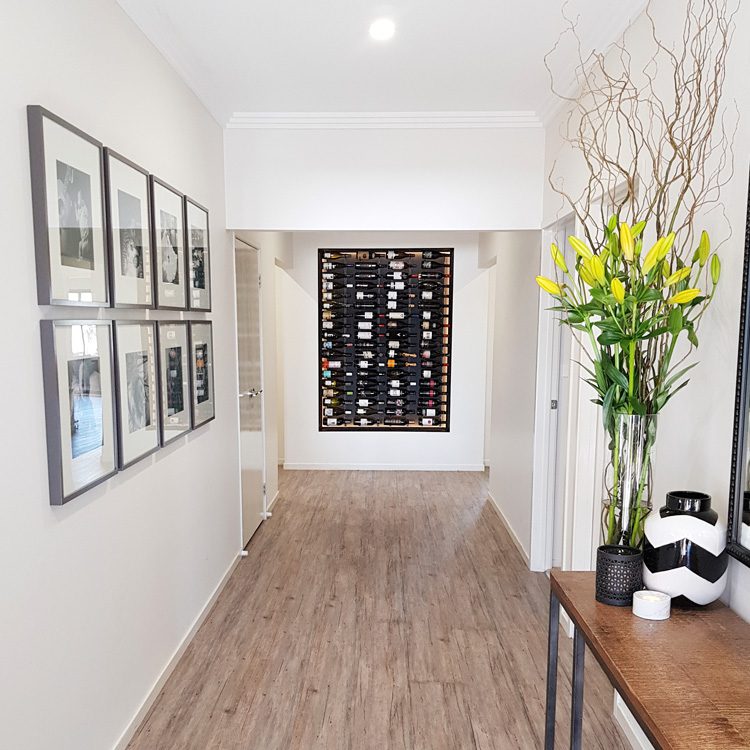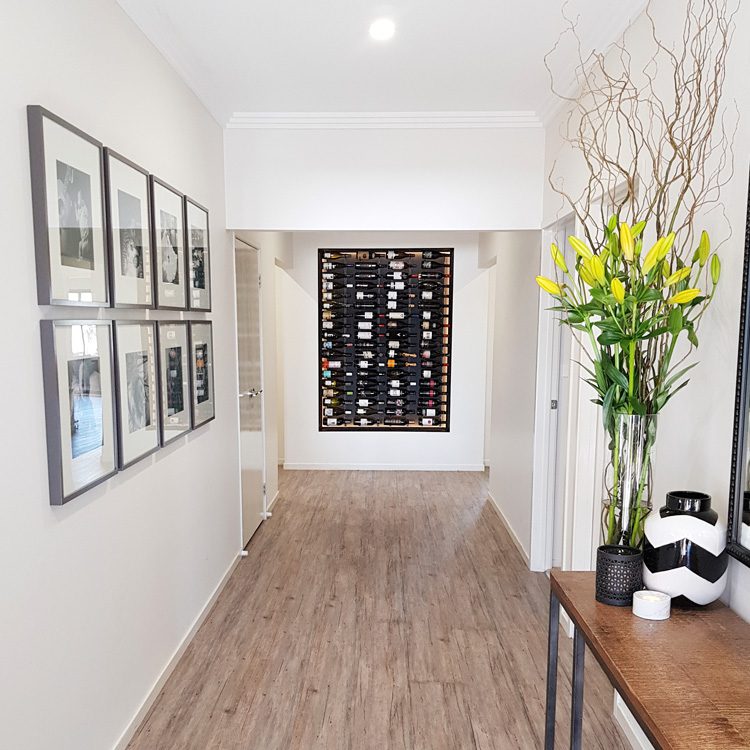 Sometimes the best wine cellar designers aren't officially designers at all. They just love minimalist style and have a fondness for wine.
Case and point: Katie Spitz.
Spitz actually works in sales for a wedding and event planning company, but if you looked at some of her DIY design work in her Moss Vale, New South Wales (Australia), home you might assume that people pay her for her aesthetic talent.
She shared her beautiful modern wine wall recently on Instagram. This simple design accentuates an insanely stylish entryway that features art (photos) on one wall and art (wine bottles) on another. Talk about a grand entrance.
She calls her handy work, "drinkable art."
We agree.
When the home was being constructed, she asked the builder to leave a 1 foot (305mm) inset in the wall with the idea to build a wine display flush with the drywall. She had plywood installed behind the gyproc (drywall) for added stability. For finishing touches, she painted the back wall black sea (from Taubmans), which is a dark charcoal grey in matte finish. This color choice makes the display stand out from the crisp, white walls surrounding it. Dimmable LEDs bring a pop of light come evening.
Now it's filled with great bottles from around the globe. In case you are wondering, Spitz also was an event planner for a local winery and she loves Australian wine. Some of the favorites you might find in her collection include Shiraz from Mclaren Vale, Pinot Noir from Yarra Valley, dry Riesling from Clare Valley, and buttery Chardonnay from Adelaide Hills.
The best part of this project — in our eyes anyway — the Spitz's just sold the home (in 30 days) and are moving, meaning we can expect yet another well-designed wine wall in Moss Vale sooner than later.
Cheers.
Wine Wall Specs:
Double bottle depth configuration (36 bottles per column)
Satin black finish
144 bottle total capacity
Passive cellar
Estimated racking cost: $632 ($4.38/bottle)
Need help with a project in Australia? Contact our partners Enoteca Sileno!