Feb 13, 2018
A restaurant with an interior and menu fit for being on top of LA: 71Above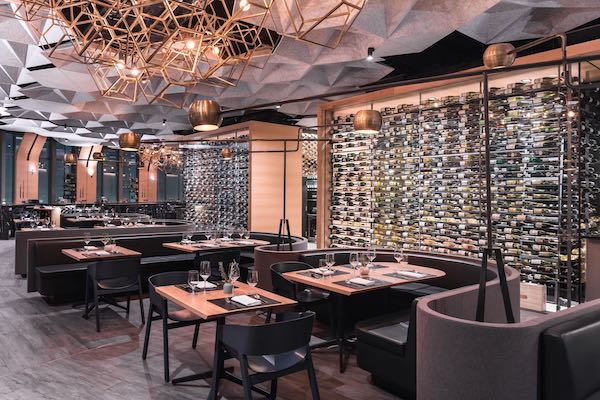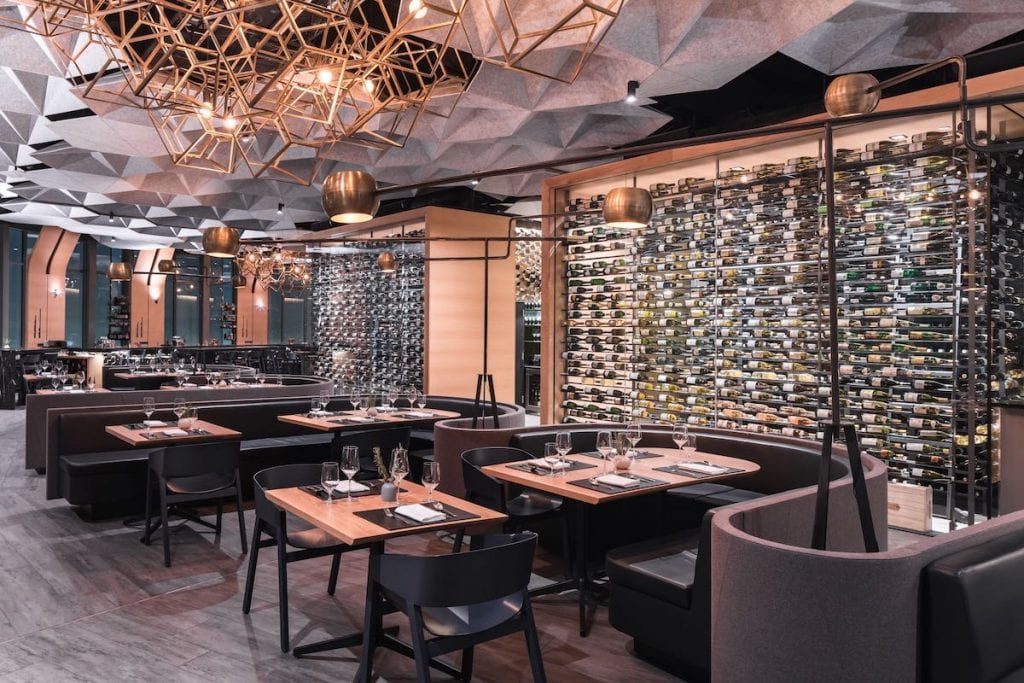 Located 950 feet above the ground, 71Above  is the highest restaurant west of the Mississippi. That's far from the most appealing aspect of the haute American restaurant in downtown LA.
Created by native Angelino and owner Emil Eyvazoff, this towering restaurant has dazzled locals and tourists alike with its insane views from the 71st floor of the US Bank Tower, impeccable design, and a creative menu that is every bit as impressive as the sight lines.
A prix fixe menu by acclaimed chef Vartan Abgaryan tempts diners with delectable treats such as a miso, garlic, and brown butter cauliflower dish or a perfectly cooked venison with beets and blackberries. The wine pairing by seasoned somm Catherine Morel is a must.
It's all as delicious as the design of the restaurant that features an insane label-forward wine display at its center (furnished by Vintage Cellars, a certified partner of VintageView). The towering glass-walled cellar features Evolution Series wineRODs, and serves as a secondary focal point to the views that stretch from the Pacific to the Hollywood Hills and all other points around.
Speaking of the floor-to-ceiling glass that overlooks LA, booths booths and tables are smartly situated for maximum view potential (and yes, you can reserve tables right against the windows).
Simply, 71Above is a draw in equal parts for its perch atop the world, design, and culinary creativity.
To gain further insight into this hotspot, we caught up with Emil and Catherine to discuss the food, wine, a little Hollywood gossip, and the vino that goes best with a slice.
VintageView: What's the bigger draw: the views or the food?
Emil Eyvazoff: Our goal is for the food, wine, mixology, and pastry programs to be the bigger draw ... however, the view is also a draw.
VV: How did being so high above Los Angeles affect the restaurant design?
EE: There were many aspects to the design which helps this restaurant overlooking Los Angeles to become part of the city. The restaurant was designed to be a compass.
The center of the building has an inlaid brass plate with the logo of the restaurant. From that center point, there are 24 inlaid solid brass lines to each building column around the perimeter of the restaurant. Each column accounts for 15 degrees of the compass and is covered with custom oak paneling.
There are custom CNC aluminum markers on each column which show the direction which the column faces, along with local, national, and international cities as points of interest.  The markers also show the distance from 71Above to each city.
In addition, approximately 3,300 square feet of existing exterior glass was replaced with smarter SageGlass, which can tint during daytime hours and go back to clear after sunset, so there is no need for obstructive shades at the restaurant.
VV: Wow. That's a crazy amount of detail and thought into the experience. Does Chef Abgaryan's menu build of this?
EE: Yes. Chef's food is a modern American interpretation of international elements and cooking styles, coupled with a diverse set of influences that represent the local population of Los Angeles.
VV: Describe your wine program in 5 words.
EE: Something for all wine drinkers. VV: That includes us!
VV: How do you feel customers react to the label-forward wine display (assuming they are not awestruck by the view)?
Catherine Morel: It's a very popular spot for people to take pictures — either of them in front of the display or even of the display itself. It's fun watching people point out bottle they like or have wanted to try!
VV: Because it's LA, we have to ask: Namedrop some celebrities who've visited and/or dined at 71Above...
CM: Because it's LA, our lips are sealed! VV: Touche.
VV: What is your go-to wine pairing on your menu?
CM: Because we do a coursed men, every dish has a wine paired specifically with it. One of our classics is an Oyster poached with uni, caviar, tarragon, and Champagne. We pair this with a dry Silvaner from Germany (editor's note: Silvaner is a crisp, zingy white wine).
VV: You're home on the couch and jut ordered pizza from Pizza of Venice. What are you drinking?
CM: Usually something red and Italian.
The Wine Display
This view-worthy restaurant features two wine walls that elevate the overall design and provides maximum wine bottle storage.
Think something like this would look great in your home or business? We do too. Let's talk.
Photo courtesy of 71Above
See more...

71 Above - The Crown Jewel of LA from Aspire Global Marketing on Vimeo.