Oct 13, 2023
3 Inspiring Contemporary Wine Cellar Designs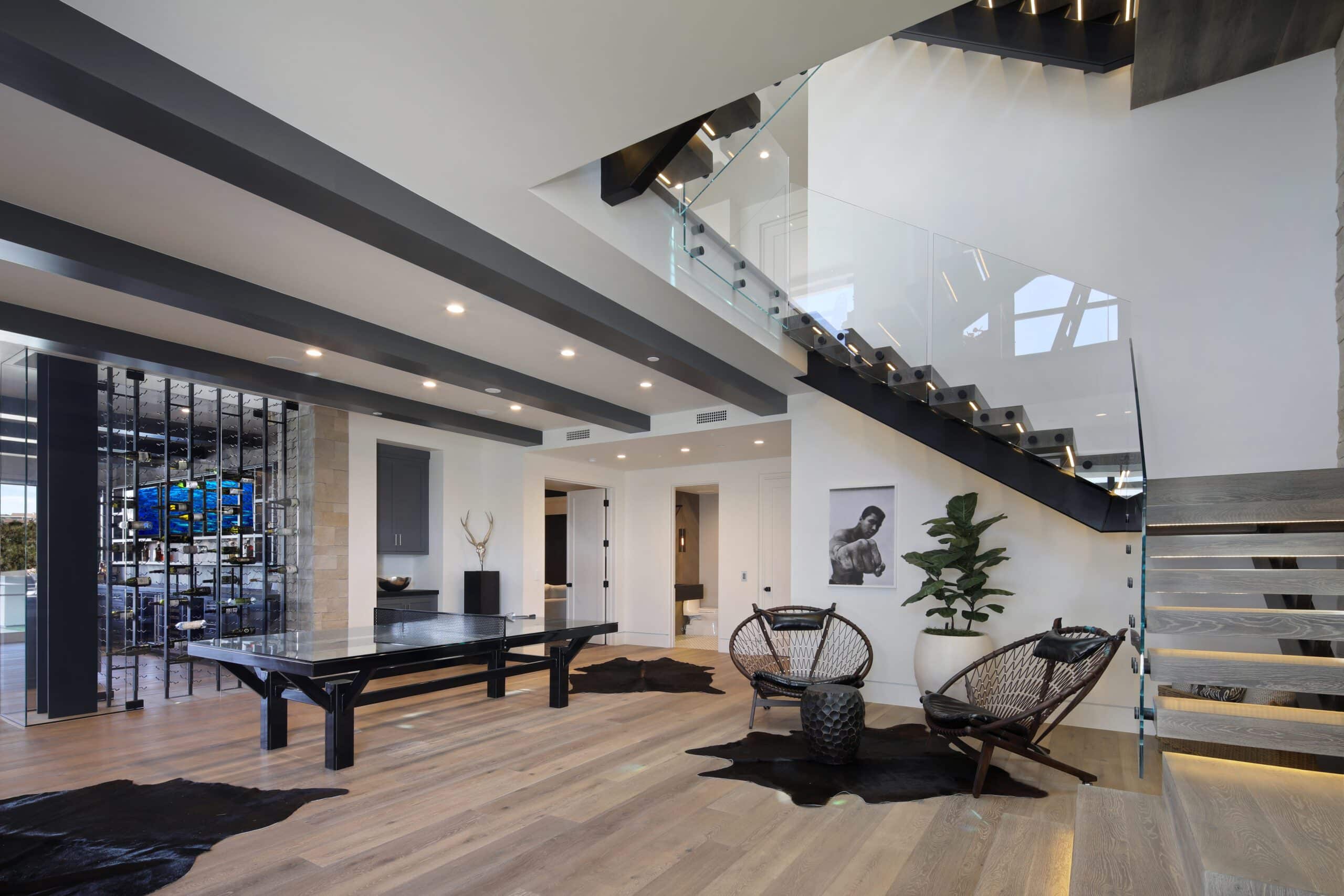 Drinking and collecting wine is a lifestyle. And grand collections should be put on display. Here are three of the hottest wine cellar designs we've seen recently that you're clients will love, all balancing the elements that keep wine safe with serious modern design panache. Open a nice bottle, check out these projects, and get ready to be inspired.
(and when you are ready explore these essential resources:)
---
De Sola Terrace: Where Wine Meets Innovation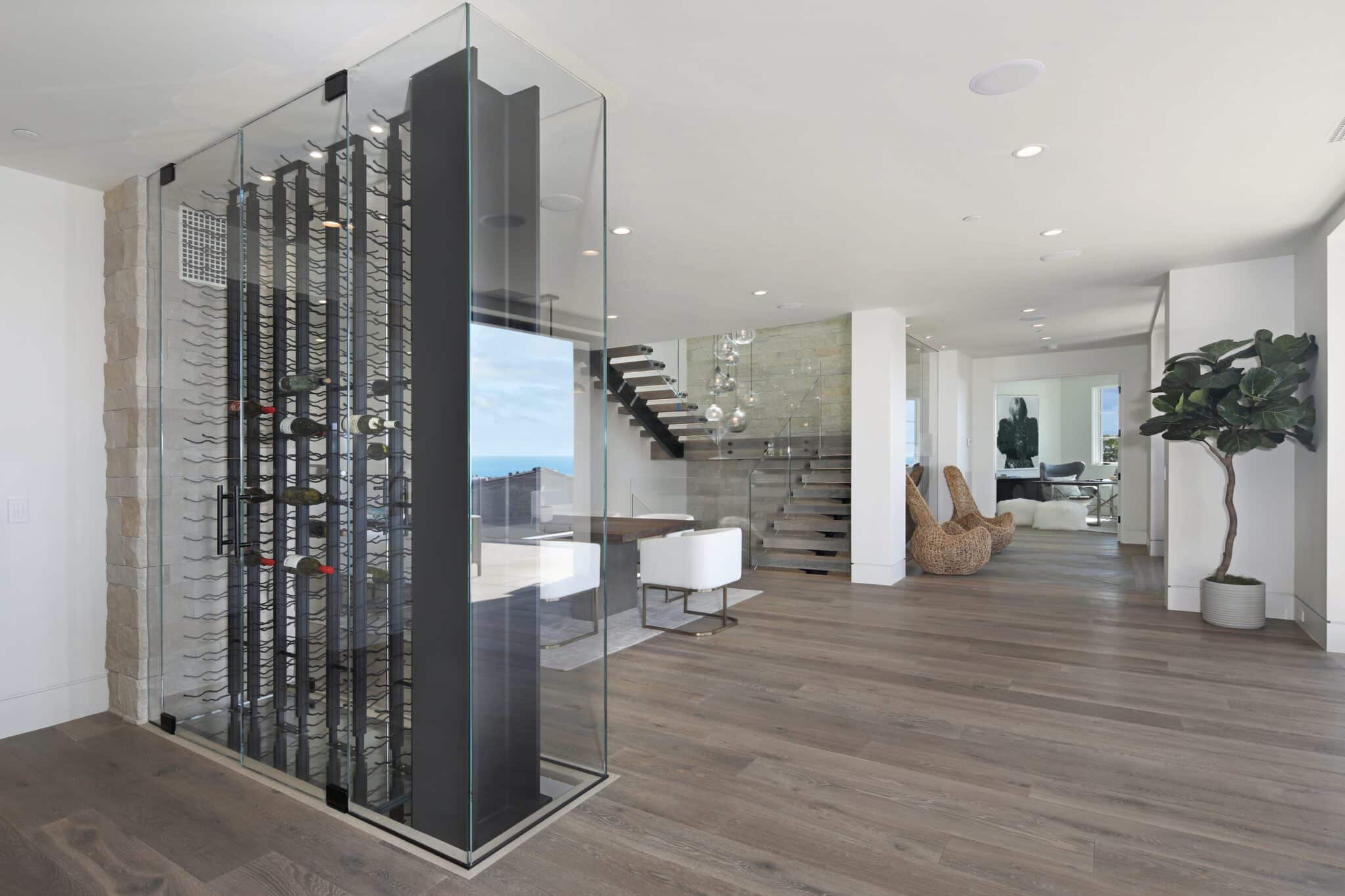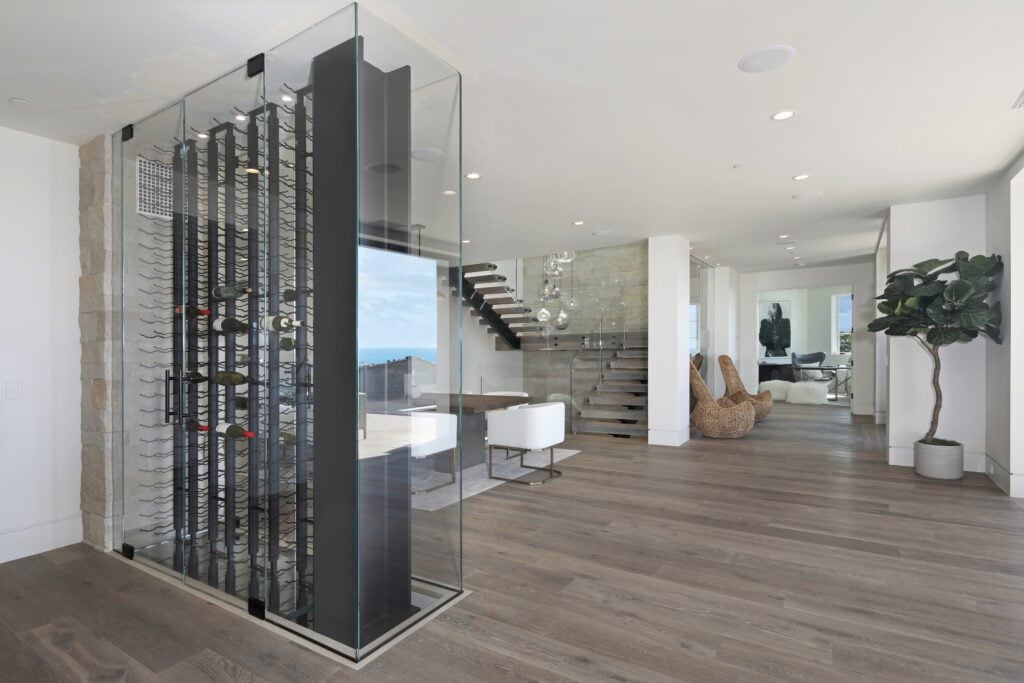 This home just oozes contemporary goodness...
Nestled in Corona Del Mar, CA, the De Sola Terrace redefines contemporary wine rooms. This two-story marvel links the main floor and the downstairs wet bar, offering space for 912 wine bottles. The cellar is fully equipped with 3-sided glass to maintain an ocean view and an airy, label-forward bottle display.
Designed by Brandon Architects and crafted by Patterson Custom Homes, this 7,000-square-foot masterpiece reflects a modern design aesthetic. Collaboration with trusted manufacturers ensured structural integrity, featuring VintageView's innovative W Series Wine Racks and Frame System. To preserve wine for decades, a ducted cooling system was added, avoiding direct sunlight. It's a remarkable showcase of modern wine design.
Wine Cellar Details:
Design by Brandon Architects
912 bottles
VintageView's W Series Wine Rack and W Series Wine Rack Frame
Wine racking cost: $29,724
Check out our design case study to learn more about the process that went into designing the De Sola Terrace.
---
The New American Home: An Oasis of Innovation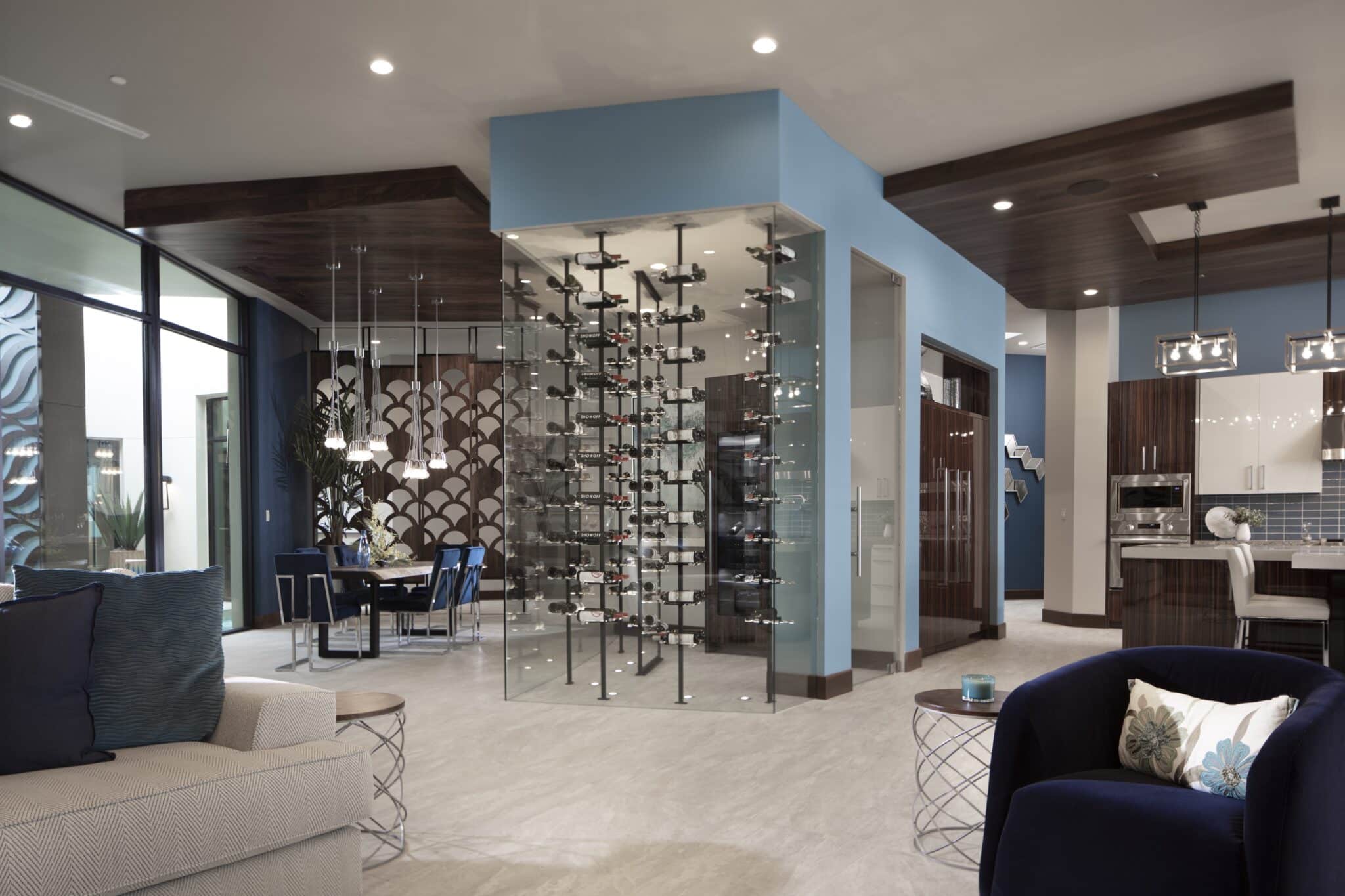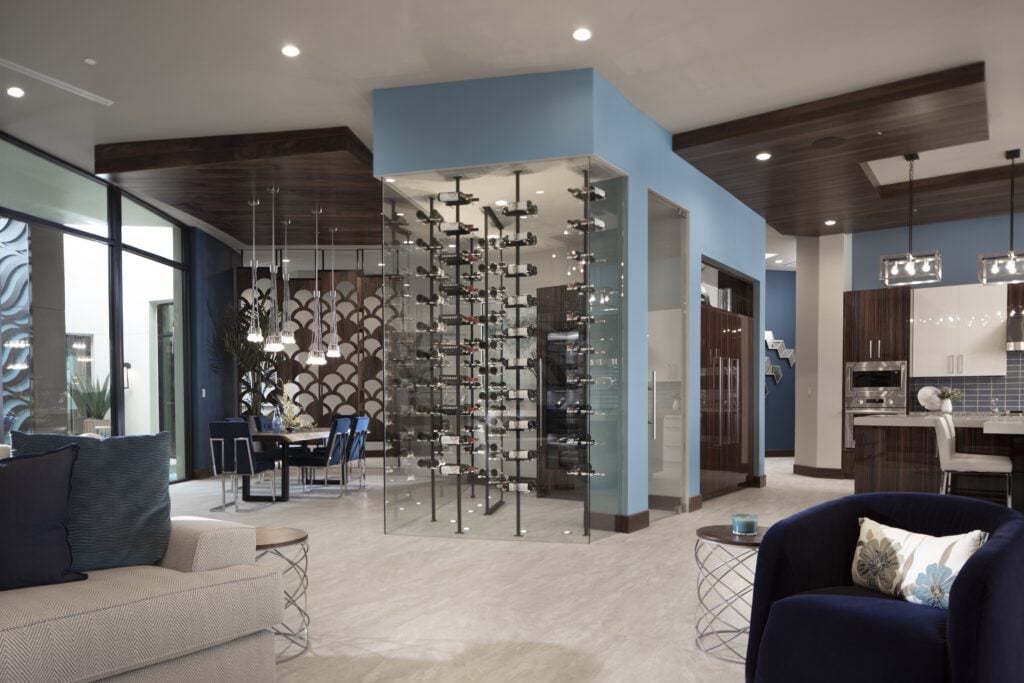 Every year, the International Builders' Show in Las Vegas challenges custom home builders to create something exceptional. Sun West Custom Homes, led by Senior Interior Designer Suzanne Czar, took this challenge head-on with a 7,000-square-foot masterpiece in the Ascaya development just outside Las Vegas.
As you step into this contemporary oasis perched high in the Ascaya development, you'll be immersed in modern elegance and captivating design. The open floor plan seamlessly merges with an inviting fireplace, creating a cozy ambiance. Yet, it's the wine cellar design that truly steals the spotlight. Encased in glass, it provides a clear view of the breathtaking Las Vegas Strip. Label-forward Vino Series Panel and Vino Series Post create a mesmerizing wine display. This home is more than just an architectural marvel; it's a tribute to the innovation and sophistication of wine cellar design.
Wine Cellar Details:
Design by Sun West Custom Homes
140 bottles
VintageView's Vino Series Panel and Vino Series Post
Check out our design case study to learn more about the process that went into designing the New American Home 2020.
---
Fort Myers' Glass Enclosed Wine Room: A Stylish Living Room Gem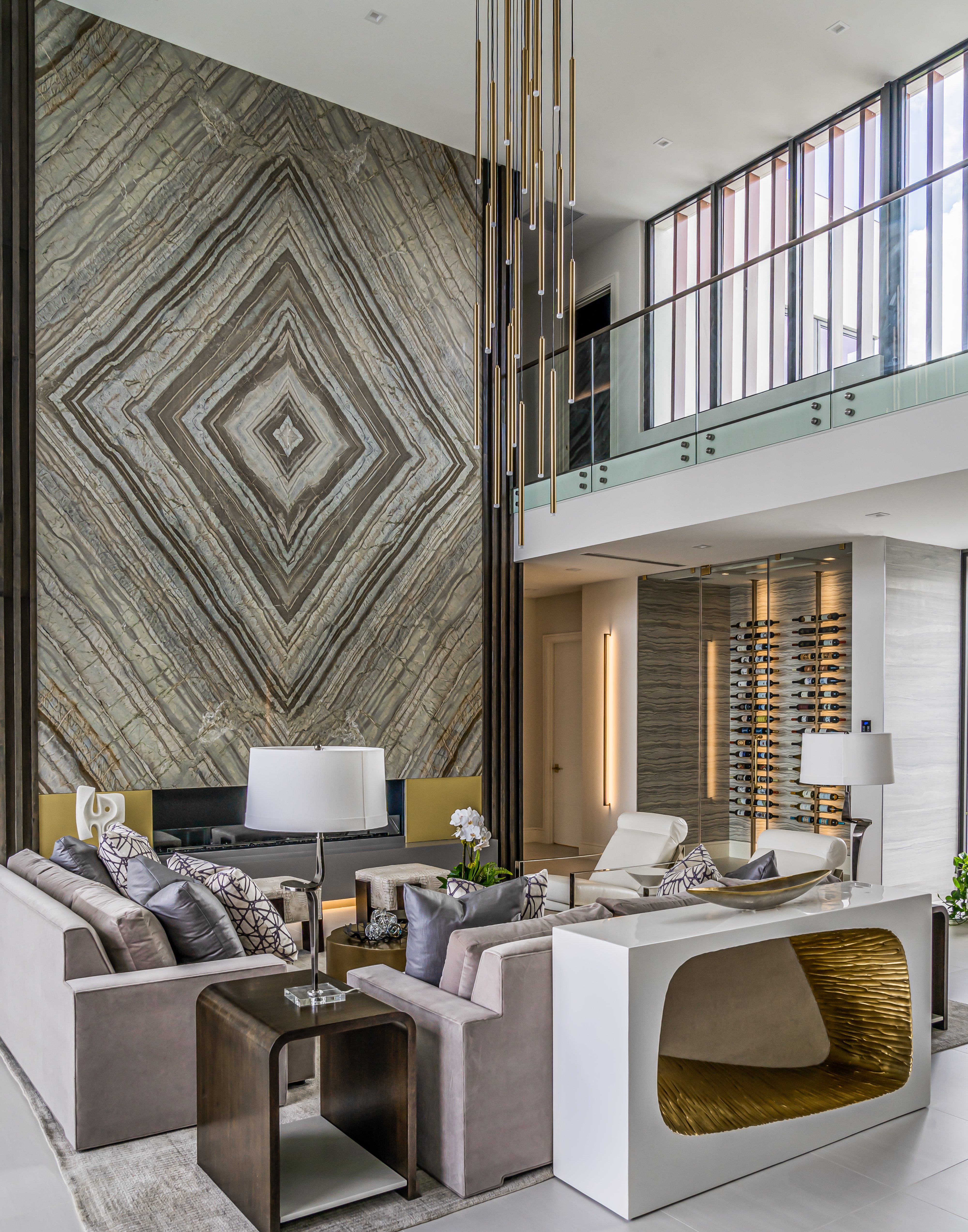 Tucked away in the heart of Fort Myers, Florida, is an absolute showstopper – a glass-enclosed wine room that's as functional as it is fabulous, thanks to the brilliant minds at HLevel Architecture. It effortlessly blends into the open living room, creating the perfect nook for unwinding by a cozy fireplace with a glass of your favorite wine on a crisp evening. But here's the real magic: the wine cellar design itself. It's not just a storage space; it's a living piece of art. With the sleek and chic Vino Rails and the ingenious Vino Series Post system, it transforms wine storage into an exquisite showcase, inviting "oohs" and "aahs" from wine lovers and design aficionados alike. It's the ultimate fusion of sophistication and functionality, making it a conversation starter that's bound to impress even the most discerning of designers.
Wine Cellar Details:
Design by HLevel Architecture
102 bottles
VintageView's Vino Rails and Vino Series Post system
Wine racking cost: $13,186
---
In each of these remarkable wine rooms, we witness innovation, sophistication, and design excellence converge to create spaces that not only safeguard your cherished wine collections but also elevate the very essence of your home. The journey doesn't end here; it continues as we explore more captivating wine cellar designs that epitomize the VintageView brand- from sophistication to innovation, promising inspiration for your next wine cellar project.​​​
Feeling inspired? Hope so. Let's design an upscale wine cellar together!