We think you hold a lot of influence.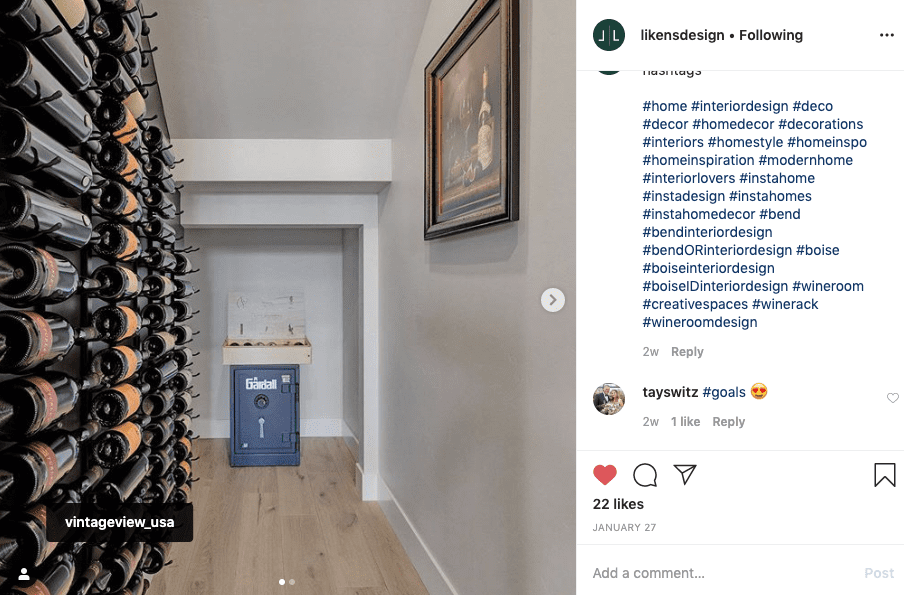 And we want to entice you to use it.
Introducing the 2021 VintageView Instagram Influencer program, geared to promote Wine Cellar Building professionals who specify VintageView wine racks in their amazing commercial and residential projects. These can be all metal VintageView cellars or blends of the custom millwork you do, too. We just want to see beautiful work.
Our goal is to promote you, find a few new clients to introduce to you, and share amazing wine cellar work.
It's easy to participate:
Step 1

Create a wine room with VintageView and photograph it

Step 2

Upload that photo to your Instagram feed (it doesn't even need to be a new project; reach into your archives if you have some beauties), and tag @VintageView_USA
in the photo.

Step 3

Press Share**!

Step 4

Email us the photo so we can promote you with great posts, exclusive hashtags, and more!
We will reward you with $100 toward your next product. Plus, you can tag us on up to 8 additional projects and we'll sweeten the pot with an additional $50 credit*. Each.
Posts must be published between Feb. 19, 2021, and May 31, 2021.
* Up to $500 total; credit amount must be used Aug. 31, 2021, and cannot account for more than 50% of the total invoice for project
** Instagram accounts must be set to public view to qualify.