Jun 30, 2015
Changes to the Bottle Retention Strap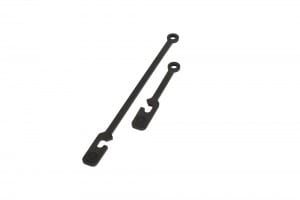 We are constantly looking for ways to improve our products and create user friendly designs based on customer feedback and our own R & D.  One such example is our Bottle Retention Strap (BRS). This long-time vital accessory securely tethers bottles to the rods on our Wall Series racks.
The bad news:  After seismic activity on the West Coast, a flurry of orders cleared out our stock that was allocated to the phase out of this part, forcing a premature discontinuation of the current BRS.
The good news:  We have the redesigned Bottle Retention Straps produced and on their way, with anticipated delivery by mid-June.  The new part, BRS2, addresses a key issue by allowing the second and third bottles back on our 2 and 3 deep Wall Series racks to be quickly and easily secured.