The New American Home 2021 (Orlando, Fl)
Most of the wine cellar inspiration we showcase focuses around massive rooms that hold thousands of bottles leaving the impression that scale is the most important part of making a display great.
The New American Home 2021 challenged that notion. In large part due to massive floor-plan changes due to the COVID-19 Pandemic.
By The Numbers
22

Bottle Capacity

4,390

Square Feet

$3.2m

Sale Price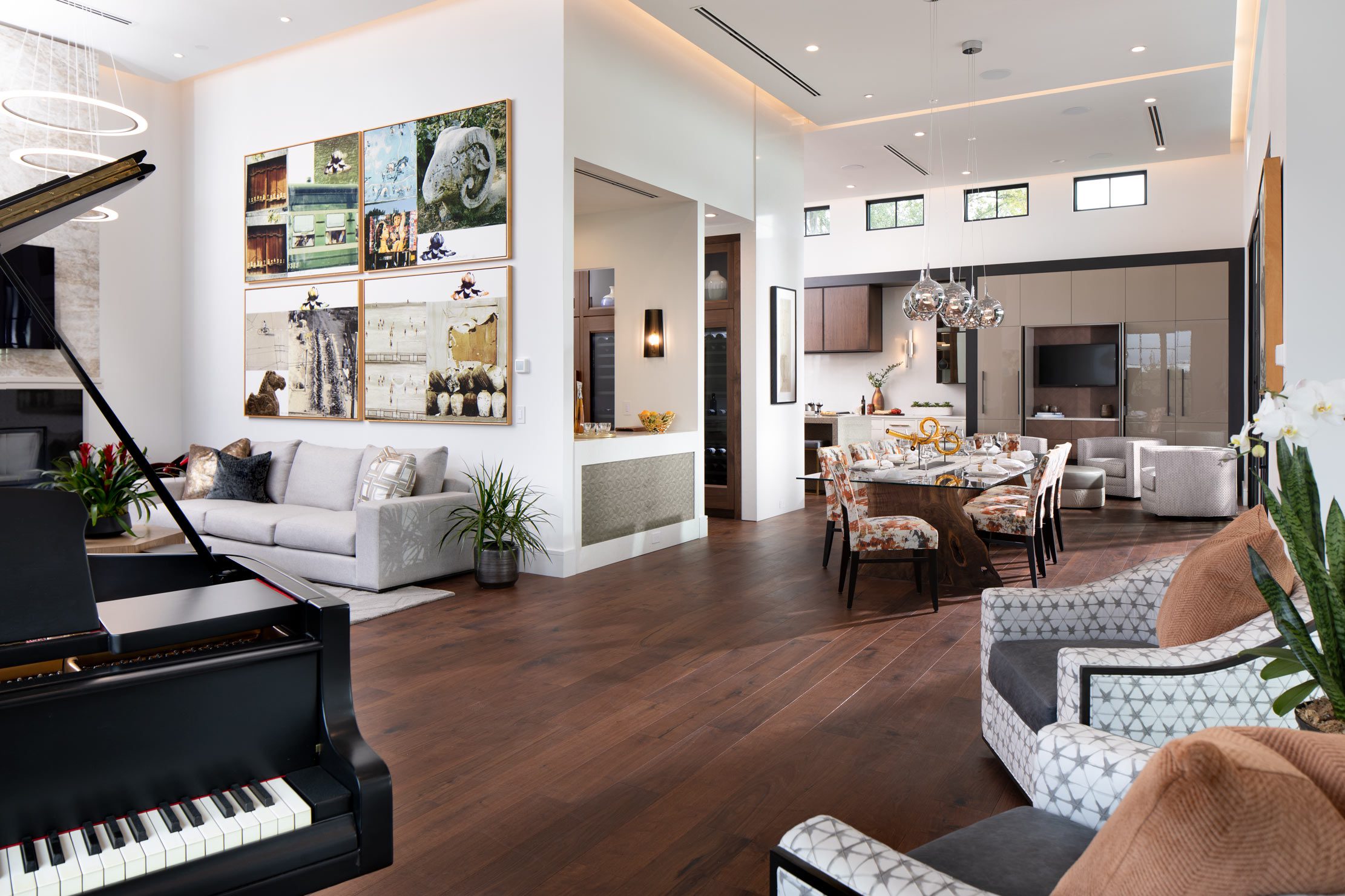 Design Challenge
When ground broke on this tony urban townhome, the floor plan included larger than required bells and whistles, including a sizable wine room. But…the COVID-19 Pandemic hit at the start of construction, leaving designers to integrate new features for a new world. Most notably, a home office. With an already small footprint (for TNAH projects, anyway), this meant the wine room to be re-imagined as a display in an upscale bar area.
The Solution
Phil Kean Design Group didn't sacrifice style one bit for this last-minute change. The design team created an impactful architectural statement with a neat, 22-bottle wine wall featuring the Vino Pins Flex wine rack. Chic. Bold. Eye-catching. And oh so gold. Just a few bottles and yet it is one of the most prominent features on the third-floor of this 4,400-square-foot home in downtown Winter Park.
"When designing the bar, we wanted it to be as central as possible because the bar is always at the heart of entertaining," said Phil Kean, of his namesake design firm.
Mission accomplished.
Design Approach
The home needed to be a retreat away from the buzz of the world. Kean created a beautiful office space to keep with the new work-from-home trend and elevated the entertaining spaces to allow for enjoyment away from the crowds of nearby restaurant districts. These types of room upgrades are now the standard in new home construction.
Of course, the curated decor, finish options, and more created a cohesive look from room to room, ensuring that each area was equal parts form and function. This included the smart choice of golden bronze wine racking to highlight a homeowner's love for wine — and ensure it matched the other elements nearby.
Wine Feature Details