Fess Parker Winery (Los Olivos, CA)
Fess Parker is a lot of things. Winery founded by Old School Hollywood fame (played both Davy Crockett and Daniel Boone in the 50s and 60s); standout producer of Rhône and Burgundian wines; insane 700+ acre estate in the heart of Santa Barbara County hill country.
And as of late 2021, it was also a little dated. At least from the tasting room experience. Between aging decor and a massive shift in tasting room needs caused by the pandemic, the winery sought a space that veered from the tasting mentality toward a space worthy of lounging.
By The Numbers
1,703

Bottle Capacity

1988

Established

714

Acres of Estate Vineyards

61.3

Miles to Hotel Cerro (another well-designed wine room)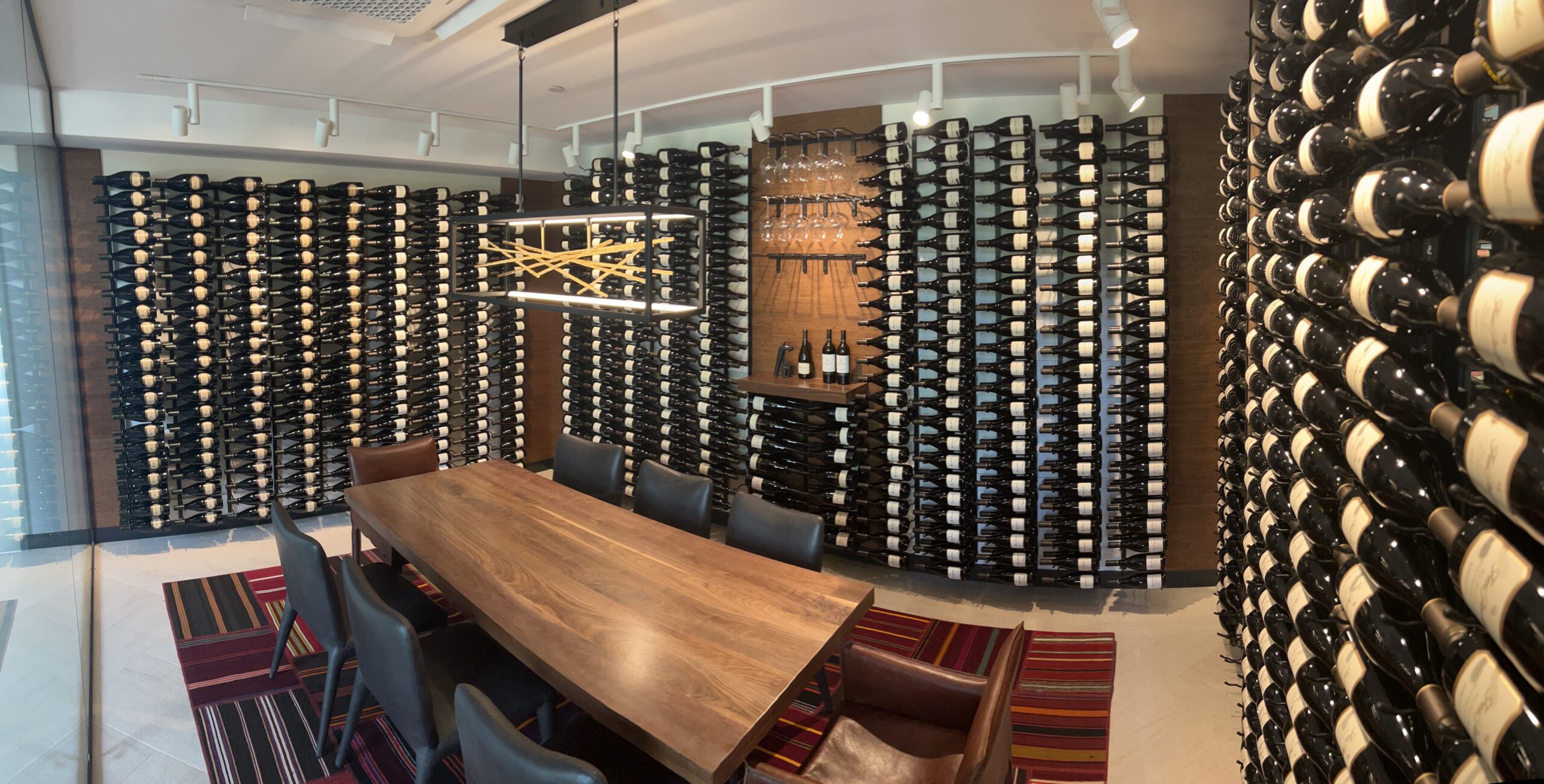 Design Challenge
"After 30+ years, it was definitely time for a refresh," said Ashley Parker-Snider in a press release. Parker-Snider runs the winery with brother, Eli Parker. "We knew we wanted to create an environment that would feel a little bit grand, yet still welcoming and comfortable – all while giving visitors a sense of place and meeting the needs of our elevated hospitality experiences."
The hurdles to overcome in transforming this estate winery were twofold, and the Parker family turned to luxury designer Oliva Villaluz to accept the challenge.
The first issue: The familiar supply-chain struggle that affected any substantial project undertaken in 2021 or early 2022. Delays. Headaches. That sort of thing. They prevailed and opened the tasting room in April 2022.
The second, something a bit more difficult: A cavernous layout. Between the tasting room building and an outdoor patio, the space stretches on and on and on. It features towering ceiling heights to further the scale of the room. The redesign was to feature a much smaller tasting bar, too. You can imagine the fear of creating a literal echo chamber.
Villaluz took on the challenge to create an intimate, functional space, inside and out. She pushed the Parkers outside their comfort zone to amazing results.
"(Villaluz) is a lot edgier than we are, but it turns out great when we kind of meet in the middle design-wise," Parker-Snyder told the Santa Maria Sun.
The Solution
She solved for this with a few simple, elegant ideas.
The first, shrinking the space by creating two large wine libraries that not only serve as functional storage space but allows Fess Parker to offer upgraded, private wine library tastings. This effectively made the great room more cozy and even allowed for additional seating on top of it.
Then, she commissioned an eye-catching mural above the fireplace that anchors the entire room. At about 25′ x 40′, it is a a combination of more than 300 images stitched together, digitally, to showcase one of the family's favorite spots on the sprawling estate. Warm. Bold. And with comfortable living room style furniture, the room feels like a comfy lodge, perfect for lingering over a bottle of Pinot and plate of charcuterie.
Outside, resort style seating is tucked between raised bed planters and rich vegetation. Covered with elegant pergolas, its a perfect place to sip away a summer afternoon.
Design Approach
Her approach followed the desires of the Parker family: find a way to create an intimate space despite the scale. "I wanted to update the very 80s space but still have the warmth of the Fess Parker family and brand be prominent," Villaluz says.
Mission accomplished.
Turning the wine cellar into an acrheticual feature that also allows for more personalized tasting experiences furthered the mission. The Library Wine Room (two rooms, actually), stores more than 1,700 bottles of Fess Parker. Each space features a comfortable tasting table, visible through the frameless glass walls looking back into the great room.
Visitors are able to book a private tasting with an on-site somm, exploring a customized tasting through the winery's older vintages.
Wine Cellar Details:
(2) Glass Enclosed Wine Rooms
(1,763) Wine Bottle Capacity
W Series Wine Racks
Matte Black Finish