We ❤️ Our Partners
From national distributors to wine cellar builders and design firms, here's what some of the best in the business have to say about our birthday...
VintageView has made it easier to offer metal racking in many different varieties as they continue to add more racking options to their catalog. They also make it easy to train employees about their products through their online training sessions. If metal racking is what the customer wants, it is almost certain that one of the products offered by VintageView will make them happy.

Nancy Higgins | Wine Cellar Specialists, Dallas (partner since 2006)

IWA Wine Accessories has been designing custom wine cellars for almost 40 years, and VintageView has been one of our core wine rack partners since 2001. Beginning with simple label-forward metal racks, VintageView has grown its product offerings as demand for clean, modern metal racking has exploded. We are proud to be an important dealer for – and partner with VintageView.

Ben Argov | Co-Owner, IWA Wine Accessories, Petaluma, Ca

VintageView's contemporary label forward designs have been a big seller for both commercial and residential projects. Their professional staff and excellent customer service along with quick designs have helped my clients accomplish their projects much faster than traditional wine rack solutions.

Trish Stokes | Owner, Bay Area Wine Cellars, San Francisco (partner since 2003)

VintageView changed the face of the idea that wine cellars were are traditional-looking cabinet style built in that was a permanent edition to the house. VitnageView became something that you could put anywhere that was more out in the open. As long as we do our business the way we are doing it right now, we'll both be around 20 years from now. Wouldn't that be great? Congratulations VintageView on 20 years. Here's to 20 more.

Jeff Ogzewalla | Owner, Wine Racks America, Salt Lake City (partner since 2006)

My experience working with VintageView has been nothing short of complete 100% professional awesomeness! Not only are their products of great quality, but they are working to continuously develop new products to keep up with the industry. Keep up the great work VintageView, your company is bound for continuing success for years to come!

Kristie Erwin | Vintage Cellars, Southern California

Fantastic company to deal with and has set the bar high for customer service and building solid relationships. I remember when only product was the VintageView in green. Now look at them.

Gary LaRose | Co-Owner, Rosehill Wine Cellars, Toronto

The creator changed the game of wine storage and introduced a whole new way of storing wine that was affordable for commercial and residential applications. The design elements are easy enough for anyone to integrate with their ideas and the quick turnaround for product makes VintageView the ideal product.

Jake Austad | Vintage Cellars, Southern California

The original wall mount racks started to set the wine design community on its heals. Modern and transitional design was greatly lacking in the space. VintageView's introduction of wall mount racks set a new precedence in design.

Gary Chapdelaine | Owner, Cru Custom Wine Cellars, Orlando (partner since 2007)

I think VintageView has changed the wine cellar industry significantly. The high display value and modern feel that the racking allow has changed the modern wine room from a mostly hidden feature in the basement, to a main focal point in the rec room or upper level.

Brian Worker | Owner, Red Leaf Solutions, Denver (partner since 2002)

VintageView employees go beyond what most employees do in order to help and assure that the customer's job is a complete and satisfying success! Thanks for the many years of your success that has enabled my company to become a success using your products to make many customers satisfied.

Tim Metzer | Owner, Wine Cellars of the Carolinas, Summit NC (partner since 2003)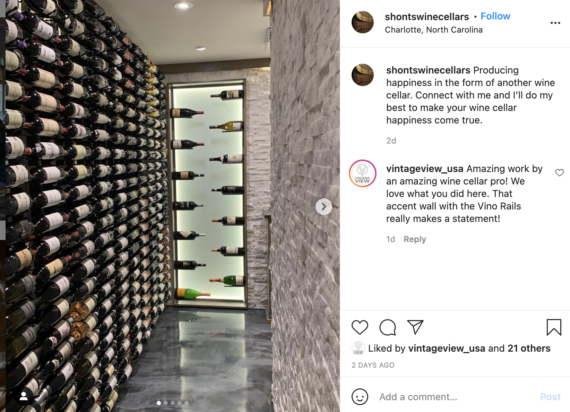 Win the Official Swag of 20
Use
#VVturns20
on Facebook or Insta to be entered to win a limited edition 20th anniversary T-shirt! Because what better way to join the celebration than rocking the official VintageView birthday gear. We'll also be sure to share your posts to give you a little extra notoriety! Please use the # by May 30, 2021.
Cheers to 20 Years!
Haven't worked with us yet?
Let's change that.