Making Wine Displays the Focal Point of Your Projects
The "modern farmhouse" is an exceptional design concept that blends the best of old and new. Top designers are integrating this trend into wine displays with beautiful results.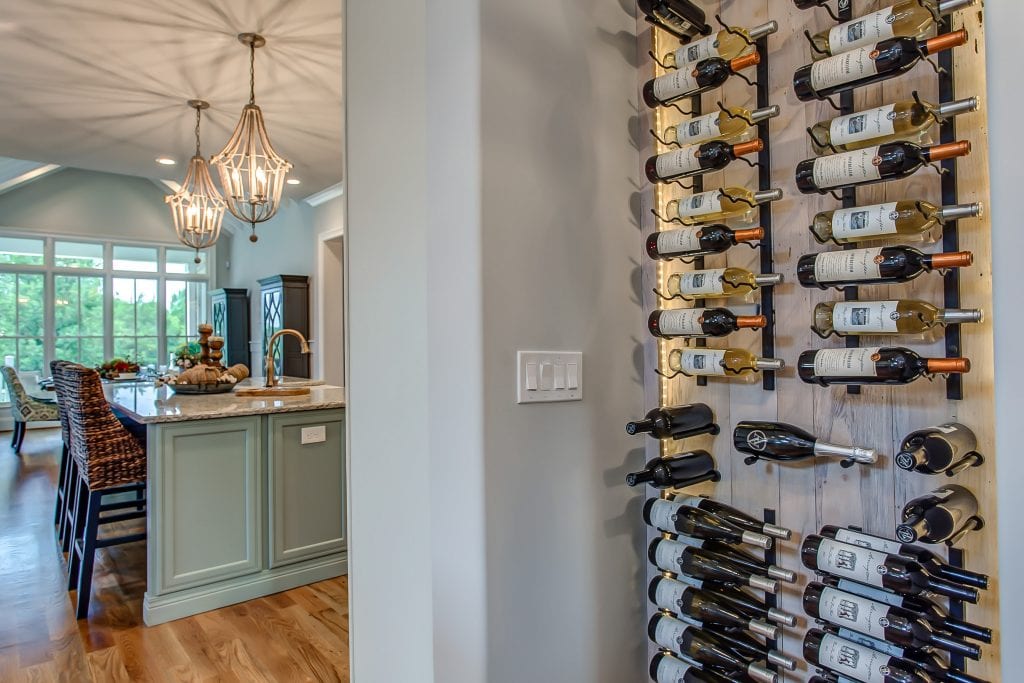 Learn more about a beautiful farmhouse wine wall vibe that was an essential piece of an award-winning Tennessee residence (featured in Residential Design magazine, by the way). 
Then check out all the ways we help amazing design/build professionals create breath-taking wine displays in real estate throughout North America. >>>>>>
VintageView modernized wine cellar design by developing the first label forward wine rack in 2001 — and our beautiful wall mounted wine rack maintains its status as the top product to feature in wine cellars around the world.
We work with the top design professional like you on gorgeous hospitality, commercial and residential projects. Each one of our products, from the original Wall Series column racking to our Vino Series peg wine racks, place as much value on design and aesthetic as meeting the storage needs of the most complex wine collectors.
Simply, we don't want to just store wine — we strive to make it an artistic focal point. We back our award-winning products with industry best service, fulfillment, and quality.
Explore the ways we can help your next wine cellar project…
See how wine cellar design is taking over the home…
FAQs
Why should I specify VintageView?
We designed the first label-forward wine rack, patented it, and continue to innovate with amazing wine racking products that will impress your clients. We back our products with quality and best-in-class service.
Do you offer trade pricing or programs?
Yes, we have a variety of programs to meet your business needs. Each come with unique pricing, expectations, and perks.
Do you provide product or finish samples?
Yes, we do provide complimentary samples for most of our products. Please contact us for details and information.
Can I bring my clients to see the wine racks?
Our showroom is located near Stapleton/Northfield in Denver, Colorado. Our products are also displayed in many showrooms throughout the country. Or take your client to one of these beautiful commercial displays!
My client wants custom. Can you help?
Yes. Our products are designed to be modular and we know how to help uniquely design them for a custom final project. We offer additional custom options to further meet your client's needs.
My clients requested a wine cellar, and I don't know how to design one. Where do I start?
We offer a complete suite of live webinars every month, an amazing wine cellar design CEU for AIA or IDCEC credit, and our sales team can walk you through everything you need to know. We have your back.
Do your modern wine racks work in traditional designs?
Yes, we love our metal wine racks designed into Old World style. Think out good black metal looks against custom millwork.
Where can I find detail product information such as specs?
Spec sheets on all of our products are available in the support section. Of course, we're happy to answer any product questions direct.
What is your delivery lead time?
We keep inventory on most everything we sell and can ship same day, Monday-Friday, for any orders received prior to 2pm MST.
Do you offer installation services?
We do not, but there's a good chance we have a relationship with a wine cellar builder or construction expert in your city. We are happy to put you in touch.
Do I have a dedicated customer service representative?
We have the United States and Canada divided into seven unique territories to offer you the best customer experience, regardless of where you call home.
Drop us a note so we can design wine cellars together…
The world leader in modern, label forward wall mounted wine rack design.