Jan 15, 2016
Modern meets Tradition in this 4,000-bottle Long Island Wine Cellar by Joseph & Curtis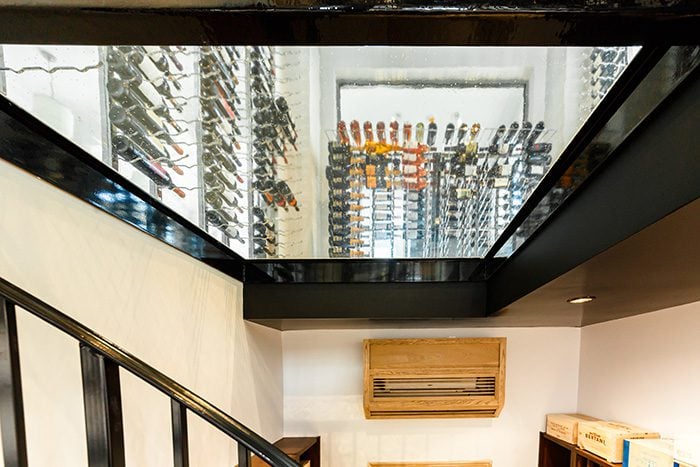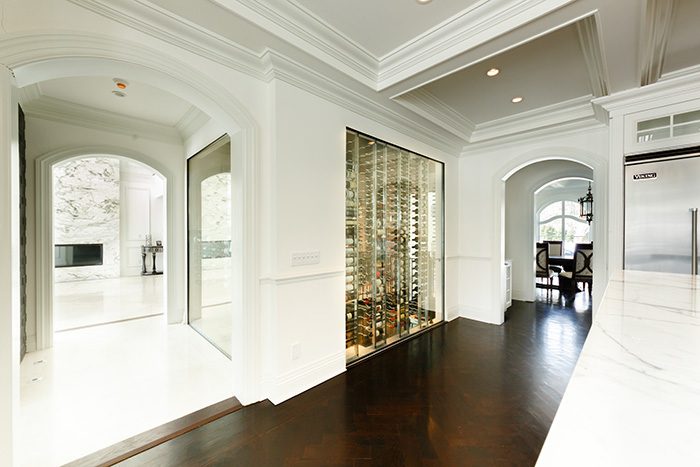 The 4K moniker of this cellar could easily have two definitions. The obvious one being it holds 4,000 bottles (that's a lot of juice!). You could also say it's about 4,000 times more amazing than just about any wine room you've ever seen in a home.
This two-story stunner is a centerpiece on the main floor of this Italian-style villa in Upper Brookville (Long Island, NY). Designed by Joseph & Curtis Custom Wine Cellars, it is a beautiful juxtaposition of contemporary and traditional design that has been featured on Fox Business News and in the Wall Street Journal.
The clients sought a modern look on the main floor and a Tuscan feel below for a more "cellar" like feeling. Virtually ever aspect of this cellar was custom designed or created by Joseph & Curtis, a boutique cellar design firm run by Joe Kline and Curt Dahl.
For this project, they created a glass "box" room in the center of the home, visible from just about every corner of the main floor. Designers used VintageView Wall Series Racks and Floor-to-Ceiling Frame Mounts spaced for a minimalist, vertical look. They opted for a Chrome finish for an added pop of shine to the collection.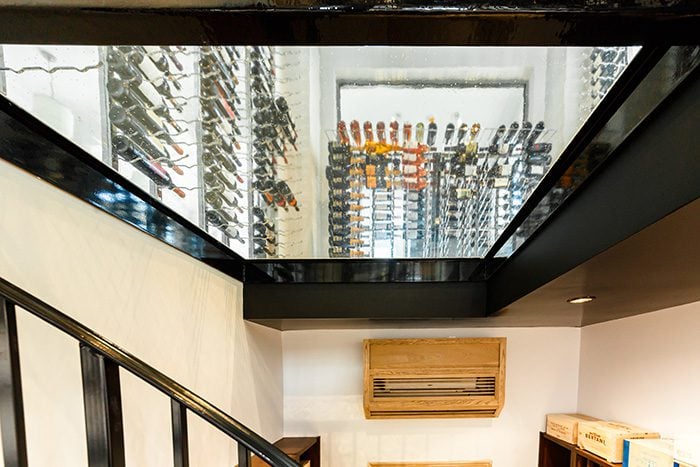 Marble floors match the Italian villa style of the home, and black lacquered sheetrock ceilings visually connect the main room to the lower cellar, created in true Tuscan style out of custom knotty alder wood. A glass floor and spiral staircase creates a natural flow between the two floors.
The final result is a custom masterpiece of clean, modern design.
"To see a project from start to finish is always exciting...but when you have one with such incredible design features it really pushed our creativity, engineering, and craftsmanship," says Curt Dahl. "We always welcome any challenge and a project like this truly showcases why we always say custom is better."
4K Cellar By the Numbers:
530 square feet (270 square feet on top, 260 square feet below)
2 custom ductless splits for cooling and moisture
Digital temperature control
Estimated cost: $120,000
4,000+ bottle capacity
Featuring VintageView Wall Series Racks and FCF Mounts in Chrome finish
More Info...Joseph & Curtis: We Dream in Red and White
Based in New Jersey, Joseph & Curtis offers complete custom cellar design and installation services throughout the United States. Joseph & Curtis is an authorized VintageView dealer. Contact their design team at 888-681-5888, wineracks@josephandcurtis.com or josephandcurtis.com.
All photos courtesy of Joseph & Curtis Custom Wine Cellars