Feb 17, 2023
Top 5 Finds at KBIS/IBS 2023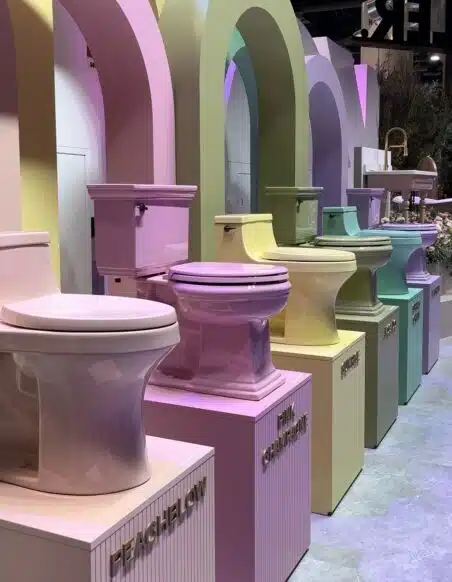 The International Builders' Show is the largest annual gathering of building industry professionals in the world. Every year thousands of builders, architects, designers, and other elite industry experts come together to discover the latest trends, products, and technologies shaping the future of the construction industry. The IBS offers an unparalleled opportunity for attendees to network with peers, gain valuable insights into the latest innovations and techniques, and explore new business opportunities.
This year, Las Vegas hosted nearly 70,000 building professionals from around the globe- the largest attendance recorded in over a decade. Whether you are a seasoned industry professional or just looking for inspiration, there's something for everyone at the IBS. So what makes this show so highly-regarded? Outside of the debut of the remarkable Helix Wine Rack (our boldest, and most minimalist wine rack yet), we found some of the most innovative, unique, and compelling products that captivated visitors at this years event.
Now, let's dive in!
---
5. MOEN - Smart Water Systems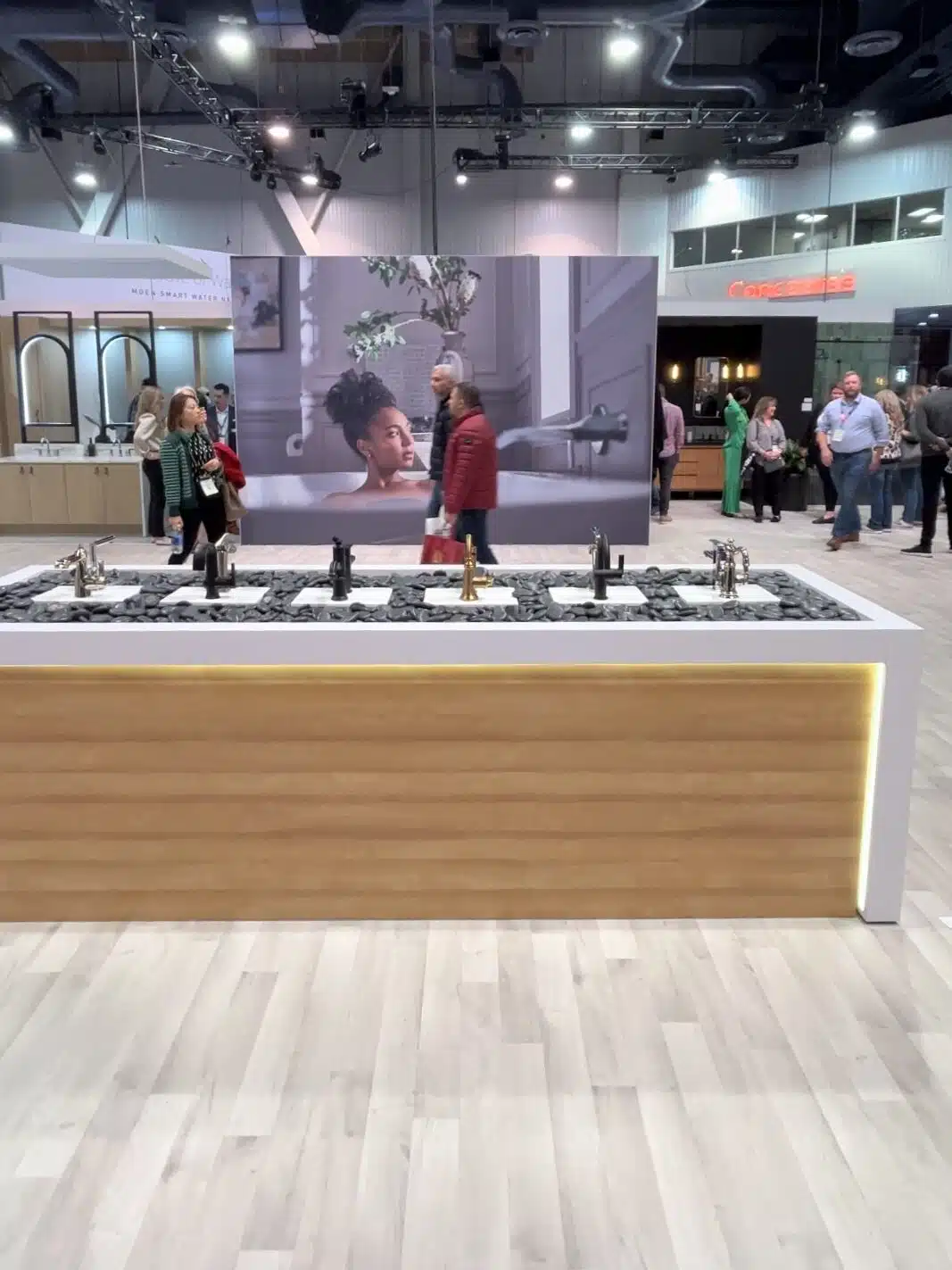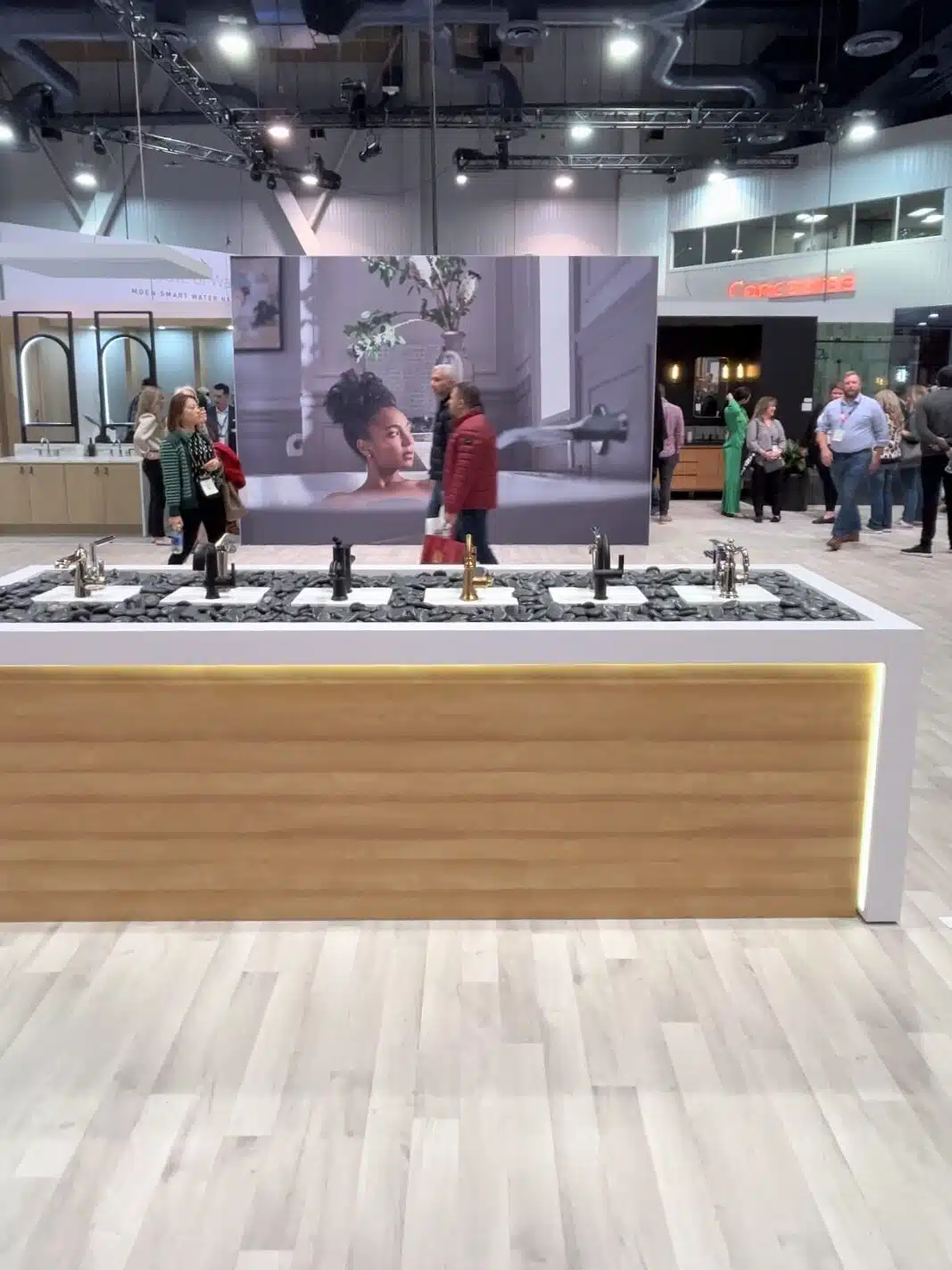 While Moen is easily a leader in all things plumbing and faucets, this year the brand is also making waves outside of the home and into the yard. The innovative Smart Sprinkler Controller and Smart Wireless Soil Sensors keep users from overwatering, all while saving money. Plus, the system is designed to be easy to use and install.
The advanced system allows users to customize and automate the watering schedule using the Moen smart app. The app allows users to set up customized watering schedules based on preference, and even adjust remotely if needed. The app also provides real-time updates on watering activity, so users can monitor water usage and make adjustments as necessary.
Overall, the Smart Sprinkler Controller and Smart Wireless Soil Sensors by Moen is an innovative and efficient solution for homeowners looking for the latest and greatest technology in smart home systems. With easy installation, customizable watering schedules, and precise soil-based watering, this system is a must-have for anyone wanting a beautiful and sustainable outdoor space.
4. Stellar by Heat & Glo - Fire Redefined
Next on the list is a product that really ignited our design spirit, Stellar fireplaces by Heat & Glo. While featured at the Hearth & Home Technologies booth, these custom pieces were a major draw for attendees, and for obvious reasons. The unique design of Stellar is unmatched in the industry, and a top choice for designers looking to install a piece that really is-well, HOT.
Stellar features a variety of customizable options, including gas and wood-burning models, plus various sizes and styles to fit any decor needs. Our favorite designs included the customized U-shape, L-shape, and Vertical Spiral installs. We picture a sophisticated wine cellar with Stellar's alluring U-shape fireplace for the perfect ambiance to enjoy a bold Pinot. In addition to the stylish design, Stellar fireplaces are also known for their energy efficiency, with some models boasting an impressive efficiency rating of up to 86%. From efficiency to style, this one gets the gold star.
3. COSENTINO - Sustainable Beauty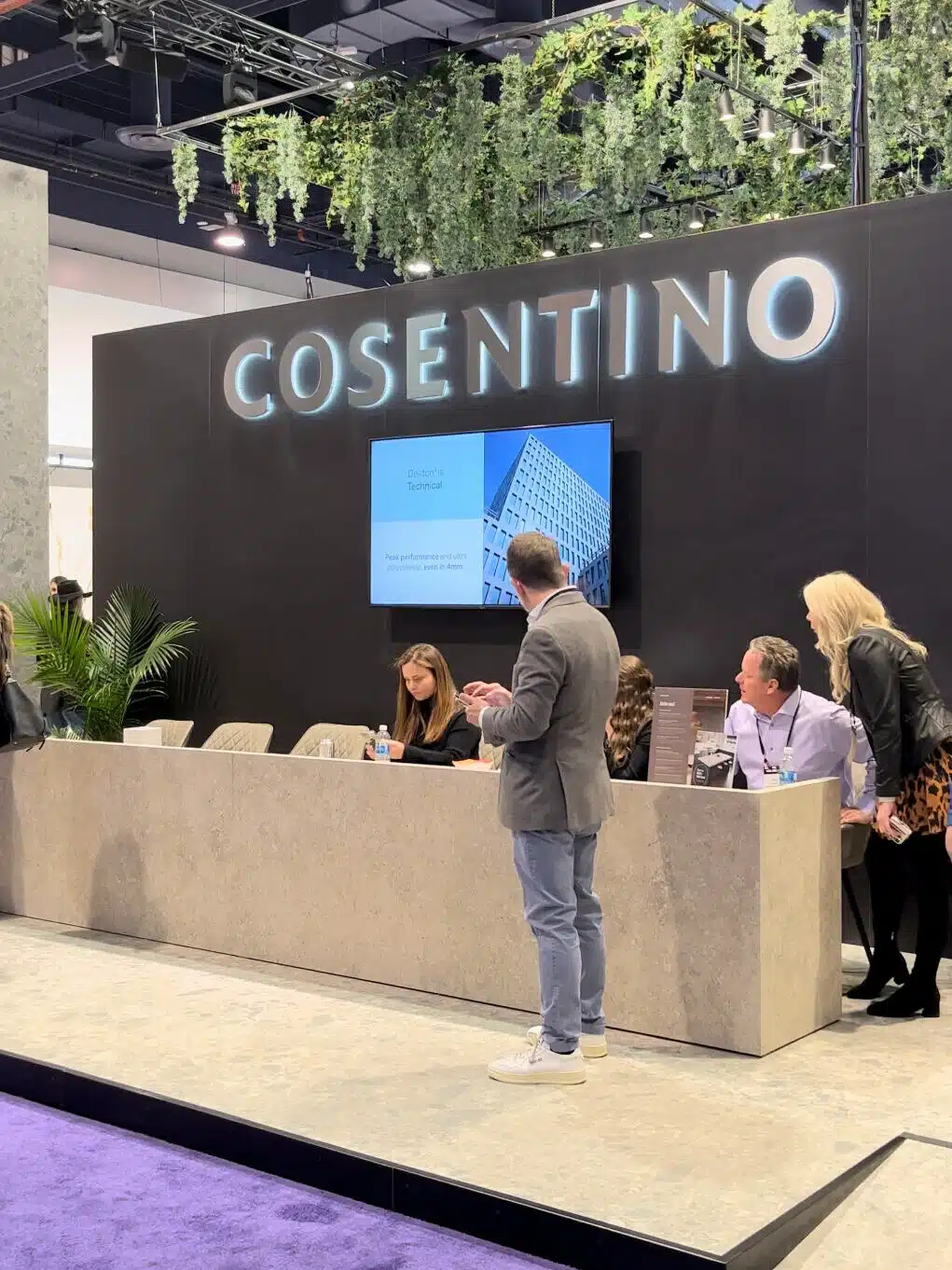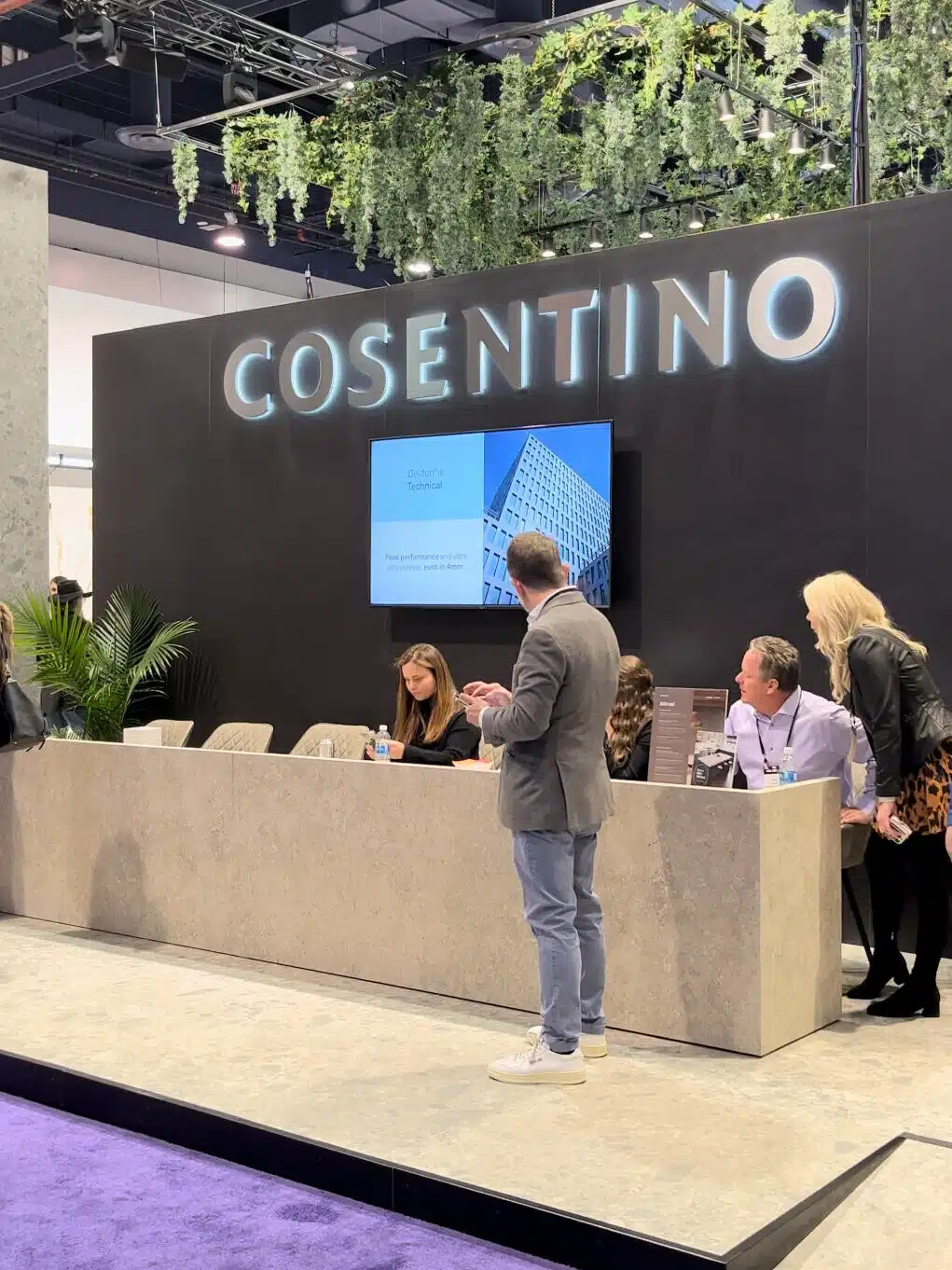 The luxury Spanish company, Cosentino continues to innovate and produce mesmerizing sustainable surfaces for architecture and design. This year, the global leader announced an expansion of its environmentally friendly and incredibly modern collection, Dekton. The breathtaking new series called Pietra Kode, was developed in partnership with architect Daniel Germani. The collection consists of three textural designs that are inspired by Italian stone including, Vicenza Kode, Travertine Kode and Ceppo Kode. Each design includes seven elegant earthy hues, including Avorio, a light beige color, Sabbia, a neutral gray, and Ceppo, which has a blue-gray hue.
Our wine racks work seamlessly with textured surfaces, allowing bottles to be brought off the wall in a remarkable bespoke design. We can already imagine an elegant wine display against the Pietra Kode collection using our Evolution Low Profile or Helix Wine Rack Post System.
2. Café Appliances - Hot Off The Runway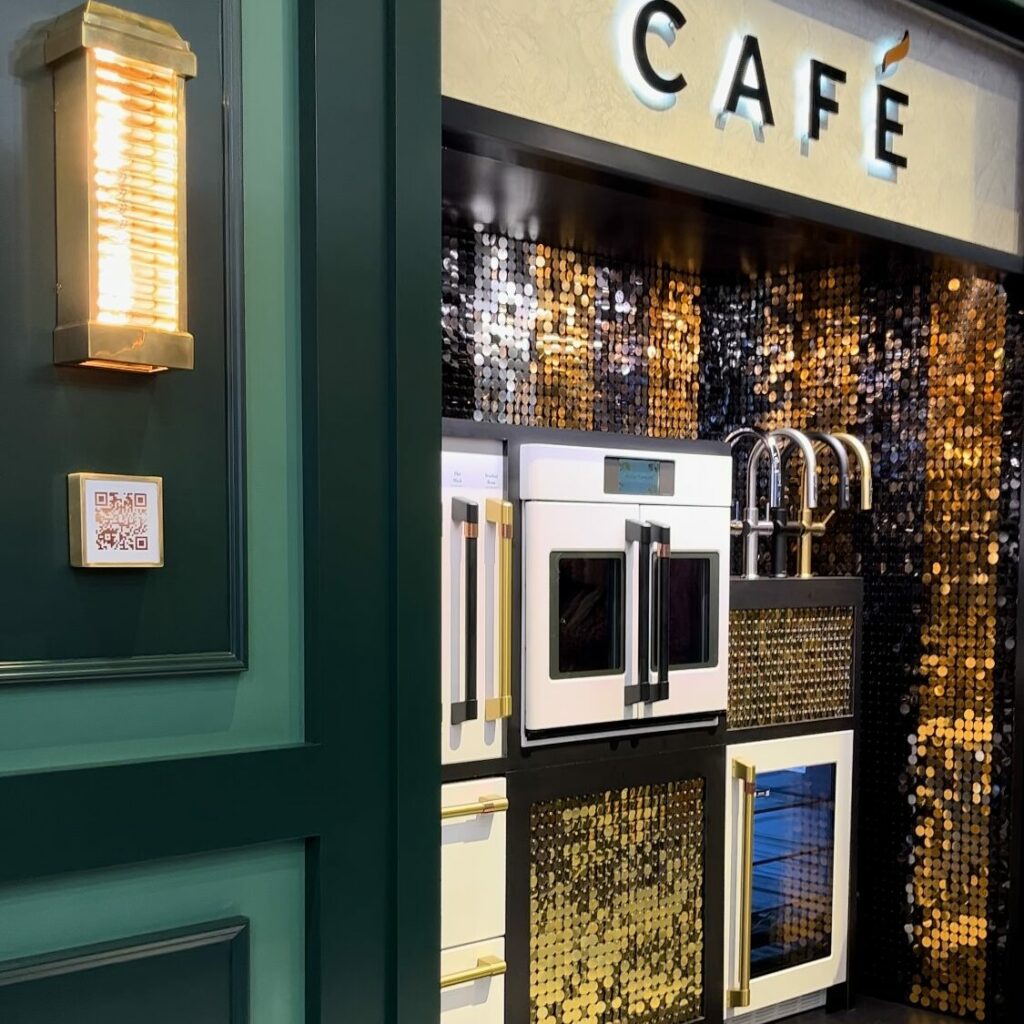 Café Appliances continues to be a fan favorite year after year, and this years trade show booth was full of inspiring designs, compelling kitchen essentials, and two new bold finishes! So what inspired this years new look?
Café partnered with fashion designer, Rebecca Minkoff at New York Fashion Week to bring some couture to the kitchen. Inspired by this seasons hottest runway trends, the appliance visionary came up with a sophisticated Flat Black and an elegant Brushed Brass hardware option. Café also teamed up with leading manufacturing company, KOHLER, to ensure that the new hardware matches seamlessly with KOHLER products. Maybe we are bias, but we think both finish options are quite remarkable, plus they go beautifully with our Matte Black and Golden Bronze wine racks. And what's better than a cohesive interior!
1. KOHLER - Bold, Timeless Design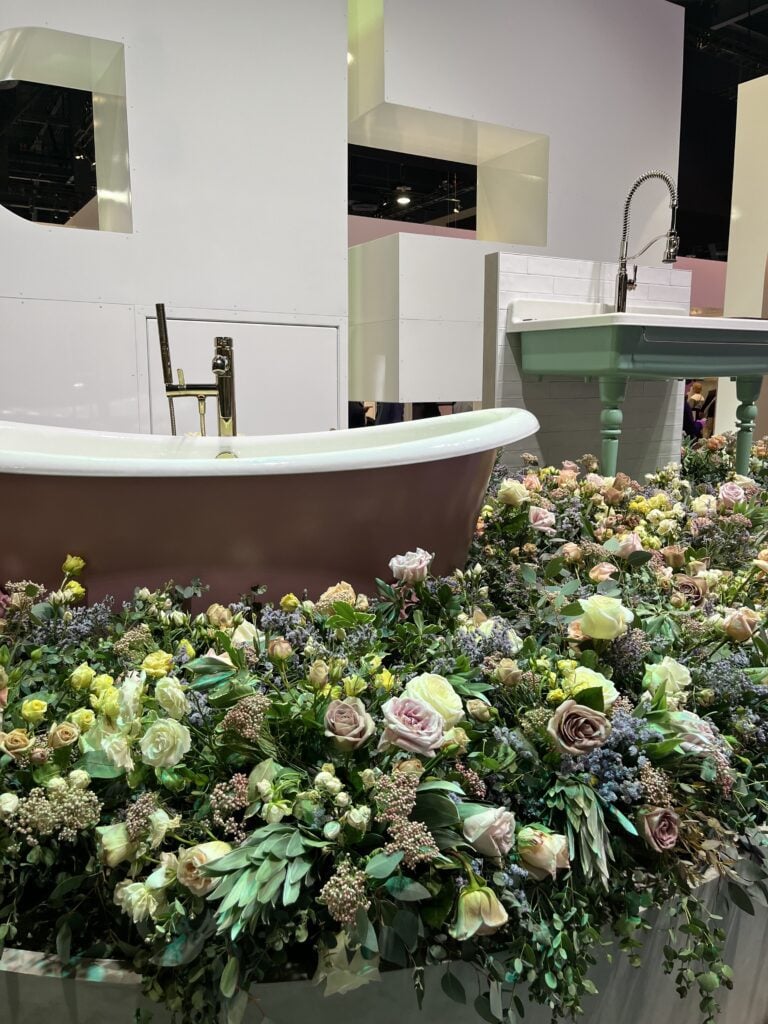 And rounding it out at number 1... KOHLER! Every year the kitchen and bath company showcases an incredibly large staging and this year was no different. With KOHLER celebrating their 150th anniversary it's no wonder the company went bigger than ever.
From high tech appliances, to blasts from the past, KOHLER was the most sought after booth to visit this year. Much like the crowd, we were captivated by the brilliant display of fresh flowers and colorful loo's. So what's the significance in these vintage looks? In honor of the companies 150th anniversary, they decided to bring two beloved colors out of the archives. Visitors cast their votes and chose "Spring Green" (1927) and "Peach Blow" (1934) to be part of their Heritage Colors collection, launching in summer 2023. KOHLER was the first of its kind to bring bold color into kitchens and bathrooms, and now they are paying homage to those colors that made KOHLER stand out.
Along with these timeless pieces, we were also introduced to plenty of new and innovative products that really "wowed". Hot on the list of must haves, digital showers that bring the spa home, smart toilets that keep things extra clean and comfortable, an energy efficient generator that kicks on when power goes out, and a kitchen sink faucet that suspends from the ceiling to eliminate the daunting task of heavy lifting. Well done KOHLER- talk about modern sophistication done right!
---
That's a wrap!
The IBS/KBIS trade show was brimming with inventive brands that left an indelible mark. It fueled our inspiration and anticipation for the future of construction. We hope these features stimulated your creativity as well. Now, all that remains is to add a wine display or two. Until next year, cheers!
Check out our TikTok for more inspiration and other exciting trade show finds: