Residential Wine Displays
The wine cellar has evolved.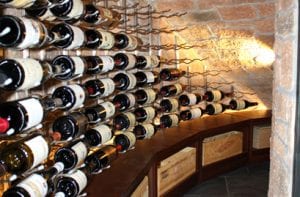 No longer an afterthought of design, it serves equal parts form and function in the home, safely storing your vintage Cabernets while also showcasing them. VintageView's label-forward wine storage systems are the benchmark in contemporary design, and can also be incorporated into transitional and traditional styled home projects. We invented the market in 2001, and continue to innovate it every year. Homeowners and designers around the world trust our products on walls, in glass rooms, and as part of expansive basement cellars.
Design Services & CAD Blocks | Installation Resources | Inspiration Galleries
Modern Farmhouse
Brentwood, Tn
Products: Wall Series, Vino Pins, Vino Rails
Capacity: 94 bottles
Est. Cost: $550
Mickey Mouse Cellar
Orlando, Fl
Products: Vino Rails
Capacity: 110 bottles
Est. Cost: $1,400
Chic Dining Divider
Las Vegas, NV
Products: Wall Series, FCF mounts
Capacity: 192 bottles
Est. Cost: $2,500