Get Trained!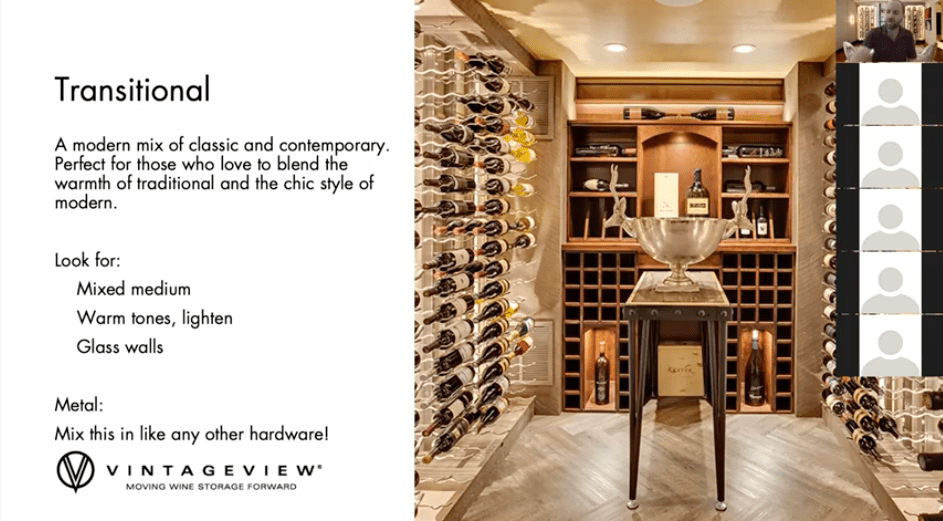 We offer complimentary training for amazing design and build professionals like you. Our goal is to help you understand the cutting edge wine rack products and style of VintageView so you can confidently spec wine cellars into your home and residential projects.
CEU: 6 Steps to Designing a Modern Cellar (AIA, IDCEC)
WEBINARS: Wine Cellar Training
(click to see the next date):
PRODUCT KNOWLEDGE:
Product 101: W Series and Framing Systems
Product 101: Vino Series, Lockers, and More
WINE CELLAR KNOWLEDGE:
Racking styles, commercial and residential considerations, and more
How to Sell Wine Displays (and VintageView Products)
Understanding client needs, ways to upsell, and more
Climate Controlled vs Passive Wine Cellars
Questions to ask your clients, understanding key definitions, construction consideration
Actionable advice, tips, and tricks to elevate your social media marketing
FAQS: Virtual Office Hours
We'll cover FAQs, hot topics, and any questions you bring
Instagram Live 4:30pm MST every Tuesday
Facebook Live 2:30pm MST every Thursday
VintageView 101
Product Resources
Recent Posts
Calling all wine aficionados, DIYers, and wine ...

It's oh-so-satisfying when a plan simply ...

Most of the wine cellar inspiration we showcase...