Curved glass walls and label forward wine racks: An impressive metal wine cellar at Fogo de Chao NYC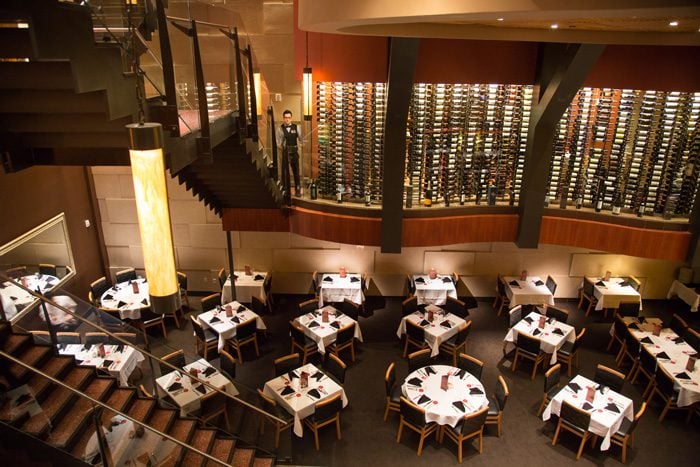 Perhaps too often, we assume that a national restaurant brand will offer up a cookie cutter décor alongside a predictably tasty menu.
Not that we judge. However, when we first laid eyes on the Fogo de Chao NYC our expectations were were blown away. Probably because we have a one-track mind when it comes to checking out the wine cellar — and the wine display in this Brazilian-style steakhouse is insane.
In this case, the 1,000+ bottles are put on display to diners from just about every angle, pressed against curved glass for an impressive element that serves as a focal point for the restaurant.
It's no surprise then that this cellar — designed by IWA Wine Accessories, a certified VintageView dealer — was named the Best Modern Commercial Wine Cellar 2017 by our esteemed judges panel of interior design and wine experts.
"Simply Stunning! Love the creativity in the overall design, use of materials and architectural detailing," — says Kimberly Timmons-Beutner, the owner of Kimberly Timmons Interiors (Denver) who served as a judge for the competition."I am sure this was no simply feat to make this a reality."
This main floor centerpiece was completed in 2013. It places hundreds of bottles against the curved glass using Wall Series metal wine racks affixed to steel Floor-to-Ceiling Frame mounts. — the curves "pushed the design over the top and made it an outstanding looking wine cellar," says Bryan Adams, a senior design consultant at IWA who served as the project lead.
The cellar blends glass, metal, and wood in impeccable fashion, daring diners to order another bottle of wine alongside the premium cuts of meat being served by fine metal skewers.
While the customer-facing porting of the cellar dazzles, the design includes several hidden-from-eye additions that increase bottle capacity and usability by the busy wait staff. Naturally, it features commercial-grade cooling to store vintage wines for years.
There's the beauty of the curved wine wall there are custom wood wine racks that boost storage and accessibility. There's also a stand-alone wine fridge that keeps fast-moving wines at the proper serving temp for guests.
And it's all beautiful.
"I thought it was awesome looking," Adams says. "It was something the restaurant could be proud of."
We agree. Head to Fogo de Chao, order the all-you-can-eat menu alongside the Lidio Carraro "Angus" Merlot (Brazil), and see the wine display for yourself…
Fogo de Chao
40 W. 53rd St., New York, NY
Then, contact IWA to create a wine display in your home or restaurant.
Wine Cellar Details:
Photo Credit: Margarita Corporan Photography