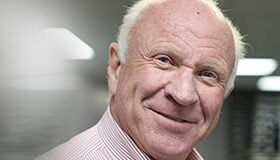 With a background in real estate investing and construction, businessman Doug McCain founded VintageView in 2001 out of his garage in Castle Rock, Colorado. But VintageView's story began a few years earlier when Doug, a long-time wine collector, discovered that a family friend had stolen the most prized bottles from his personal cellar and replaced them with replicas. Since traditional wine racks store bottles with the top facing out, it was years before he discovered his wine was missing.
When opening their newest restaurant location in Irvine, California, Capital Seafood selected Jerry Wilson, owner of Coastal Custom Wine Cellars to design a custom wine cellar that would not only dazzle patrons but provide practical and high density bottle storage.
When the owners of this classic center-hall colonial style home located near the Jersey Shore decided to remodel, they wanted to showcase their impressive 900 bottle wine collection in a unique and ultra-modern display that would resemble something that you might see inside a restaurant or downtown loft.
The world leader in modern, label-forward wine rack design.