We Believe: An ode to being in the wine rack industry
We believe that a bottle of wine is more than just a vessel for boozy grape juice. It's a piece of design that tells a story.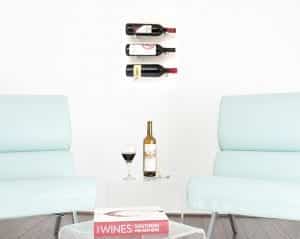 We believe cellaring wine is an art, and those who understand it will always drink fabulous bottles in their prime. We believe far too many people drink their wine too young. Or too old.
We believe the only qualification for good wine is whether you like it. We believe Walla Walla makes better wine than than Bordeaux.
We believe label forward is almost always the sexiest, best, most awesome way to display wine. Also, metal looks better than wood. We believe more people should know the name Frank Lloyd Wright. We believe interior designers should have a say in how your wine cellar looks. They are as important as a good installer.
We believe your wine rack should last as long as, scratch that, longer than you. We believe in modular design that looks custom. We believe in products a DIYer can understand. We're not IKEA.
We believe merlot is pretty f'in good. We believe everyone (over 21, of course) should try a bottle of wine from their birth year, and the best wedding present to give is a case of wine futures from the couple's anniversary year.
And we believe the winemakers who spend time making their labels beautiful and tasting rooms experiential probably pour more love into producing gorgeous wines. We say the same thing about the wine pros who work in well-designed restaurants. See a wine wall in a restaurant; the wine list has some serious thought behind it.
We believe the wine display/cellar planning process — from concept to drinking — should be as stress free as opening a bottle of Gruet with friends. Speaking of bubbles, we believe one of the world's best food and wine pairings is Champagne and a bucket of piping hot, crispy friend chicken.
Most importantly, we believe that wine is a lifestyle — not just a drink — that is meant to be shared on slow-paced evenings (year round) with good food and even better friends.
Sound like we're interesting? We'd love to work with you. Drop us a line.
VintageView 101
Product Resources